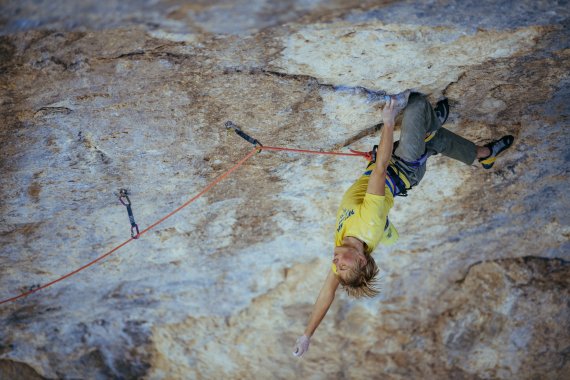 In spring 2020, Alexander Megos still had a clear idea of his competition year: full concentration on the Olympics in August - and after that, not a single competition. Only rock climbing, nothing else, wonderful. Well, it turned out differently - and not so bad for the self-confessed fresh air fan Megos.
After the cancellation of the Tokyo Summer Olympics, the 27-year-old was able to finally climb on real rock again in his beloved Frankenjura. And because that was just so much fun, he took on the biggest challenge of his already great career so far in Céüse, a climbing area in the French Alps.
"Bibliography" is the name of the route he had first attempted three years ago - and now mastered, as only the second climb of difficulty twelve, or 9c. That was on August 5, 2020 - without Corona he would have been climbing on the other side of the world, in Tokyo, as a so-called German medal hope.
"Corona played into him well," says Urs Stöcker, the Swiss national coach of the German climbers, "when it was clear that the Olympics would be postponed, he switched his focus and completely refocused on rock climbing. "Bibliography was his big dream. But now he's back in the gym. As professionals, yes, we're allowed - that's where football has paved the way a little bit, that you can be a professional at your job."
Alex Megos has been a professional climber for quite a while. But it rather "happened" to him, as he once told ISPO.com in an interview: "I was totally suspicious of professional climbing, I didn't want to do it at all. I really slipped into it gradually, and at some point I thought, 'Wait a minute, now I'm already a pro climber and I didn't even realize it!'"
In 2013, he had geonsighed a route in Spain, difficulty 9A, which no one had climbed onsight before. Megos says, "That ultimately took me from relatively unknown to world-renowned on the climbing scene overnight."
Until three years ago, the young man from Erlangen was very content with his life as one of the world's best rock climbers. At six, Papa Jorgos had taken him on his first via ferrata tours in Franconian Switzerland, and it wasn't long before the first competitions came along.
At the age of 13 he trainedAt the age of 13, he trained at the Franconian regional base of the Bavarian Climbing Association and later at the national base. He was already coached by Patrick Matros and Ludwig Korb, who still coach him today. Twice he became European Youth Champion and Vice World Champion. But then he was drawn out into the fresh air, onto the rock.
After the 9A in Spain, sponsors were lining up: "Before I knew it, I was getting so much from the sponsors that I could live off it," Megos recalls, "there aren't many people in the world who can make a living from climbing. I don't just take it like that. I'm aware that this is something special. I'm not going to be a professional climber forever, because it's physically impossible, and I don't want to do it forever."
Because the Franconian already knows exactly what he wants to do. What he doesn't like to do: Giving interviews. "I'd rather go climbing," he says. Fair enough. Let's just ask the national coach.
"Alex is very fun-oriented in training, enjoys the group. The common, the social aspect is extremely important to him," says Urs Stöcker, "but he is still ambitious and goal-oriented. When he has decided on something, he wants to do it well and is not satisfied with half-measures." And we are already on the subject of the Olympics.
Three years ago, the German Alpine Association (DAV), in whose Erlangen section Megos is a member, approached him with the idea of competing in the Olympics, offering to introduce him to this new and yet very different form of climbing via World Cups. Megos hesitated.
The Olympic competition format, a combined triple competition of speed, lead and bouldering, which has been controversial for years and quite rightly so, does not appeal to him either, as it does to all rock climbers, who are noticeably and visibly unfamiliar with the discipline of speed.
Stöcker started his work in April 2017. About Megos' decision pro Olympia he says: "Alex has come to terms with the format, still doesn't think it's great, can't identify with speed climbing, but sees it as a cool challenge, a cool project to compete at the Olympia.He has all the physical skills, but now he has to train for the specifics of plastic climbing, gain experience with the grip shapes and the special movements. Getting his skills from the rock to the wall: that's the crux. How does he get the power efficiently onto the plastic holds so that the movement and tactics are right afterwards? A lot of work in the technical-tactical area."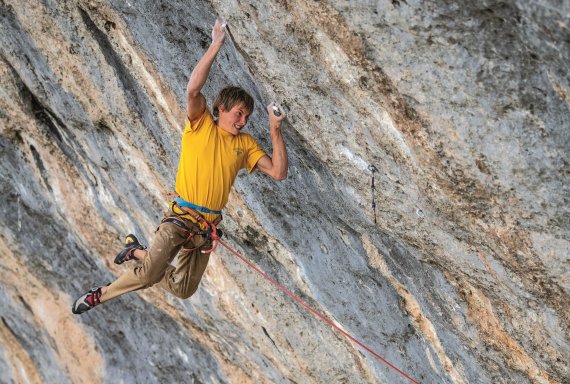 Megos felt his way up, became European bouldering vice-champion in 2017, won his first lead World Cup in 2018 and later World Cup bronze and last year World Cup silver in lead - the latter meant qualification for the Olympics. Today he says: "The Olympics is a chance for our sport. Even if it's not my format, I'll give it a try."
The controversial format, which "will hopefully disappear afterwards," has "massively changed the competition scene in recent years," he says, adding that his hope is that "maybe soon there will be two or three medals in climbing."
Unlike on the rock, in the gym you only have one attempt at a competition, so you have to be able to deal with failure mentally, says Megos: "The more you fail, the better you get."In his YouTube videos, you can hear how he deals with failed attempts: He screams like a banshee. And when he has completed the route, he also screams like a banshee - all the tension has to go somewhere.
The tension will probably last until summer 2021 - if the postponed Tokyo Games can actually be held.
However, what will come after the Olympics for Alex Megosafter the Olympics is already clear for the national coach: "It depends on how much this Olympic fever infects him, but I assume that Alex will go back to the rock afterwards. He will always look for this balance between rock and competition."
And of course his limit, because in principle Alexander Megos only wants one thing: "To know how hard I can climb."