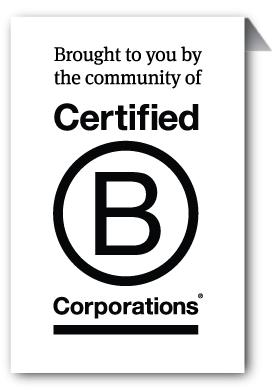 The so-called B Corporation certification is awarded by the US non-profit organization "B Lab", which was founded in Wayne, Pennsylvania, in 2006 and has branches worldwide. The letter "B" stands for "beneficial", which means something like charity and therefore distinguishes companies that voluntarily meet certain standards of transparency, responsibility and sustainability. Their corporate objective is not (only) defined by the generation of financial added value, but is linked to the goal of adding value to society and solving social and ecological problems. A B Corp can come from virtually any industry and sector and is not limited to textiles.
Certified B Corporations pay an annual certification fee that allows them to use intellectual property such as the Certified B Corp logo. This fee starts at $500 and increases with the amount of sales.
The B Lab organization's assessment covers the entire organization and measures the company's positive impact in areas such as governance, employees, community, environment and the company's product or service.
Since its foundation, there are now over 3,600 certified B Corporations in more than 65 countries, spread across over 150 industries. National offshoots have also been established in the meantime to simplify and advance the certification process. Most certifications are found in the USA, Canada, Australia and South Africa. B Corps certified are e.g. Patagonia, Eileen Fisher, Finisterre and Mud Jeans.
A B Corporation should not be confused with a "Benefit Corporation", which is a separate legal form in the USA and is defined by state law. The B Corporation certification, on the other hand, is issued by a private organization, is aimed at classic commercial enterprises and has no legal framework.