Yoga is now part of many training plans. The reason for this is sometimes the positive effect on health. Yoga is not only a trend sport, but a true benefit for the body and balm for the soul. Yoga in combination with action sports can improve results and increase the performance of athletes. ISPO.com explores the positive effects of yoga on action sports.
Snowboarding, surfing, skateboarding or mountain biking are extreme sports that put a very one-sided strain on the body and also have a high stress level. The situation is completely different with yoga. It provides a physical and mental balance, corrects imbalances in the body and calms the mind. The combination of the two approaches is therefore becoming increasingly popular.
Not least because yoga also promotes flexibility and mental strength, helping athletes to prevent injuries or recover more quickly and remain calm and focused in stressful situations such as contests. Through stretching, yoga loosens hardened or tense muscles and thus increases the overall performance of the body.
Yoga also trains mental strength and breathing. You concentrate on your breath and balance the movements of inhalation and exhalation. Through deep breathing, you generate strength and composure and live completely in the moment - similar to surfing, snowboarding, skateboarding or mountain biking, where you act intuitively.
The positive effects that yoga has on action sports are quite impressive:
Yoga
strengthens the body

helps to find a better balance

provides a better energy flow

increases flexibility

prevents wear and tear and injuries

relaxes

improves endurance and breathing technique
Surfers in particular benefit from yoga because they learn how to breathe properly. In addition, yoga practice improves their balance, take-off, paddle power and trains their mindfulness, which provides more safety in the rapidly changing conditions in the water. In addition to these positive effects for preparation, yoga relaxes the lower back, neck and shoulders after surfing.
Mountain bikers also feel the benefits of yoga tremendously: when biking on uneven terrain, you especially need a strong torso to balance the loads. Yoga, with its strengthening and stretching elements, is therefore the perfect complement. It promotes power transfer when pedaling and directs energy better to the legs, which helps when pedaling.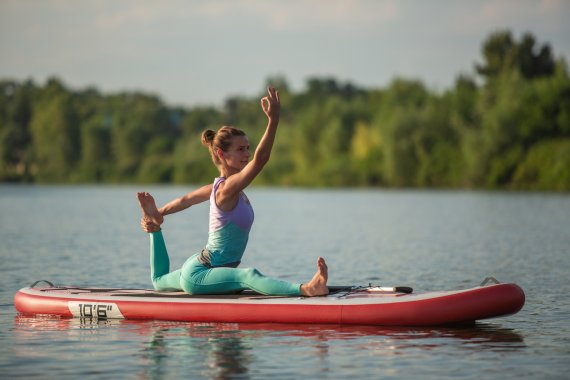 Especially between competitions or strenuous days on the board or bike, yoga supports regeneration and ensures a better body feeling. Sore muscles are quickly worked off and the metabolism is stimulated.
Many action athletes have recognized the benefits of regular yoga practice. Professionals like Olympic snowboarding champion Anna Gasser surfing legend Kelly Slater, snowboarder Travis Rice and mountain bike pro Timo Pritzel have integrated yoga into their daily training routine. Yoga helped Timo Pritzel out of a physical and mental block: "I'm so grateful that I can now find the feelings of happiness I found in extreme situations on my bike on my yoga mat!"
Kelly Slater and Travis Rice are among the world's best athletes in their sport. They keep fit through healthy eating, lots of training, but also through daily yoga and breathing exercises. In this way, the top athletes refute the cliché that yoga is a women's sport.
Since the combination of adrenaline and tranquillity is in great demand among professional athletes as well as amateur athletes, there is now a wide range of camps and events that create this combination. The market for worldwide surf and yoga offers is particularly large, whether it be specially designed surf camps, retreats or weekly offers.
In the surf and yoga offers, yoga is used as a balance and preparation for surfing. Isabelle Fischer, a yoga instructor and surfer herself, sums it up: "Yoga is a wonderful tool to work on and refine my mindset and breathing technique, as well as to redress physical imbalances caused by one-sided stress."
The camps and courses are being received with great enthusiasm and the range of courses on offer is expanding. They are booked by surfing beginners as well as professionals.
The combination of outdoor and yoga is also popular, as is the case with the Mountain Yoga Festival in St. Anton. There, hiking is supplemented with yoga sessions in the middle of the mountains.
But other combinations are also in demand. Karma Surf Retreat in Portugal, for example, combines yoga with favourite outdoor activities such as surfing, climbing, hiking, mountain biking or stand-up paddling.
By focusing on the breath, yoga can also help in more extreme outdoor situations. After all, if you can regulate your breath, you can cope better with the challenging conditions in the water.
On the other hand, outdoor activities also inspire the experience of yoga, according to experts: Yoga promotes a state of consciousness in which the mind comes to rest. When athletes come into contact with nature - in an encounter with the sea or at the sight of the mountains - this often happens naturally. This often happens in a very natural way.
The demand for action and relaxation is also reflected in the clothing range and marketing. Roxy, for example, has been focusing on its fitness line for women for years, as has O'Neill (with leisurewear and ski and swimwear). California-based Prana focuses on yoga, surf and climbing apparel.
"Prana" in Sanskrit stands for breathing, life and the vitality of the spirit - and is the special power source of action sports. Beaver Theodosakis, one of the two founders of Prana, describes the combination as follows: "Yoga makes us feel connected. This special form of movement makes us feel the wonderful moments of everyday life and the surrounding environment come alive."
The spirit of the two Prana brand founders still shapes the company's everyday life today: There is an in-house gym for joint yoga sessions and the daily gong at 3 p.m. invites you to spend a minute meditating.
Yoga is also a big market for supernatural, which makes functional and everyday clothing from merino wool and polyester. The brand supports a number of ambassadors who promote yoga and, together with them, regularly offers free yoga sessions in the Munich area.