"Accelerating Sports" is the new brand claim of ISPO. The world's leading sports network is presenting this along with a cross-channel design facelift.
"With this claim, we're making a promise," says Tobias Gröber, Director of the ISPO Group, "We want to strengthen sports across the world so that as many people can benefit from them as possible. Always with the aspiration of our added values enhancing and accelerating the success of our customers."
Consistent with this, the new brand mission reads, "To accelerate the global evolution of sports."
The ISPO brand is making its new, cross-media appearance come alive on both analog and digital channels. ISPO has established itself for quite some time as a full service provider for the sports industry. The international sports network thus linking its growing digital division with the international event and trade fair business.
When implementing the new brand appearance, ISPO Brand Manager Christoph Beaufils worked with renowned Berlin creative consulting agency Dorten studios. Specialized in digital marketing The Digitale, subsidiary of Deutsche Telekom, has been responsible in an overarching cooperation for implementation and execution of the brand strategy across all digital touchpoints.
Under the ISPO family brand are eleven business solutions, including the international, multi-segment trade fairs ISPO Munich, ISPO Beijing, and ISPO Shanghai, as well as further digital services with close industry links. For example the news portal ISPO.com, the ISPO Open Innovation platform, the ISPO Award, and ISPO Brandnew, the world's biggest young entrepreneur competition in the sports business.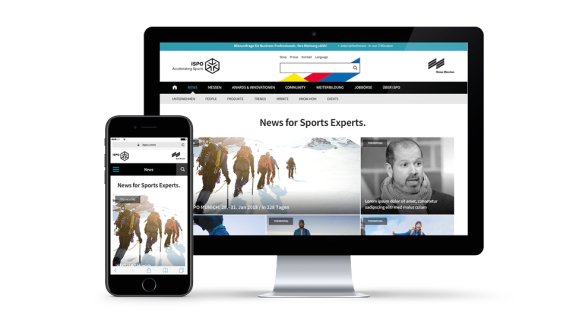 "We're a B2B2C brand," says ISPO Brand Manager Beaufils. The new brand appearance provides a great identification potential for the end customer and has high importance in the ISPO brand orientation. According to Beaufils, the end consumer will benefit from these digital offers in many respects: "The news portal ISPO.com will inform them on the latest developments in sports, ISPO Open Innovation will bring their opinions into product development, and the ISPO Award seal of quality will serve as a decision-making aid when they're making purchases.
The co-creation approach that ISPO followed in the development process showed that design and claim were both effective. Various stakeholders were targeted and incorporated into the process. One multi-stage process with study participants ensured that the strategy was followed and reflected in an authentic, relevant way in the new brand appearance.
"As a leading brand we need to progress and inspire, but that can't pass the market and the customer by", is how Beaufils explains the philosophy behind the new brand appearance.