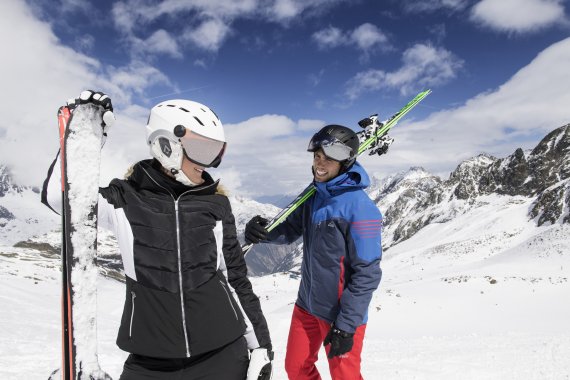 For Intersport, the year 2017 was an eventful one, albeit not a year for major athletic events. The group, which brings together around 900 retailers, has made a lot of progress:  New concept stores were inaugurated in Berlin, digitization was pushed ahead with the introduction of the cooperative retailer platform under the leadership of the new digital director Carsten Schmitz, and cooperation with the stores in Austria was stepped up.
"It was not an easy business year for us," said Kim Roether, Intersport's Chief Executive Officer, at a year-end meeting in Heilbronn, Germany. Especially since "major challenges had to be overcome in management": The hole that Jochen Schnell left behind when he resigned from his management board position in September for private reasons has yet to be closed. CEO Roether and CFO Hannes Rumer have been managing the business together since then, and the position is set to be filled in 2018 – "If it were up to me, I'd like to have a woman," Roether explained.
On the annual balance: The final figures for the 2017 fiscal year still aren't available, but the trend is clear: "As of November, we're at par," says Roether, i.e. as the same level as the previous year, via Intersport Germany. One can be satisfied with that in a non-event year, that is, in a year without a major sporting event, after the 2016 soccer World Cup and before the 2018 World Championships. "The sports market in itself is a constant – but it isn't increasing," says the Intersport board head.
The trends of the (not yet concluded) fiscal year at Intersport:
At 12 percent of the total share, winter sports remain a significant market

The outdoor sector has gained by three percent in the reference period. Kim Roether talks of a "very stable business at a high level"

The fitness/workout sector was able to gain by 19 percent, coming to a 6.4 percent share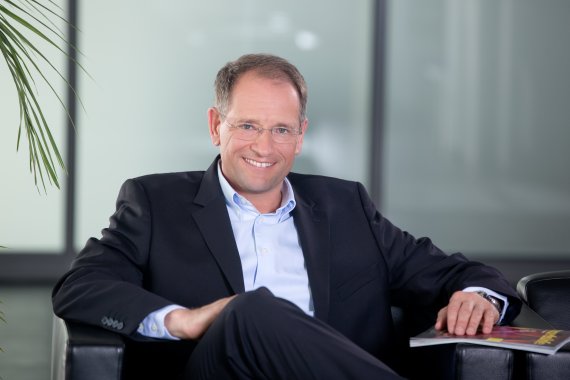 "Winter sports remain a relevant market," says Kim Roether, "but they also remain difficult." Less and less snow in the middle regions means fewer and fewer skiing days, which in turn are difficult to reliably plan in advance. In the roundtable, Roether asks: "How many people even go skiing anymore? And how many of them are actually still buying new skis?" The trend is clear: There are fewer, year after year.
The reverse side is thoroughly positive: "We're very well positioned in ski rentals." And when it does snow, there registers spontaneous growth – "because then everyone believes that suddenly it's winter." Overall, however, the challenge will be concentrating the still possible ski days at higher locations. "Skiing is becoming more and more of an exclusive sport – we need answers to that," says Kim Roether, looking ahead. He also asks: "What role will winter sports play in the future? Far from any more than they did ten years ago."
In sales figures: In the 2016/17 winter sports fiscal year, that is from September 2016 to February 2017, 150,000 skis went over the counter in Intersport stores. In 2011/12 , it was still 230,000 – that's a decline of 35 percent in five years. Even more drastic is the downturn in the snowboard segment: from 40,000 snowboards sold five years ago to just 10,000 last winter – down 75 percent! "That shows that the snowboarding hype is over," says Kim Roether, who nevertheless also recognizes positive trends: "The good news is that many people are returning to classic skiing."
What's otherwise thoroughly satisfying is the cross-country skiing segment – with roughly 75,000 pairs sold in 2016/17.
The requirements for the rental sector are climbing. "A rental business can be lucrative," says Roether, "Together with our members, we currently operate the best rental platform in Europe." The demands are becoming more specialized – and more exclusive. "The customers want to have high-quality skis. They expect to be able to make appointments far in advance, even from home. They expect ski boot fitting to become more and more sophisticated. That skis will already be at the hotel when they arrive. And that rental stations at the lifts will have an optimal selection." In short: The added value of a rental business needs to be further expanded. Roether: "The end consumer expects the best possible service and the best possible total care."
And yet: "The ski issue remains tense," says Roether. What should we do? "We need to get further into the initiatives," says the board chair. Intersport has gotten involved in initiatives for more safety in the snow, supporting the "Your Winter. Your Sport" network event as an exclusive retail partner and also attempting to make skiing more popular in schools again: "A week for skiing used to be set in schools, but nowadays that's difficult. We need to better reach young people again and reduce the obstacles to entry." This includes, for example, expanding the children's ski barter system.
In Austria above all, the demand for winter sports and skiing accessories is very high: "We're currently shifting from north to south. Right now, everything's going to Austria." The Intersport stores in Austria are registering enormous revenue growth: Up 15 percent compared to the same period last year!
"We're very satisfied with the development in Austria," says Kim Roether. "The coalition was exactly the right step, even the management teams have converged." If Intersport could expect a combined sales increase of about three percent in Germany and Austria, this is due to the growth in Austria.
Above all, the forward-looking expansion strategy has paid off. "The best-in-town principle is working fantastically," says Roether. Things have evolved very well in the premium sector. The Intersport board chair lauds that the cooperation between retailers and headquarters has borne fruit for everyone: "We're detecting a real turnaround situation there."
What nevertheless needs to watched is the evolution of XXL. The Norwegian chain opened its store in Vienna in late August, and is now hard at work in Austria. Roether talks of a "competitor to be taken seriously" who is "very well positioned." The Intersport boss assumes that XXL will tackled the German market very soon. "They've announced as much." He also warns about the new competitor's "brand destruction tactic": "They want to sell – and at any price. That destroys brand value. This is where our partners in industry need to watch out: Consumers still want good advice in five years' time."
"The snowboarding hype is over. The good news is that many people are returning to classic skiing."
Kim Roether, Chairman of the Board at Intersport