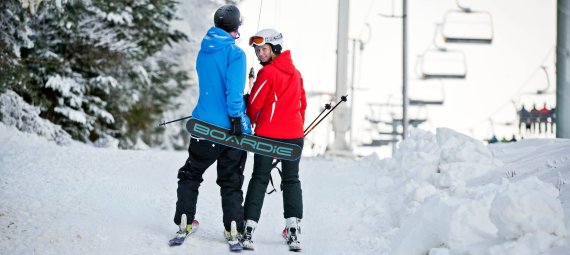 T-bar lifts are a challenge especially for winter sports rookies and are often avoided compared to chairlifts. Boardie wants to change that.
With ist new T-bar for ski lifts the Swedish start-up is offering more comfort to skiers and snowboarders of all sizes. The wider, more ergonomic and durable seat improves the lift experience for everyone. Existing T-bars can be easily upgraded at low cost. Refinanced by the large advertising space on the T-bar, Boardie is offered to ski resorts for free.
With ist T-bar lift revolution, Boardie convinced the jury of ISPO Brandnew 2018 and became the winner of the category Hardware Winter.
In our interview, founder and CEO Erik Englund talks about the moment that sparked the idea and gives helpful advice not only for Swedish start-ups.
ISPO.com: What made you think about upgrading the common T-bar lift?
Erik Englund: There was in fact a flash of inspiration that we got when we where skiing in a ski resort here in Sweden. There was like a 10 minute queue for the chairlift and the T-bar lift right next to it was totally empty and we asked ourselves why. We tried the T-bar and got our answer, it was just to uncomfortable. Since we studied product development at Uppsala university at the time this became a perfect project for us, to create the world's most comfortable T-bar ski lift.
How sure have you been that people would queue up for a T-bar lift again with Boardie?
The first step when you develop a new product is always the same, confirm the problem with potential customers and get a feel if the problem is big enough for them to pay for a solution. In our case this was made by a series of interviews with the major ski resorts in Sweden. Then it went on to the financing, we solved this by taking an investment by local business angels here in Uppsala.
How difficult has it been to build up a network of partners or investors?
Here in Uppsala there are several institutions that help start-ups get going with business contacts, grants, investor networks etc. Trade fairs, such as ISPO Munich were also a great way to build our network.
Did the win at ISPO Brandnew help with that?
Yeah, to win at ISPO Brandnew gave us several benefits such as new customers, business contacts and a lot of great press.
What are your three most important advices for other founders?
Always verify your idea or product with potential customers before spending time and money on it. That way you can build the product according to real customer needs and get a product that the customers are ready to pay for. Also get one or several co-founders that are strong on your weak sides so you have a strong founder team.
What would you do differently when you look back at your first business years?
Always work with the best no matter the cost, it always pays off in the end.
How difficult is it for young companies to establish themselves?
It can be quite hard, but select a small part of the market where the competition is not that strong and grow from there. Get a patent or IP if you can.
What are the next steps for Boardie?
We are actually releasing a new upgraded version of our product for this season. We also have more products under development.