Nicolas Bargi launched the Italian fashion brand Save the Duck in 2012. According to Nicolas Bargi, the animal-friendly approach saves millions of ducks. The label not only dispenses with down fillings, it also states that it uses only animal-free materials, 100% vegan - with full conviction. B Corp-certified Save the Duck promises high environmental and social standards.
CEO Nicolas Bargi tells ISPO.com what adjustments each brand could easily make to act more sustainably, what Save the Duck will focus on in the coming season and when ISPO Munich 2020 will be a success for him.
ISPO.com: Thinking of your brand: what are the first three words that come to your mind and describe your brand best? Why?
Nicolas Bargi: Animal friendly, Sustainable, Ironic. Our brand is aimed at a community of people aspiring to a sustainable and animal cruelty free world and represents all people that are sensitive to environmental issues. We will always commit to that and work hard to meet consumers demand towards a more ethical product, it is the only answer to the needs of a new generation who wants to explore the world and its infinite cultures.
Irony for us is an important element to face everyday challenges and our logo say it all, a carefree whistling duck. To us luxury is a matter of quality of life and connection to the beauty of nature.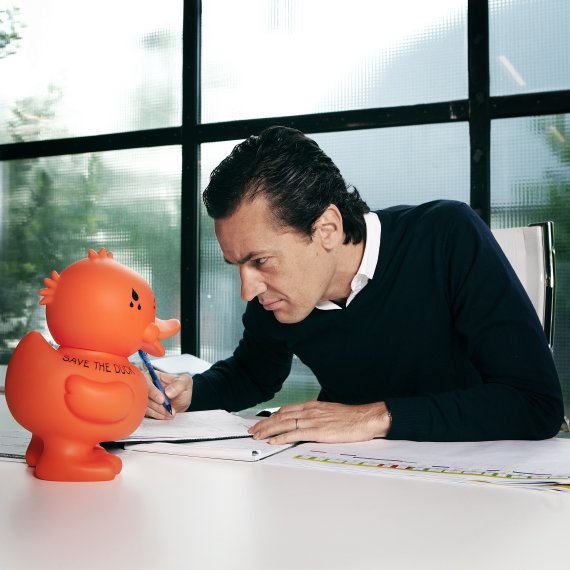 What do you focus on for the coming season?
For the coming seasons our focus will be nature and our FW20 collection will project the consumer toward a mountain landscapes and far away cultures, with a greater focus on technology and modern aesthetics.
The sports and fashion market is large and subject to constant change. Digitalization, changing target group needs and sustainability are all issues that concern us. In which area do you currently see the greatest challenges for your brand?
Digitalization and research in technology have definitely had an impact on how companies have turned their communication and production approach. Everything is faster today and it is hard for consumers to stop and evaluate what there is behind a brand or a garment. Any fabric today can be made in a more sustainable way than it was years ago thanks to technology.
I believe companies should just put more effort into production control and behaviour, trying to be more sustainable. For instance at Save The Duck we reject the use of any material of animal origin from feathers to leather, fur, wool all the way to mother of pearl. We replaced goose down with a state of the art technology Plumtech that is warmer, more breathable and lighter than down. This is how we want to represent change. 
What was decisive for the decision to become an exhibitor at ISPO Munich for the first time with Save the Duck? What are your expectations?
ISPO represents an opportunity to open our brand to a wider market both in terms of distribution and consumer. It also speaks to a sensitive target when it comes to sportwear and outdoors which we believe as relevant for our future positioning. We want to prove our jackets can protect people during harsh winters and at extreme temperatures, during their everyday life.
Our FW19 collection was the result of our collaboration and unprecedented enterprise of vegan mountaineer Kuntal A. Joisher, who was the first in history to have reached the top of mount Everest 8.848m from the north side, wearing a 100% animal free suit, crafted especially for him by Save the Duck.
Success for us will be to state our presence within the global players in the outerwear area, boosting our core distribution and enlarging our community of planet lovers.