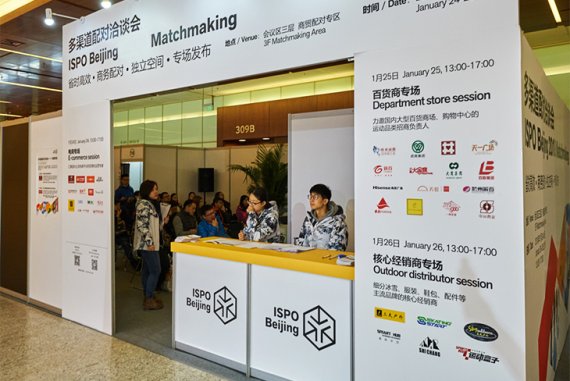 The new e-commerce matchmaking program of ISPO Beijing is a B2B contact exchange of a very special kind. The idea behind it: ISPO exhibitors and visitors will be brought together directly with large Chinese e-commerce companies and department stores to explore a possible partnership. Don't miss this unique opportunity and meet the big players of the Chinese e-commerce market, such as JD.com, amazon or dangdang!
12 selected e-commerce companies and 15 selected department stores participate in the matchmaking program. In order to ensure that interested exhibitors find the right contact persons, ISPO receives information from the participating e-commerce companies on requirements for product groups and brand objectives in advance. The ISPO team summarizes this information and informs the exhibitors. They can now think at leisure about which e-commerce companies and department stores they want to meet. You don't have to worry about anything! The ISPO team arranges a personal meeting for you and can even arrange an interpreter if required.
alibaba group 1688
E-commerce supplier and offline supplier which is willing to actively expand the e-commerce market.
SANFO
All products
dangdang
Sports, outdoor related clothing, shoes,bags, accessories, equipment and other related brands.
Netease Kaola
Products or brands related to sports, outdoor, fitness supplies, fishing, yoga, swimming, cycling, ball games and so on. Well-known abroad brands and domestic brands (in the global ranking in top5) are required.
7jia2
Senior outdoor brands, new brands, foreign brands, factories and stores. Clothing, equipment, electronics, skiing and other categories of merchants
amazon global selling
Brands which want to promote their cross-border e-commerce business
Cenbest
Bailian Group
Super Brand Mall
Rainbow
New Hua Du Supercenter Co., Ltd.
Wushang
Wangfujing
Dashang Group
Beiguo-Renai Group
The Center
Changchun Ou Ya (Group) Co., Ltd.
Tianjin Friendship Store
SKP Beijing
Guangzhou Friendship Group Co., Ltd.
Zhenhua
New Yansha Mall
Intime Retail
SANFO
All products
InterSports
Products related to running, fitness, outdoor, leisure, children, swimming, basketball, football, tennis, badminton, etc.
HighwaveSports
SportsBox
Outdoor sports accessories, incubators, outdoor clothing brands etc.
ANTA
Outdoor sports fabric material supplier, technological solutions, marketing platform and cross boundary cooperation resources
Bestseller United China Ltd.-Jack & Jones / Selected
Nylon/polyester, nylon/cotton and functional material. Special attention includes recyclable, sustainable and environmentally friendly chemical fiber fabrics, recyclable and environmental friendly accessories, and reflective materials. Various latest cloth, blended fabrics, and new technologies.
Regatta Ltd-Dare2B
Dare 2b fabric development on water proof fabrics, non-waterproofs fabric for jackets/innovation new on garment items. Special lightweight but still really technical fabrics. Mid-layer fleece, fancy fleece, wool fleece for life style/powerstretch fabrics
Regatta Ltd-Regatta
Camping & equipments incl. tents, rucksacks, furniture, all outdoor accessories, cookware etc.