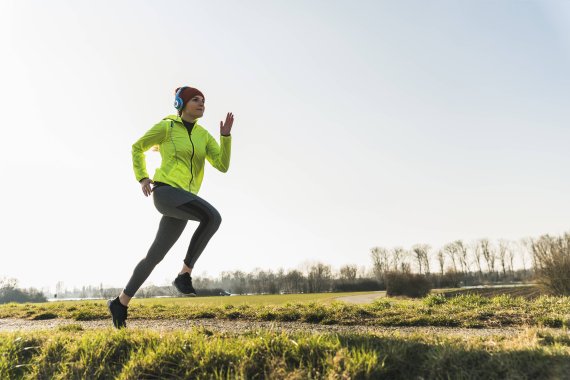 Influencer Marketing is th e marketing tool of recent years, also for the sports and running industry. The Asics FrontRunners are getting along without stars, Brooks is advertising with Florian Neuschwander – who can be called famous at best in the running community, specific running influencers like Flooorrriii (108,000 Instagram followers) and Go Girl Run (running blog with own running podcast) are setting the standard in the scene. Cooperating with running brands is the logical consequence.
On the other hand, the example of Puma and Usain Bold shows how valuable a professional runner can be for a brand. The image of the sprinter kissing his Puma shoes promotionally effective after winning competitions is one of the pictures that remains in the head – not only after the 2016 Olympic Games in Rio.
In the fourth part of our running series, we wanted to hear from Adidas, Brooks Running, Salming, Salomon and LaSportiva how the brands position themselves in the environment of influencers and top athletes. (Part 1: The most important running trends 2018; Part 2: Customizable running shoes; Part 3: Running shoe shopping advice)
Adidas spokesman Oliver Brüggen explains: "For us as a brand, influencer marketing is the on- and offline communication and cooperation with creative people from different cultural areas." As an example, this is why Adidas brings together professional runners like Philipp Pflieger, bloggers like Laura and Isabell from Run Munich Run and the passionate runner and TV host Kai Pflaume at the launch of the new Solar Boost running shoe in Berlin.
Brooks Running also enjoys working with influencers. Lara Hasagic, Marketing Manager DACH: "Cooperating with influencers is important, as more and more communication and exchange among runners takes place in social networks." Furthermore Brooks Running supports one of the most popular ultra runners of the past years, Florian Neuschwander. "Flow" became known in Germany primarily for his victories in the "Wings for Life World Run". He is a rather unconventional runner, who was the first German to win the Transrockies Run in 2016 (193 km and 6000 meters in altitude in 6 days). 
What makes him special to his community and attractive as brand ambassador for Brooks is that he offensively places more emphasis on his personal lifestyle – including currywurst – than on his training schedule (as he explains in an interview with ISPO.com). His #runwiththeflow community now contains around 46,000 Instagram and 45,000 Facebook fans. Frequently he organizes joined runs with his followers and writes about his everyday life – not only in the social networks, but also within his own column for the German Runner's World. Brooks is currently working with Neuschwander for the Run Happy Tour 2018, which runs through 14 German cities from the end of May to mid-June 2018. Neuschwander is therefore both, influencer and professional runner.
When and why running brands cooperate with influencers depends on various factors. Salming equips blogger Jana with products and cooperates with Instagrammer Dani.
Jan Kratchovil, Head of Marketing at Salming summarizes the qualities a good influencer should have: "First, passion for and compatibility with the brand. Does the identity of the influencers match ours? Second: Technical marketing competence in terms of aesthetics of pictures, the approach of the target groups, communication etc. If influencers cannot present themselves properly, they will not succeed with our products either. Third: Reach and community. After all, the people following are the capital the influencer brings to the table. However, also the composition of their community, their interaction, hetero- or homogeneity play an important role. It's not just about quantity, it's about quality."
Julia Schehl, Brand Manager Germany of Salomon, describes what makes a good influencer from her point of view: "It is certainly a mixt of reach, authenticity and fun in sports. We don't ask for top results. Important are passion for running and the willingness to go out there for and with us to develop the sport further. Philipp Reiter has it all. The 26-year-old student is trail runner and ski mountaineer and, among others, sponsored by Salomon. He keeps his 34,000 Instagram followers posted about his adventures in the mountains nearly every day. Whether Salomon defines him as influencer or as testimonials, this question is left unanswered.
Asics has already launched their FrontRunner in 2010. Within this global project, the Japanese running brand cooperates annually with around 700 runners from around 15 countries. Asics equips their FrontRunner with an own collection, running shoes and provides free access to Asics events. They even create specific marketing campaigns about the group. Running beginners, running influencers, running bloggers, professional marathon runners, triathletes and ultra runners - the community is mixed and the boundaries between athletes, testimonials and influencers blur. In the selected group for 2018 you can find Dennis and Susi from the running blog Runskills, professional triathlete and Ironman winner Jan Frodeno as well as the current German half marathon champion, Franzi Reng.
LaSportive has a clear distinction. Michael Carli, product designer, explains the differentiation between athletes and influencers: "In general, we work with two different groups of people: The athletes that are participating in and possibly winning races (Skyraces, Ultramarathon and Vertical Series) and the Instagrammers / bloggers that rather have influence via their online channels. The goals are different: in the first case it's about performance and the credibility of our product, in the second case we focus on the reach of the individual posts."
Despite the recent developments with a true wave of influencers taking over the market, also in the running industry, professional runners continue to be important faces for running brands. In spring 2018, Nike launched a commercial with their testimonial Shalane Flanagan, winner of the New York City Marathon 2017. Like few other athletes or running influencers, Shalane can demonstrate the importance of her running shoes. 
And even though German track and field athlete and Nike face Gesa Felicitas Krause now has 80,000 Instagram followers, you can tell from scrolling through her pictures: This woman is a true and full-hearted professional athlete. Her photos are sideline but not part of her daily training routine. That makes her authentic. And this may ultimately be the difference between convincing cooperation partners and less successful ones.
In our series of interviews with the running brands Adidas, Puma, Saucony, Brooks Running, Salomon, Icebug and LaSportiva, running experts explain the most important developments in running in 2018.