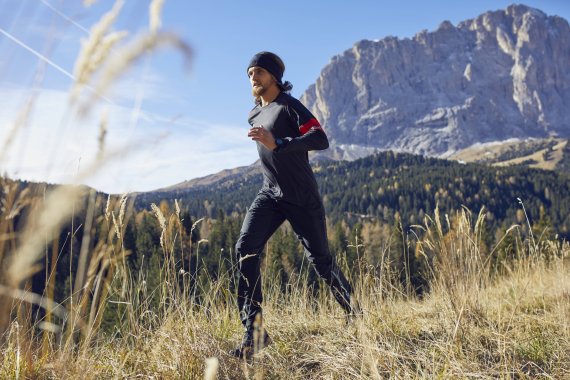 From the cross-country run through the municipal park or forest to the challenging mountain run with many altimeter - in trail running whatever you like is permitted. Important companion for all runs: a perfectly fitting shoe.
The Italian sporting goods manufacturer Tecnica is launching the Origin product line for the coming season, the first range of trail running shoes on the market, which - similar to ski boots by heating the material - can be adjusted within a few minutes directly in the shop.
Trail running clothing must be as light and functional as possible to protect, but not strain the runner. The Swiss sporting goods manufacturer Scott has developed the RC Run Windshield for this purpose, which is a combination of running jacket and sweater with windbreaker material. The small roll-up "jacket" without zipper fits in every trouser pocket.
The Italian functional clothing manufacturers UYN are also focusing on lightness and are launching their lightest undershirt to date, the Man Energyon Shirt, in 2020. The functional shirt is particularly breathable and weighs only 80 grams.
The German hiking and mountaineering boot specialist Hanwag offers the Evorado Mid & Low, a light, versatile trekking boot in "boot and loafer versions". The highlight: welded seams reduce weight and pressure points - without compromising the strength and resilience of the shoe.
Trekkers and travelers pay meticulous attention to the weight of their luggage. Accordingly, Deuter has reduced the weight of the Aircontact Pro 55 +15 SL backpack by 400 grams through more efficient use of materials and a more productive cut.
Jack Wolfskin has developed a mosquito proof technology for trekking travelers in which the material does not have to be chemically treated but is woven so densely that no mosquito can pierce it. The advantage: The protection does not wash out and is much healthier without chemicals.
The Italian family business Ferrino offers a smart service for everyone who travels with a tent: from 2020 there will be an online tent configurator. The tents can be configured and individualized according to personal needs.
In addition to the number of sleeping places, the type of holiday project can be specified, and preferred holiday destinations and seasons can be selected. In addition, ventilation options, poles, variations in the inner tent and floor as well as the color and logo of the awning itself can be determined.
The American specialist for multitools and outdoor equipment, Gerber, has launched the ComplEAT, a tool for preparing and eating meals, and cleaning cooking utensils that is tailored entirely to weight/benefit and functionality.
The Swedish company Primus presents the new Fire Stick for the trekking summer 2020. The compact screw-on cooker impresses with its feather-light weight and fits into any backpack due to its cylindrical shape.
Read more trend reports about OutDoor by ISPO here