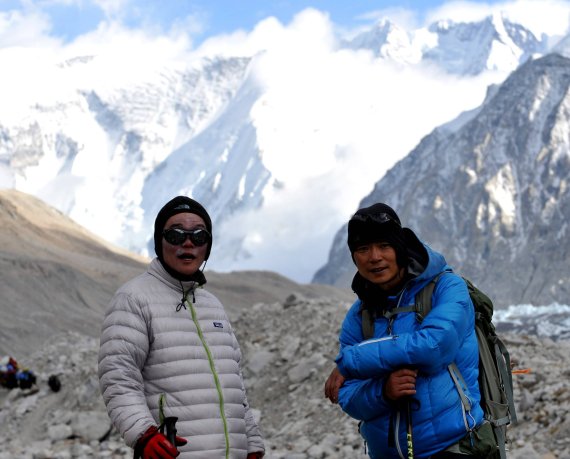 If you ask mountain climbers why they have climbed this or that summit, you'll often get a very simple answer: "Because the mountain is there." Really simple. People, mountain, adventure.
In China on the other hand, the answer more often tends to be: "Because we're rich."
The experience "man in nature"? To find out what  the human body is capable of? No, mountaineering is a status symbol in China. Anyone who has enough change lying around can buy a Maserati from the car dealership around the corner – and anyone who doesn't feel like walking can also order one online.
Climbing a summit like Mount Everest symbolizes not only wealth but also the successful career path of the mountain climber, who is happy to put down the cash. No goal is too high up.
The whole thing mostly has one catch. Male and female amateur mountaineers often aren't physically fit enough to climb to the summit without aid.
Since the turn of the millennium, this has led in some cases to extreme excesses that have caused great outrage in China's mountain-climbing community.
Hu Zhaohui, awarded the "National First Level Athlete" prize by the Chinese Mountaineering Association
for his ascent of the Muztagh Ata in Tibet, reports on mountain climbers, among others, who have completed a complete ascent with oxygen tanks – and have had to be carried back by their Sherpas due to a lack of oxygen reserves.
Such behavior, alongside the unorthodox approach to mountaineering, shows that the expectations of the supposed mountain climbers follow the motto: I've paid so I expect to be entertained.
In numbers, a completely planned-out tour by the Tibet Sacred Mountain Exploration Services, for example, costs around 400,000 yuan (60,000 dollars). No previous experience required. The group of people who can afford such an adventure is therefore small and elitist.
The successes are then posted on the microblogging service Weibo or WeChat, publicly of course, to show competitors and colleagues how great you are. You can afford to going climbing!
This summer Wang Jing, co-founder of the Chinese outdoor brand Toread, found out that social media tactics can also sometimes backfire. Wang posted a photo of herself at the summit of Mount Everest, which was only actually half true.
It was subsequently found out that Wang had not completed the whole ascent on foot. Instead, the business woman was transported from base camp to Camp 2 in a helicopter. An annoying side note, especially because Wang was physically fit enough to manage the ascent on her own power. Why the shortcut, then?
What Wang did is symbolic of another mountaineering phenomenon in China. Instead of enjoying nature in its entirety and lingering in it, as is the norm for mountain climbers, it's often only about ticking peaks off the bucket list.
Effectiveness instead of experience is the motto that often leads to the successful ascent of a peak simply being rated as a successful tour, and afterwards the journey home begins right away.
"Regardless of how much the trip cost: as soon as the Chinese are back in the valley, they go straight back to the city. They're so focused on climbing to the summit that they just can't take the climbing experience seriously." This is how Lu Biao, founder of the company Urumqi Kaitu Mountaineering and Outdoor Activities, explains how ticking off peaks works.
Commercial mountain climbing has been possible as a business model for private businesses since 2001, and many companies have registered 40 to 50 percent more growth over the last few years. However, a sustainable development of the sport will only be possible if the holistic mountaineering experience takes over the place of crossing off peaks.