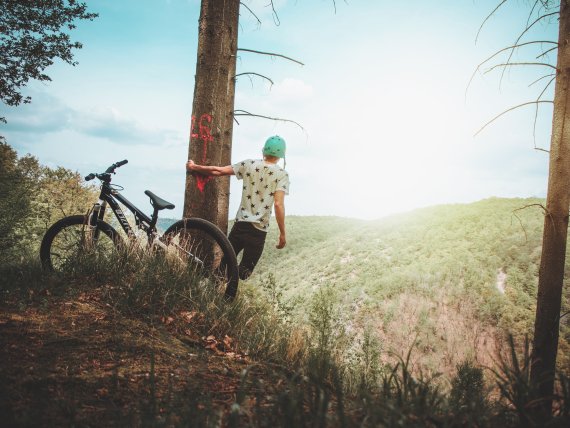 There are probably photo and video channels for every discipline and every subtopic and search term in the cycling industry. And some of them actually deliver with regularity exactly what the inclined wheel fan wants to, must and should see.
These include large corporations and professional magazines, as well as private bloggers and enthusiasts. Here ISPO.com lists the top channels for mountain biking and travel by bike.
The professionally produced MTB trial videos of the Austrian are legendary in the scene, even if they are always on the border of the legal. Fabio cycles, jumps and balances for his 3.25 million fans through and over virtually every urban obstacle. Not to imitate, but to marvel!
Red Bull Bike @ youtube English
The manufacturer of the energy drink is known for sponsoring many extreme sports. On their own Youtube channel for bikers you will find the absolute highlights from these spectacular events. Trial, downhill, BMX, freestyle - even for users without a passion for cycling the top staged clips are an eye-catcher, for insiders a must!
Danny McAskill @ youtube English
Especially his jumps and the selection of his "playgrounds" are world leaders. Just recently, his freestyle video with children's trailer and niece went viral and currently reached around 6,000,000 clicks. The outtakes of the jump attempts are also always interesting.
Electric Mountain Bike Network @ youtube English
This is where (potential) e-bikers get their money's worth. New technology and especially drives are introduced, tips for beginners and advanced learners are explained. There are driving technique tutorials, but particularly entertaining are the challenges in which wheels with and without electric drive compete against each other. The focus is more on e-MTBs.
downhill.addiction @ instagram
It's not easy to capture the action and speed of downhill in photos. The people from downhill.addiction still manage that somehow. But there are also short video clips, a must for friends of Speed on the bike.
Gravel Cyclist @ youtube English
With 17,000 subscribers, this is the biggest channel for gravel biking, with bike presentations, technical tips and casual interviews, but the "Inside race" videos are especially fun. It's hard to sit in front of the screen. The British accent of the "Cyclist Crew" is heard over time.
BIKE Magazine @ youtube German
The video collection of the mountain bike magazine of the same name accompanies the editors on trips or e.g. bike fairs. Especially interesting are the tips for screwdrivers. In well filmed and professional sound, the magazine's mechanic guides you through basic work, but also more specific maintenance.
Bike Bike Adventures @ youtube English
You should watch this channel in any case, if you have the wanderlust gripped. Two drop-outs present their world trip by bike in a less spectacular but sensitive way. The pictures are not quite so professional, but you drive, feel and suffer with the sympathetic ladies all the more.
This account is just like the well-known phrase "shut up legs" by former cycling pro Jens Voigt for insider cult and serves as something like a style guide in the urban cycling community. But there are also always pictures of cool trips out of the city.
A couple goes on a trip around the world by bike and lets the community participate. The pictures have professional standard, but never look like a catalogue or postcard photo. Anne and Michael are also very smart entertainers. Insta account with guaranteed wanderlust.
On the account top photos of many cyclists are collected and posted. That doesn't make a plot strand, but you're regularly kidnapped to other ends of the world. Ideal, for example, for everyone who wants to choose a new destination.
Jeredgruber @ instagram
Tours, professional races, bike events or simply scenes with a cycling context: Jered offers pure emotions around the bike in impressive and always very colourful pictures, almost more artists than cycling fans.
tino_pohlmann_photography @ instagram
The Berlin sports photographer is regarded as something like the "Lord of Light and Shadow", his action shots at major events are extremely popular, most recently he accompanied Jan Frodeno to victory in Hawaii. Pohlmann's paintings are art and hero worship at the same time.
Unlike many others, Nicolas is a professional photographer on bike trips, not vice versa! His pictures are a little less from life, but absolutely spectacular. He devotes himself a little more to the country and the people than to the journey itself.
Cycling Tours Europe @ facebook
This is about long distance travel. As a public Facebook page, this creates a dialogue between experienced and new cyclists, from which a wealth of practical information can be drawn. In addition again and again top route suggestions, super video scenes and ingenious pictures.