Sustainability and digitization are the two major categories that will determine and change fashion trends in the future. No brand or retailer will be able to avoid them. Sustainability and digitization are anything but opposites. In fact, many sustainable developments can only be implemented through digital processes. These are the seven most important developments for the fashion of the future:
Future fashion will Focus on Health and Well-Being

Rental Service and Second-Hand Fashion for a Lower Carbon Footprint

Reducing Resource Consumption with a Circular Economy

Future Fashion: Reduction of the CO2 Footprint

Personalization: Specialists Are in Demand

Digitized Fashion: From Digital Influencers to the Metaverse

Live Shopping: Digital Shopping Should Become an Event
These trends will shape the future of fashion
1. Future Fashion: Focus on Health and Well-Being
Health has not just been an important trend topic since Corona. For years, textile manufacturers and brands have been experimenting with health-promoting properties of clothing, for example through integrated nanocapsules that care for the skin and improve regeneration, or through intelligent threads that act as sensors, data conductors and power suppliers to generate heat over a wide area or measure moisture, pressure points and temperature.
The pandemic has also focused attention on antiviral properties. Manufacturers such as Polygiene from Sweden and HeiQ from Switzerland have developed special finishes for textiles that kill viruses and bacteria, thus providing active health protection. According to the Corona experience, they can help people feel safer.
In the home office, we have also learned that it is much more pleasant to be able to dress comfortably. Basically, fashion has been moving in an increasingly comfortable direction for decades. Sports and outdoor fashion is the main source of inspiration for this. The high acceptance of sneakers, stretch denim and men's jersey suits are all signs of this. People will not let these achievements be taken away from them again.
Mental health is also a typical health theme, which has received enormous tailwind due to the pandemic and is likely to boost the outdoor market in the long term. Being outdoors and experiencing nature is seen as a healing balance to the constant stress of our everyday lives. 
2. Rental Service and Second-Hand Fashion for a Lower Carbon Footprint
Sustainability is the defining mega-trend in fashion. But while a few years ago you could position yourself as a sustainable brand just by using organic cotton, today the consumer expects much more. It's about the carbon footprint of products and companies and achieving climate neutrality, which will soon also be required by law - or even better - climate positivity.
Instead of manufacturing or buying new products, more and more retailers, brands and consumers are turning to alternative consumption models. The second-hand market has been growing for years and is forecast to double to a total of 34 billion euros by 2025. More and more brands and retailers are investing in new resale business models and offering second-hand goods alongside their regular collections - from The North Face and Vaude to H&M and Zalando.
The same goes for rental services. In recent months, numerous retailers and brands have launched the new service. Whether it's luxury fashion, skiwear or outdoor equipment, the possibilities are many and Generation Z at the latest will be more interested in using products rather than owning them.
3. Reducing Resource Consumption with a Circular Economy
There are already a number of brands that are seriously addressing the issue of the circular economy, for example "On" with its subscription sneaker Cyclon or the cooperation between Bergans of Norway and Spinnova. Most of these are lighthouse projects, and the number of functioning product cycles or even just recyclable products is still vanishingly small.
This is mainly because the entire value chain up to the disposal plant has to pull together here. It is not enough to use recycled materials in production; the finished product must also be recyclable at the end of its life. Either because mono-material was used or because the individual parts can be easily separated from each other. However, the more robust and durable the products are, the more difficult it is to achieve the latter. Biological cycles - i.e. composting - are also an option and are already being tested.
The outdoor sector in particular, with its preference for synthetic material compositions and coatings, still has many challenges to solve. It is clear that the industry is gearing up to develop new processes for recycling - also because this will soon be required by law. So this topic will keep us busy for quite a while.
4. Future Fashion: Reduction of the CO2 Footprint
Organic is today, the future is regenerative. What this means, particularly in view of the climate targets, is that companies should not only strive to use sustainably produced raw materials, but increasingly also those that have been produced in a climate-positive way. They improve their own climate footprint. Since for apparel manufacturers their own products usually represent the largest item in their carbon footprint, it only makes sense to start here.
Using cotton as an example, this means only sourcing it from sources that use regenerative eco-agriculture methods that help pull carbon back into the soil.
Patagonia already uses regenerative cotton and promotes cotton farmers in the U.S. who have joined the project. The North Face is also moving in this direction.
5. Personalization: Specialists Are in Demand
Generalists are increasingly facing a credibility problem, because the days of "one fits all" are coming to an end. This by no means only means that the fit of clothing will be more closely oriented to "real" bodies in the future - for example, through body scanning technologies or personal avatars. The collections themselves will also be increasingly developed for and with precisely defined target groups and marketed in an equally targeted manner. In this context, the evolution of fashion ranges from gender-free collections to clothing brands that block cell phone radiation or offer menstrual underwear.
Li Edelkoort, an icon of fashion trend research, therefore also sees small brands in a good position that only offer one product category, but are absolute specialists there and achieve a high level of relevance and credibility. The fact that these collections are then produced on demand in the desired color represents the next stage of the fashion evolution. The digitization of the process chain from design through production to retail will make a significant contribution to aligning products more closely than before to customer wishes.
6. Digitized Fashion: From Digital Influencers to the Metaverse
With 3D technology, fashion is climbing to a new evolutionary level. More and more fashion companies are converting their product development to 3D. The technology has now reached the point where you can no longer tell the difference between a digitally generated product image and a photograph. This opens up completely new possibilities: Digital products can be marketed online and tried on via personalized avatars before they have even been produced. Fashion shows and fashion campaigns can also be realized with digital models such as Lil Miquela, a digital model in existence since 2016 with over three million followers on Instagram, or the Japanese digital influencer Imma.Gram.
Finally, the virtual world of the Metaverse opens up a completely new playground for digital fashion. Fashion brands can sell their products not only in the real world, but via NFTs in games like Roblox and Fortnite, because fashion plays an increasingly important role there, too. There have long been companies that only make digital fashion, and more and more classic fashion brands that are moving into the virtual world. Whether it's Nike with Nikeland or Balenciaga, Ralph Lauren, Off-White and Karl Lagerfeld, this is just the beginning.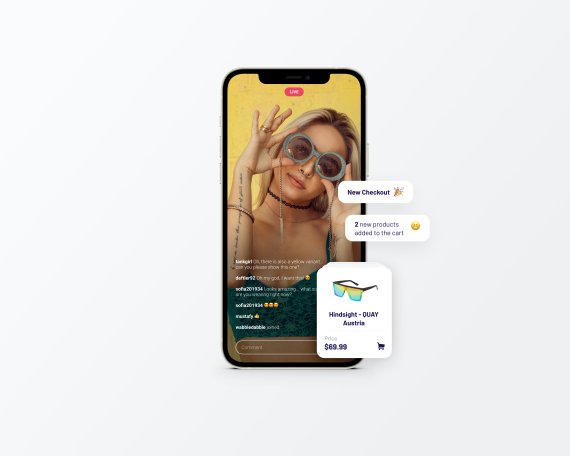 7. Live Shopping: Digital Shopping Should Become an Event
Online shopping is growing, but it's honestly far from an experience. The solution: live shopping. In China, the trend is already a high-revenue mass phenomenon. There, 20 percent of online trade already takes place via live shopping, and the trend is rising. All this has only become established within the last five to six years.
Chinese live-shopping superstars like Viya and Austin Li Jiaqi sell billions of dollars worth of goods within a few hours on TaoBao. Live-streamed online sales are now finding more and more followers in non-Asian countries as well, preferably among younger generations. Live shopping is seen by many as the future of online retailing because it has the character of an event and enables a direct, human encounter between retailer and consumer.
Conclusion: The Fashion of Future
The market provides room for innovation and this influences the future fashion trend predictions. The clothing of the future is becoming more and more of a current trend and that makes people curious about new things. Predictions for future fashion trends only now seem fantastic and unreal. In fact, they are very close.
At the end of our article we answer frequently asked questions about future fashion trends.
Digital fashion refers to the representation of clothing, which is produced with the help of computer technologies. Thus, it is possible to edit an image so that you can digitally put on your desired piece of clothing.
There has been notable progress in the area of digital fashion and sustainable clothing. The focus is on convenience and innovation, and the range is also to be adapted for smaller or more specialized target groups.