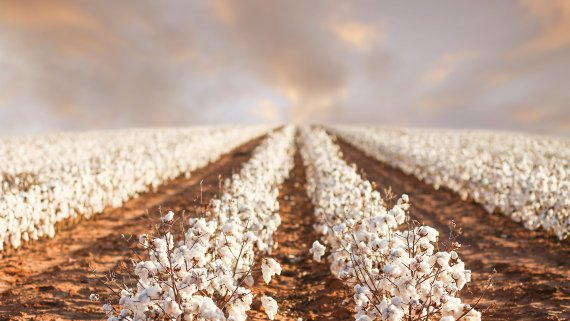 In the recent ISPO Textrends jury meeting, it was clear to see the continuing interest in natural fibers, to complement synthetics, as all sectors pursue stronger sustainable credentials, individually or in innovative hybrid blends.
Deemed a favored fiber of consumers, it is cotton's natural touch and overall feeling of reassurance that it gives to consumers, plus the inherent performance it brings in terms of insulation, breathability, and anti-odor.
Both in the sports and outdoors market, conventional cotton can't compete when compared to synthetic garments. When cotton gets wet, it doesn't moisture manage across the surface. Instead cotton gets heavy when wet and is far from fast drying. This is now being addressed, with investment in R&D focussed on spinning technology and innovative finishes.
Times are changing, and cotton is looking to increase its performance credentials. Advocates of synthetics claim that cotton isn't as environmentally friendly as it is made to look, with a massive amount of water to grow, not including the water used during the textile process, chemicals and taking up land that could be used for arable farming. The cotton industry is responding to this with more responsible and sustainable measures, with Cotton USA and BCI (Better Cotton Initiative) making the biggest moves, especially with traceability.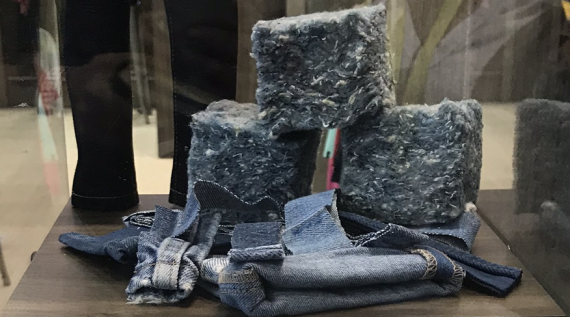 The Better Cotton Initiative exists to make global cotton production better for the people who produce it, better for the environment it grows in and better for the sector's future, by developing Better Cotton as a sustainable mainstream commodity. Support ranges from working with cotton farmers to ensure an efficient farming process through the entire chain from spinners to mills and cut-and-sew manufacturers.
An additional advantage to cotton is its ability to biodegrade at a speedy rate in landfill. According to Down2earth Materials, a synthetic garment can take 30 - 40 years to biodegrade, whilst a cotton garment takes only 5-6 months. Cotton apparel can also be recycled into recycled cotton yarns, or used in innovative projects including Cotton Incorporated's Blue Jeans Go Green.
The program has collected over one million pairs of jeans, keeping textile waste out of landfills. The collected jeans are stripped and shredded to convert into cotton insulation. An alternative to traditional fiberglass, the cotton insulation is non-itching and free of chemical irritants. In addition, it provides thermal performance and 30 percent better soundproofing.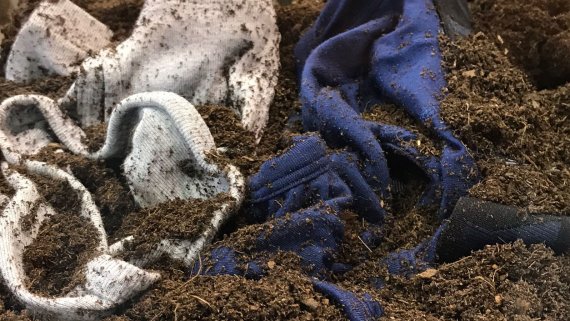 Circular economy also features, with cotton scraps on the cutting floor recycled into yarn. Whilst cotton carries the strongest natural nuance, there is continuing development for man-made cellulosics, derived from tree branches. Lenzing's brand ingredients of Tencel, Lenzing Modal and Micro are a case in point, with the benefits being that the key ingredient to these fibers is they are sourced from a naturally recurring source, requiring less water than cotton. Now, Lenzing has embraced the circular economy with the pioneering REFIBRA technology that involves upcycling a substantial proportion of cotton scraps e.g. from garment production, in addition to wood pulp, where the raw material is transformed to produce new virgin Tencel Lyocell fibers to make fabrics and garments.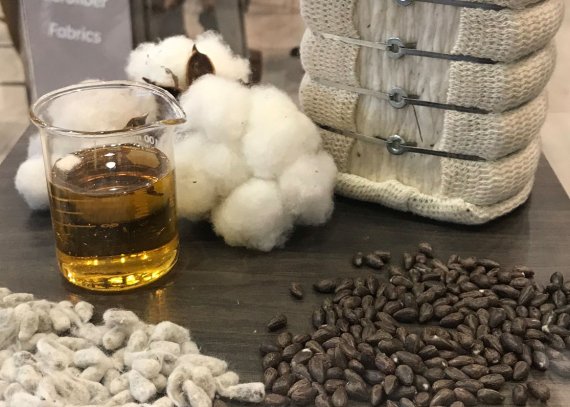 Textile finishers are taking cotton up to a new level. Affiliates of Cotton USA and "What's New in Cotton?" a trademarked platform established by the Cotton International is addressing the demand for responsible function. From biotechnologies being used to create traceable cotton through to innovative finishes that deliver moisture management, enhancing the inherent anti-odor function cotton has.
SolucellAir is a patented technology using Solucell to fill cotton with air. By creating a hollow channel inside the cotton yarn, this makes cotton fabrics function and more comfortable to wear. A 100 percent hollow core cotton fabric has a bulky look without the weight, a long-lasting soft touch, moisture management, and quick dry. These functions are permanent and also establish the function at the spinning stage and not through a finish, ensuring pure natural cotton with no added chemical.
Fibretrace is another new technology promoted under the "What's New in Cotton?"-platform. The technology embeds brand signatures in fibers offering complete traceability through the supply chain. The combination of their patented fibers and reader technology, provides brands with a complete lock and key system, offering comprehensive supply chain transparency.
Zero-D Reactive Pigment, developed by Intech Digital offers exciting new posibilities for cotton apparel. Through reactive pigment digital printing, designs and solid colors, it needs only one percent of the water used in traditional textile dyeing processes and produces zero waste water. The benefit of the printing is that a base fabric can be stocked, and printed when necessary in order to deliver on demand. Sustainable and dye-free, Zero-D products are high wash resistant, similar to textile dyeing. This digital printing isn't just confined to cotton but can be applied to other natural fibers.
The performance properties of synthetics are applied to natural fabrics with DropelTech, a bluseign accredited finish that repels both water and stain while maintaining the softness and breathability of cotton and other natural fibers
Portuguese textile mill TINTEX, a regular participant and winner at ISPO Textrends, has incorporated a smart alternative and responsible finishing process into its collection. Naturally Clean takes a cost-effective modern approach that eliminates aggressive treatments and optimizes clean surfaces, vivid colors, and beautifully smooth to the touch feel.
The finishing process is achieved through Novozymes technology, a company that is indeed the world leader in biological solutions and Beyond Surface Technologies AG chemicals with the lowest possible environmental impact, without compromising performance. Naturally Clean maintains the original characteristics for an extended period of time, with material Oeko-Tex and bluesign certified, thus eliminating harmful substances.
Nanotex, a Crypton Company and fabric innovator providing nanotechnology-based textile enhancements to the apparel and home markets, and Cotton Incorporated, the research and promotion company of U.S. cotton producers, announced Nanotex DRY INSIDE technology for cotton apparel.
The patented technology enables effective moisture transfer away from the skin, eliminating dampness and chaffing, in 100 percent cotton apparel, while maintaining the additional comfort aspects of garments made from the natural fiber, especially the soft touch.
The processing technology enables cotton to effectively compete with synthetic fiber fabrications in the active and athleisure markets. Extensive testing on the technology at Cotton Incorporated laboratories in Cary, N.C., highlighted that Nanotex DRY INSIDE outperformed 100 percent polyester and untreated cotton in one-way moisture transport and cling.
With circular economy featuring at the yarn form, a similar process is being achieved at the earlier stage of the textile chain, the cotton seed. Asahi Kasei has relaunched Bemberg, its cupro band ingredient. Cupro is developed by stripping the cotton seeds of the fibers, with each cotton boll carrying up to 45 seeds, with approximately 10,000 and 20,000 fibers. Asahi Kasei has revised its process of retrieving the fibers through a new mechanical process rather than the previous chemical one.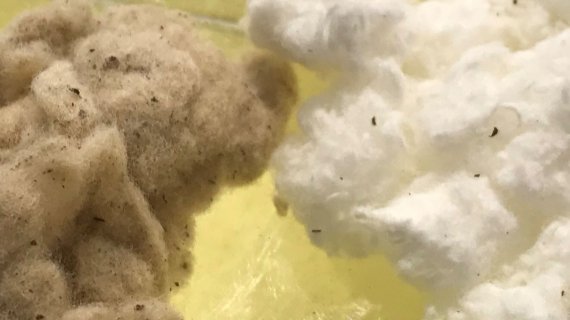 This natural yarn is super silky to touch, with great drape for both knits and wovens, delivering a sense of luxury. To enhance the eco-credentials of this products, Asahi Kasei has developed a new finishing refinement technology, Velutine Evo, for a premium finish to classic Bemberg peach skin touch. The new finishing brings better environmental, energy and water profiles for the benefit of Bemberg partners in the manufacture of their ranges.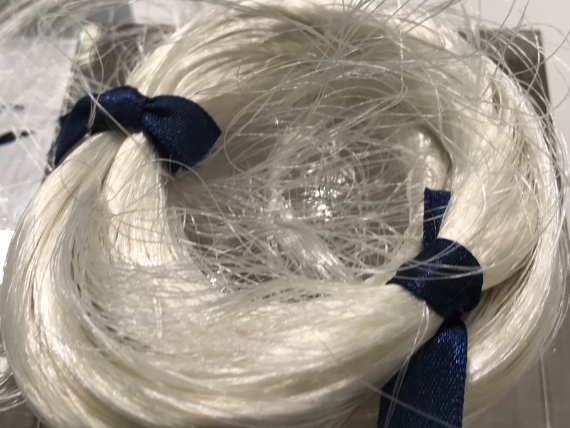 ICEA, a third party organization that measures the environmental impacts produced a Life Cycle Assessment (LCA) study for Velutine Evo, found that there is a definite reduction in water and electricity used as well as a reduction in greenhouse gas emissions. 
The importance of cotton in the sports and outdoors sectors should not be ignored, but expect new developments with the push in perfecting a higher level of performance is palpable. It is just a matter of time before cotton becomes a perfomance player!