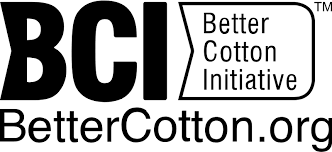 The Better Cotton Initiative (BCI) was founded in 2005 to improve conventional cotton cultivation in a sustainable manner.
The BCI seal does not stand for organically grown cotton in the strict sense, but for a "more sustainable" cotton. The initiative originates from a roundtable program of the international nature and environmental protection organization WWF was created. The aim was to develop more sustainable solutions for conventional cotton production that benefit farmers, the environment and consumers. Among the founding members of the BCI were companies and organisations such as Adidas, Gap Inc, H&M, Ikea, Organic Exchange, Oxfam, PAN UK and of course WWF. An essential part of the programme includes training cotton farmers in sustainable management of their cotton fields. Better Cotton farmers must comply with certain guidelines regarding the use of pesticides, water efficiency, soil protection, protection of natural habitats, fiber quality and working conditions. The use of genetically modified cotton is permitted. BCI farmers who implement this system are granted a licence to sell Better Cotton.
The BCI has not yet awarded any seals in the first years of its existence. It is only since the global output of Better Cotton has risen to a significant amount that the organisation has awarded the BCI seal. According to the BCI, Better Cotton currently accounts for approximately 22 percent of global production. About two million farmers are licensed. At the end of 2019, the BCI had 1,800 members, including 168 retailers and brands such as Adidas, Amer Sports, Asics, Decathlon, VF etc.
The BCI acts according to the principle of mass balance. When a manufacturer orders T-shirts made of cotton, it only requires a certain amount of BCI Cotton. However, it does not specify which products and in which mixture are made from it. This procedure is a simpler alternative to the very costly traceability. In concrete terms, this means that a BCI logo on a product does not mean that the product is made of physically traceable better cotton. It means that a product made mainly of cotton is offered by a trader who has committed to buy better cotton and invest in BCI farmers.
A member must purchase at least 10 percent of its cotton as Better Cotton to begin using the mark. The goal is to purchase at least 50 percent of the cotton as Better Cotton within five years. The BCI monitors this progress.