Start directly at the West Entrance in Halls A1 to A3. This is where the outdoor segment has its home. Inclusion and diversity are the focus for many brands.
For example, Schöffel will be exhibiting directly in hall A1 (booth 302) together with its brand ambassador Felix Neureuther will be presenting its #WeAreNature brand message and the Felix signature outfit.
Nearby, at booth 402, the sustainability pioneers from Vaude will be showing their highlight products. They also want to illustrate the production process of the jackets, pants and shoes with diagrams. For example, Vaude uses recycled PET bottles as well as old tires in product manufacturing. In addition to the focus on recycled materials, regenerative and regional materials such as Lavalan wool are used as insulation material.
Jack Wolfskin (Booth 502) is also showing some innovations that lead to more resource-efficient production. The Tapeless Jacket 2.0 hiking jacket comes with a new seam sealing: Zero Tape technology saves 20 meters of tape per jacket and creates particularly waterproof and breathable seams.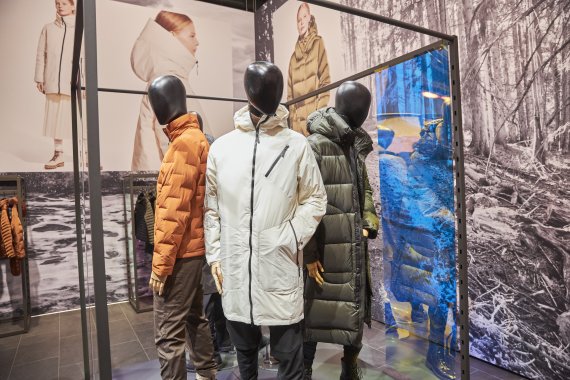 If you're in the mood for technology and wearables, head one row over to Clim8 at booth A1.500. The former Brandnew winners now work with many well-known brands and offer "smart heaters" for clothing or jackets as well as gloves. These use AI and can be controlled with an app and adapted to individual heat sensations.
Next door in Hall A2, Outdoor Sports Valley will showcase the most important innovations from the French as well as Scandinavian outdoor scene. Both associations will also present their awards late Monday afternoon.
Also in Hall A2, the running shoe pros will present the further development of their Ultreya model. Founder Joe Nimble, along with ultrarunner Joāo Andrade and biomechanist Lee Saxby, will be available for questions and answers at the booth Monday afternoon.
Next stop in Hall A3 will be Patagonia, which will be on site with a garment repair truck, and Picture Organic Clothing. Both brands are committed to being as sustainable as possible and also have something for winter sports enthusiasts in their product portfolio.
The majority of the snowsports segment can be found in Halls A3 and B3. The continuing trend towards ski touring is evident at Kohla, Montana, Contour, Scarpa, TSL, Hagan Skis and PLUM, but the development of ski products that conserve resources as much as possible is also a major topic. There are some exciting and partly new brands at the start:
PUSU Skis (B3.504), the Finns make skis that are as environmentally

environmentally friendly skis and are ISPO Award winner 2022

Early Bird Skis (but Hall B1) work with bio-based and recycled materials.

Majesty Skis from Poland tend to specialize in the freeride, freeski and touring segment. In the meantime, the Poles also offer skins, bindings, eyewear and (functional) clothing.

For the makers of Stereo Skis, their carbon footprint is also important. Their collection is made in Scandinavia and Italy.
Scott is coming to ISPO Munich as one of the biggest players in this segment. The Swiss company can be found in hall A3 at booth 302.
If, on the other hand, you're still looking for young companies, you can quickly hop over to the ISPO Brandnew Area in the Future Lab. Over 70 start-ups are represented here, and on Tuesday the best ideas will be presented and selected in three live pitches. Among them are start-ups as diverse as
Artilect, with dynamic clothing systems for outdoor athletes

Heatit, offering smart insect bite healers

Edelworks, with a magnetic ski touring binding that supports the ascent with repulsive magnets.
Established brands have also evolved. This is evident in the ISPO Award Area. Around 100 winning products are on display there, for example the biodegradable down jacket from the New Zealand outdoor brand Kathmandu.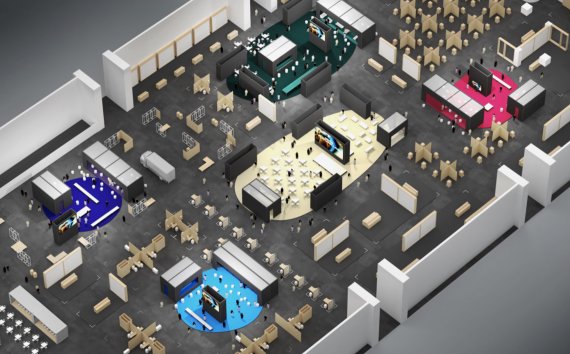 Of course, the Future Lab is a great place to spend time during your ISPO Munich visit, with numerous presentations on the Mainstage, in the Sustainability Hub, or in the Retail Corner. At some point, however, you should move on towards C1 and visit Bergtoys. The manufacturer of running wheels, trampolines, go-karts are Cradle-2-Cradle certified and exhibit the first circular trampoline.
Once already in Hall C1, don't miss the Padel Village.
Of course, important for all textile experts are the Textile Trends and Sourcing Areas C2-C4. The winning products of the Textrends Award will also be on display there.
Then it's off to new styles in Sports Fashion Hall B1 and a visit to ISPO 520M in the West Entrance. By the way, this is the name of the collaboration between ISPO Munich and High Snobiety. The collab takes its name from the highest point in Munich - 520 meters above sea level. The focus is on the personal meeting for all those who are interested in performance fashion, urban culture as well as art and music. Every day you will meet artists, musicians and many people from the scene. Stop by and network!