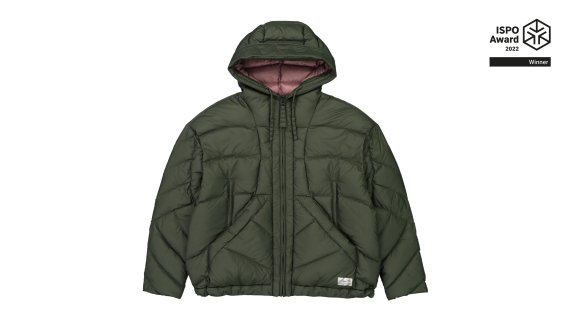 New Zealand-based outdoor brand Kathmandu has committed to designing, developing and manufacturing 100 percent of its products using elements of circularity principles by 2025. For Kathmandu, the key to the circular economy lies in developing products that are as durable as possible, and then biodegradable when they reach modern landfill. Because just one percent of all textile waste worldwide is recycled today. Until functioning recycling plants and processes are developed on a large scale, and in order to reduce the growing mountains of waste, another solution is needed: With the NXT-Level BioDown jacket, Kathmandu presents a biodegradable insulated jacket. It is scheduled to hit the market in the northern hemisphere in fall.
Kathmandu uses  nylon 66 to develop the fabric, lining, sewing thread and zipper, and treats these elements with a biodegradable polymer called 'AmniSoul Eco'. All other materials are also biodegradable: the filling is made from PrimaLoft-Bio and with Responsible Down Standard (RDS) 600fill power duck down, traceable with TrackMyDown. Elements external to the jacket were highly considered too, with cotton was used for the labels and 100% recycled card and printed soy ink used for the swing tag.
The challenge was to develop a jacket without all the trims that designers usually fall back on, or to find alternatives.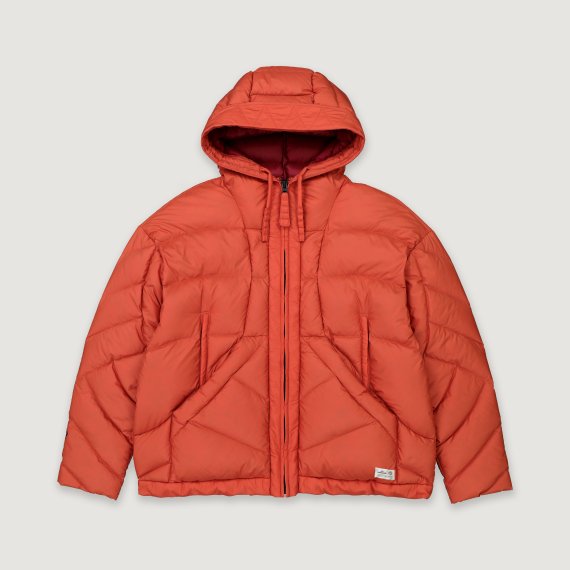 During the nylon manufacturing process, a special additive is added to accelerate biodegradation in an anaerobic environment. Once in a modern landfill environment, the additive gets activated and enables a biofilm, which is formed by acids and enzymes secreted by microbes,  to break down the synthetics long polymer chains which are then excreted as organic matter. This process takes place within three to five years. Conventional synthetic fibers normally take centuries for this process. This is not accomplished in the compost at home, but under the controlled conditions of modern landfill, where most textiles end up.
But of course, biodegradability only makes sense if the product has been used for a long time beforehand. It was therefore important to design an extremely durable, comfortable and desirable product that could be worn for decades. That's why Kathmandu, for example, uses a durable ripstop fabric like the ones used for backpacks. The brand also actively promotes extending the product life through care & repair, passing-on or reselling.
"We know less than one per cent of the materials used in textile products is actually recycled back into textiles. We need to solve this problem and scale up textile to textile recycling. At the top of our list for BioDown was to design out waste and pollution from the start, and keep this jacket in use for as long as possible. We've created an ultra durable jacket that can last for decades but is entirely biodegradable should it end its journey in a landfill, and has become the flag-bearer for our best for the world circularity by 2025. We're so proud to win a globally recognised ISPO Award for our innovation and look forward to seeing customers wear their BioDown when they're enjoying the outdoors."
Manu Rastogi, Kathmandu Head of Product Innovation and Product Sustainability
Not only was the garment designed to be biodegradable, this philosophy was carried through to the entire product construction and packaging. From the hangtags, desiccant and polybag to the messenger bag, everything is designed to degrade (in the right environment).
*86.6% biodegradation in 1,050+ days for outer and lining material; 94.4% biodegradation in 1,677+ days for zip and thread; 93.8% biodegradation in 646+ days for synthetic fill under ASTM D5511 conditions (being optimal conditions that may be found in some biologically active landfills)
Soft, warm and lightweight down jacket made only from biodegradable materials, including lining, fill, main materials and zipper

TrackMyDown for down traceability - from farm to shipping to production

Duck down with 600 fill power and Responsible Down Standard (RDS)

Durable PFC free water repellent (DWR) finish

Coherent, holistic circular concept
"Designed to be worn for decades and then fully biodegraded, Kathmandu's NXT-Level BioDown Jacket is a truly exciting product that is completely thought of in circular terms, from the zipper to the nylon yarn used. Not only is the filling and mono-material used progressive, but so is its design."
Martina Wengenmeir, Jury Member ISPO Award 2022 and Editor ISPO.com