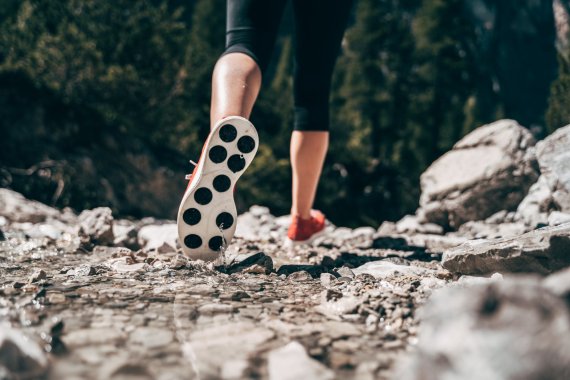 For the young label from Frankfurt, it's quality over quantity: The stylish sneakers are produced by hand in Portugal - from organic cotton, recycled rubber, vegetable-tanned leather and nickel-free eyelets. With small quantities, the sustainable sneaker label awakens desires and ensures fair working conditions. Besides thart, the sustainable sneaker label also ensures high wearing comfort and durability of their trendy streetwear styles.
One tree per shoe: Barcelona-based sneaker label Saye is helping to reforest in India, Africa and the Amazon by planting two trees for every pair of sneakers sold - a total of 145,282 so far. The sustainable sneakers are made under fair conditions in Portugal, from European leather or entirely free of animal products: The retro sneaker "Modelo `89" for example, is made from environmentally friendly materials such as recycled PET, bamboo and mango peel, making it 100% vegan.
Veja's sustainable fairtrade sneakers are among the best-known designs on the slow fashion scene. Since 2005, the label has been offering cool street styles and since 2019 they're also producing running shoes to make the world a little better. In the Parisian design office, a lot of emphasis is placed on timeless designs and quality, so that the sneakers are particularly durable. The sneakers are produced in Brazil using regional materials such as organic cotton, natural rubber and vegetable-tanned leather.
PETA-approved: All collections of the Swedish premium label are 100% vegan. The stylish sneakers are made in Portugal from innovative materials such as recycled PET, fibres from pineapple leaves and corn. To make production even more environmentally friendly, the label has launched its own Recycle Project - a circular economy in which old shoe soles are reused in the production of new collections.
The makers of this German street fashion brand come from the surf and skate scene and are committed to protecting the oceans with their sustainable retro sneakers. They support charities such as the Sea Shepherd Mission or the One Earth - One Ocean E.V.  with their sales. It goes without saying that the sneakers are made with ecological materials and during the manufacturing process neither people nor the environment are unnecessarily burdened.
The running sneakers by New Zealand brand Allbirds are well on their way to outperforming conventional running shoes: The production from eucalyptus fibers or ZQ-certified merino wool sets high quality standards, ensures great running comfort and the necessary durability of the sustainable sneakers. What's more, each pair comes in recycled packaging and part of the proceeds go to social projects.
The sustainable streetwear sneakers from Brazil are available in eco-certified, chrome-free leather as well as in a vegan version made from recycled PET. With durable design and high-quality materials, the makers want to contribute to reducing consumption and participate in a recycling program to make the packaging and production of the stylish sneakers even more sustainable. In addition, the label plants two trees in its native Brazil with every pair sold.
The Spanish fashion label produces sustainable fashion from marine waste or old car tires with a consistent recycling concept. In more than ten years of company history, more than 500 tons of waste from the sea have been collected and 200 million tons of plastic bottles have been recycled. Besides beautiful sportswear and various everyday shoes, their comfortable running sneakers in particular offer the very best conditions for doing a few extra laps during training.
With this Norwegian sneaker label the name says it all: Nothing new is used in the production of the timeless designs, because all of the components are recycled - from PET bottles and fishing nets to old rubber or cork. On top of that, the label operates its own circular economy, which further reduces the ecological footprint: if you send in your old Nothing New sneakers, you get a 20 euro discount on a new pair of sustainable sneakers.
Each collection of the Spanish brand is linked to an environmental or social project. For example, 124,833 trees have been planted and 21,099 PET bottles have been recycled so far. In addition to the polyester made of those recycled bottels, only ecological materials such as corn waste, bamboo or organic cotton are used for the production of the sustainable sneakers. Thus, the stylish sneakers are mostly biodegradable and 100% vegan.