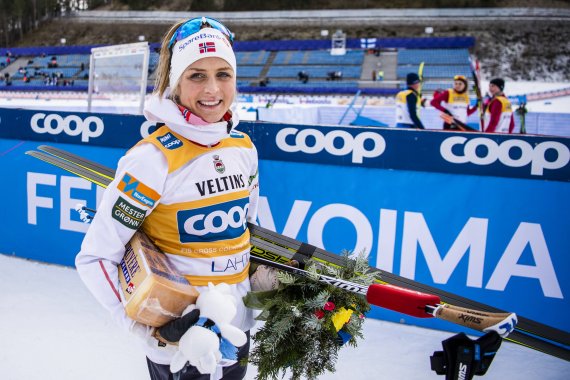 Therese Johaug is the most famous personality that the central Norwegian mountain town of Röros has ever produced. As a cross-country skier she dominated the 2010s. But in October 2016 a positive doping test shook the cross-country skiing scene, when Johaug was tested positive on the androgenic steoroid Clostebol.
The Norwegian Ski Association blamed the treatment of a sunburn on Johaug's lip with the cream Trofodermin for this. The cream had been bought by a team doctor at short notice during a training camp in a pharmacy according to the Norwegians. A doping warning on the package had been overlooked. The sports court saw things differently and suspended Johaug for 18 months, which meant that she also missed the 2018 Winter Olympics in Pyeongchang.
Johaug returned to the 2018/19 season - and has since then once again been the undisputed number one in cross-country skiing.
Successes:
Therese Johaug has won almost everything. The only thing she didn't win so far is an individual gold medal at the Olympic Games. In 2010 she won gold in Vancouver with the Norwegian relay team. In 2014 she won silver in Sochi over 30 km freestyle and bronze over 10 km classic. In both competitions, however, she stood in the shadow of her compatriot Marit Bjorgen, who ended her career in 2018.
With a total of ten World Championship titles (plus two silver and three bronze), her yield at World Championships is considerably greater. Johaug has won the overall cross-country skiing World Cup three times so far (2013/14, 2015/16, 2019/20)
Social:
Instagram: 399,000 subscribers
Facebook: 369,000 subscribers
In addition to insights into her private life and everyday life in the cross-country skiing circus, Therese Johaug uses her social media channels not least to promote her own sportswear and fashion brand Johaug. It has been around since 2012 and sells exclusively women's clothing and accessories.
In addition to Norwegian brands, Johaug was also able to win global players such as Oakley, Huawei and Jaguar as sponsors.
Sponsors and suppliers at a glance:
Isklar

Asko

Tender Flame

CTC

Jaguar

Oakley

Autostrada

Huawei

United Bakeries

NÖK
Even off the trail, Therese Johaug can hardly be stopped. In 2019 she took part in the Norwegian Athletics Championships and promptly became national champion over the 10 km with a championship record. In 2020 she also undercut the world championship standard over 10 km in a running event. So she could even hope to participate in the 2022 World Championships in Athletics. But for the moment she does not want to switch sports: "My heart is set on cross-country skiing," said Johaug after the 2020 running show.