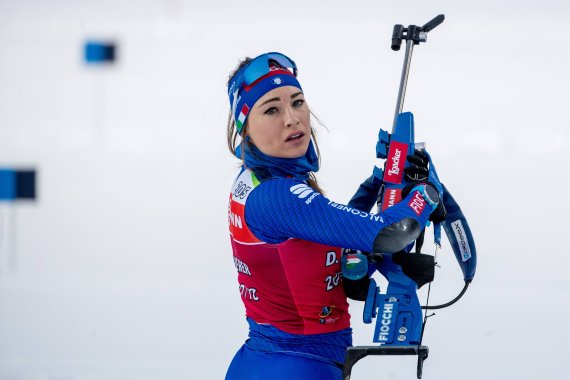 After the Norwegian double victory in the 2020/21 World Cup season, the cards are reshuffled for the 2021/22 Olympic winter: A Norwegian duel is brewing in the men's singles. Or can France's Quentin Fillon get in Maillet's way?
In the women's competition, Tiril Eckhoff dethroned Dorothea Wierer, probably the most popular biathlete, last season with a historic series of victories. Can the Italian strike back this winter?
Instagram fans: 249,000
Sponsors and suppliers: Swix, Anschütz, Fischer, Kinetix, 100%, Casco, DNB, Hedda Hytter
After the career end of the great Martin Fourcade, the great time of Johannes Thingnes Bö has come. The past three overall World Cups went to the Norwegian, who also now has twelve World Cup gold medals to his name. He won the 2019/2020 World Cup season despite a two-week break due to parental leave. He was also able to cheer as Olympic champion in the individual at the 2018 Winter Olympics.
No wonder he is in demand in Norway: DNB, Norway's largest bank, sponsors him as well as smaller companies. That includes Hedda Hytter, which manufactures wooden houses.
Instagram fans: 45,700
Sponsors and suppliers: Madshus, Anschütz, Julbo, Swix, Lapua, Kinetixx, AF Gruppen, Jensen, Norsan.
He is the shooting star of biathlon: In his rookie season 2020/21 Sturla Holm Lägreid promptly became World Cup runner-up. In his first World Cup ever, he secured four titles in 2021. At just 23 years of age, he has become a beacon of hope for the future of the already dominant Norwegian team.  
It is no wonder that the winter sports brand Madshus has negotiated a long-term contract as supplier and sponsor with Lägreid still at the beginning of 2021. "He keeps challenging the established elite and keeps achieving podiums at World Cup level. As part of the contract, Sturla will of course continue to be a central part of our marketing and promotional strategy," said Madshus' Global Marketing Director Per Wiik, pleased with the decision to continue the collaboration.
Instagram fans: 86,400
Sponsors and suppliers: Fischer, Julbo, Kinetixx, Scott, le coq sportif, Douanes & Droits Indirects, Garage des Sports, OW, Comptoir de l'ours, JuraFlore, Viessmann
Since the career end of Martin Fourcade in 2020, Quentin Fillon Maillet is the number one in France. In the overall World Cup 2020/21 he finished third, as in the previous two years. At World Championships, Fillon Maillet has already collected ten medals. Only at the Olympic Games has the 29-year-old so far gone empty-handed. This is set to change in Beijing.
Like many athletes, Fillon Maillet is also employed by customs. And: The Frenchman is a real craftsman. He makes his own rifle barrels.
Instagram fans: 71,400
Sponsors and suppliers: Madshus, Anschütz, Viessmann, Fischer Fahrrad, Feldberg, Joka, DKB, Lotto Baden-Württemberg, testo, Fischerbeck, Oneway, Garmin, Edeka Kohler, Bundeswehr Sportfördergruppe, Deutsche Sporthilfe, Hochschule Furtwangen University
Simon Schempp has quit, Arnd Peiffer will only be a TV expert for German television at the World Cups in the future. Benedikt Doll is now the most promising German starter in the Biathlon World Cup.
Benedikt Doll has two individual victories to his name so far in his World Cup career. And he has also been successful at World Championships with his sprint gold in 2017. In 2018, Doll not only won bronze in the relay at the Olympic Games in Pyeongchang, but also in the pursuit.
In addition to endurance sports, cooking is a passion of the 31-year-old. Together with his father Charly, Benedikt Doll runs the nutrition blog Dolls Küche (Doll's Kitchen).
Instagram fans: 253,000
Sponsors and suppliers: Fischer, Anschütz, Oakley, Lapua, Swix, Sandnes Garn, Bravida, BMW
None has been as dominant as Tiril Eckhoff in the winter of 2020/21 for a long time: the Norwegian took 13 World Cup victories. Only the legendary Magdalena Forsberg took one more victory in the 2000/2001 season. Eckhoff's seven consecutive victories in World Cup sprints are also unique in biathlon history.
No wonder Eckhoff was also the standout athlete at the 2021 World Championships in Pokljuka with six medals, including four golds. There is only one thing she has never won: Individual gold at the Olympics. Next chance: Beijing.
To achieve this, the 31-year-old did without a vacation in preparation for the season: "I trained a lot at Holmenkollen and Fossum and spent numerous hours at the shooting range. Besides, I was jealous of everyone else who was on vacation."
Instagram fans: 45,700
Sponsors and suppliers: Salomon, Anschütz, Swix, Lapua, Froland IL, Froland kommune, BMW, SörlandsKjökken, Fjordline, Asfalt Sör, Rudy Project, Mizuno, A Knit Story, Salmon Eye, B&G
What Norwegian Marte Olsbu Roiseland accomplished at the 2020 Biathlon World Championships in Antholz, the biathlon world has yet to see: In all seven disciplines, the Norwegian ended up on the podium. Five times of them at the top. In total, she has already won eleven World Cup titles. In the 2020/21 World Cup season she finished second, her best overall result to date.
Instagram fans: 600,000
Sponsors and suppliers: Anschütz, Rossignol, Loacker, Kappa, Sportful, Vauhti, Red Bull, Rizzoli Cucine, Sportful, Falconeri, Audi, One Way, APT Livigno, Joka
On Instagram she is by far the most successful biathlete, in the cross-country she had to admit defeat last winter after two overall World Cup victories. The South Tyrolean was only fifth overall in 2020/21 and remained without a medal at the World Championships. Now Dorothea Wierer wants to attack again in the Olympic season. Also because she has not won any individual medals in her two Olympic participations so far. Instead, she won bronze twice in the mixed relay.
But Wierer is also busy off the track: After her wedding in 2016, she auctioned off her dress to benefit the earthquake victims in Nepal. She also already had an offer from the Russian Playboy, but turned it down and also justified this with the photo modeling on the computer: "I don't want to be edited."
Instagram fans: 85,600
Sponsors and suppliers: Fischer, OneWay, Adidas, Roeckl Sports, Medi, CEP, Polar, Huber&Sohn, Erdinger Alkoholfrei, Somfy, Joka, Audi, Das Handwerk, Würth
After the golden years of Magdalena Neuner and Laura Dahlmeier, Franziska Preuß is Germany's biggest biathlon hope. In the 2020/21 World Cup season, she was the only one to break the Scandinavian dominance as overall third. Will her so far only individual victory in her home Ruhpoding from 2019 be joined by more this season? And Preuß also has a score to settle at the Olympics after she narrowly missed out on a medal in 2018 when she finished fourth in the individual.
Privately, Preuß has been in a relationship with former biathlon pro Simon Schempp since the winter of 2015/16.