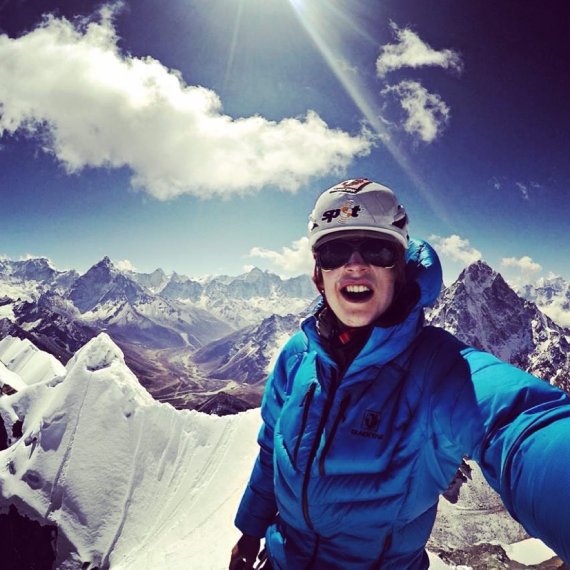 Ropes tearing, a fall into a crevasse, the descent of an avalanche ­– young pro athlete Jost Kobusch from Borgholzhausen, Germany has already had to go through it all in his expeditions.

When a violent earthquake shook Nepal in 2015, the then-22-year-old was in the base camp at Everest, filming the event on his smartphone.
After 10 hours and 1900 vertical meters I stand on the #summit of #elbrus 5642m ! 😃🤘it's always a weird moment when my focus changes from only looking up to the summit, down to the lower mountains and the descent. I'm so happy about the down suit prototype from Blackyak we have been working on, is the best suit I have ever worn!! It's functionality is truly beyond what exists out there on the market😊to be honest- I feel a bit altitude sick but that was predictable without acclimatization- all I can think about is to return home 🙈 / #jostgoforit #spotgehabt #blackyak #crazy BlackYak - Designed by Mountaineers WeSPOT GbR

Posted by Jost Kobusch on Monday, January 16, 2017
YouTube clip reaps criticism
The clip went viral on YouTube, and confronted the young alpinist with criticism. His book "Ich oben allein" (Me alone above) was recently published by Riva Publishers. In an interview with ISPO.com, Kobusch talks about the allure of solo ascents, the tragic death of Ueli Steck, how he finances expeditions as a young mountain climber, and how he outsmarts the feeling of loneliness.

ISPO.com: Mr. Kobusch, you recently published your first book. Do you, as a young mountain climber, already have so much to say about the world?
Jost Kobusch: It wasn't my intention to write a book. After the incidents in the Everest base camp in 2015, I had given countless interviews. I naturally countered friends who advised that I write a book with the fact that I still can't boast any noteworthy mountain climbing accomplishments.
When a publishing agent contacted me, however, I got started on a few outlines. Who would have thought that I would climb my first eight-thousander by summitting the Annapurna in May 2016? So, one thing led to another.

In 2015, the Everest base camp is covered by an avalanche, and in large part destroyed. You're on site, film the event, and put the video online. Your clip goes viral. The dream of any YouTuber, right?
The video is an accidental product. When I felt the first tremors, I thought: Wow! An earthquake. Let me film it. At that point, the magnitude of the catastrophe wasn't clear to me. That earned me some criticism later.
Jost Kobusch donated income
What did people accuse you of?
That I was earning money from the suffering of other people. By now, the video has gotten over 23 million views on YouTube. What I'd like to put right: I didn't generate any income on YouTube, because the word "fuck" passed my lips several times while filming and the clip was therefore flagged as inappropriate content.
Nevertheless, my video was also shown worldwide by all the relevant TV broadcasters. I did actually get money from licensing. Moreover, there were accusations that my clip was damaging tourism in Nepal. Another accusation was that I was filming instead of helping. But I myself starting running for my life at a certain point, and was holding onto my phone more out of instinct rather than conscious awareness.

But uploading the video later was a conscious decision.
It spread like a wildfire in the base camp that there was a video. More and more people came to me to see it. For me, it suggested itself to upload the clip to YouTube. So I went to the next village. There, I handed it over to a mountain climber friend of mine and went back to base camp.
The next morning, I got a call from a licensing agency. Within just a few hours, over four million people had already watched my video. I later donated the majority of the licensing revenue, or invested it in purchasing new equipment.

In your book, people can read about the dramatic collapse on the mountain and mistakes that you, thank God, made it through lightly. Are you brave or cocky?
First and foremost, I'm gathering experience. You have to start somewhere as a young mountain climber. I may have started projects that were still a few sizes too big for me. But it isn't a bad thing when an expedition fails, so long as I get back home safely. I learn a lot from that, and do things better the next time.
Climbing halls as fear-of-heights killers
How does a young man born near Bielefeld, Germany get into mountain sports?
In school, I had to decide on a club: volleyball, computers, painting, etc. The climbing club was tempting because it represented a combination of physical and mental components.
As a kid, I couldn't even jump from the three-meter diving board because I was afraid of heights. Climbing helped me cast that fear off. I later went to the nearest climbing hall regularly with my best friend's parents.

And your first rock experience?
A DAV coach first took me along in a small group at the ripe age of 16. Climbing on the rock face for the first time was a real 'aha' experience for me. Up until that point, I had only been on plastic grips in the hall, after all. It was then clear to me: Climbing outside is a whole other league.
You brought considerable climbing fitness out of the hall to that end.
That's right. I'm part of the "new" generation that grew up with climbing and bouldering halls. They let you train in the dark, in any wind and weather. I was strong compared to sports climbers, even at the beginning.
Why do you usually climb solo?
Because I'm used to it. When you grown up in northern Germany, you're not likely to find many kindred spirits who will, say, travel with you to Switzerland for a weekend of mountain climbing.
Aside from that, I like to climb on my own, because then I can concentrate exclusively on myself, set my own pace, and make decisions for myself. I don't have to take on responsibility for anyone else.

Jost Kobusch: Prefer to be alone on the mountain
Are you not up to it yet?
When a partner's health is poor, or he has doubts, I would have to decide whether I would climb to the summit alone to catch back up to him afterwards, or go back down with him. That's a decision I'd rather not face.
And why is this?
Regardless of it would turn out, I would always regret something.
So at your 24 years of age, you assume you'll get by in the mountain world. Have you never had need of help?
You've misunderstood me there. I'm neither an egoist nor a superman. My partner could be much stronger and faster, as far as I'm concerned. Then I would constantly have to try to keep up the pace. Solo, I bear responsibility solely for myself, and can assess on my own where my limits are.
Do you have any role models?
I hardly studied any books by mountain climbers, but rather various climbing and alpine magazines. In doing so, my main focus was on pictures: tents standing above the clouds, impressive photos of expeditions on eight-thousanders – those snapshots inspired me.
They awakened the desire to start off on similar adventures. The people behind the adventures were unimportant for the moment. What serves as an example for me is more an ideal, an unachievable combination of the best characteristics of fellow human beings and alpinists.

With BLACKYAK at ISPO MUNICH
Can you live off of mountain climbing?
Yes, since my costs are low. I live in a cheap shared apartment in Chemnitz, where I've been studying Spots Engineering for the past year. Low fixed costs mean freedom.
How did you become a BLACKYAK athlete, and what tasks do you take on as a mountain athlete?
At that time, when I had given an interview on 1LIVE, a BLACKYAK Global employee was following the conversation and contacted me. After an in-person meeting, we started our cooperation.
I contribute actively in product development, test prototypes, and advertise for the brand as a spokesperson. Naturally, I'm present at trade fairs like ISPO MUNICH.

Your e-mail address reads "Jost go for it." Is that your life maxim?
I've never really let myself be stopped by misgivings or doubts. You can fulfill any life's dream if you really work for it. Tall mountains allure me. I don't just train for that. To earn money for my costly expeditions, I initially worked as a guide on Spitzbergen. You can "afford" expeditions even as a young mountain athlete.
What does a young, ambitious solo mountain climber have to say about the death of Ueli Steck?
The news shook me. The image I had of Ueli Steck from the media was: he's extremely safe and competent on the mountain and therefore – to exaggerate – immortal. For me, I understand this tragic death as another warning to pay even closer attention.
What I do is dangerous, even if I sometimes recklessly brush this fact aside. If Ueli Steck, who has several times more experience than I do, a better athlete, can perish in the mountains, then the same can happen to me.

"Facebook channel for fast, concise info"
Do you attend lectures by other mountain climbers? Do you follow the scene?
I was recently at the lecture by Reinhold Messner in Chemnitz. I've also watched Hansjörg Auer and Simone Moro – both of them impress me as mountain climbers and as people. Concerning the scene: of course you pick up on something, but I don't follow every mountain climber at every turn on Facebook.
How do you stick to with social media?
You need channels to communicate with your people. I am active on YouTube, Facebook, Instagram, and Twitter, but currently am placing more focus on a good website with more information on me. Facebook and co. are channels for fast, concise info. One picture, two sentences – but nobody reads more than that there.
What is your day-to-day training like?
I alternate daily between fundamental training and climbing. Sometimes I'll even go climbing two or three days in a row. Yesterday I was still quick to hit the hall in Thalkirchen, Munich in the evening.
Succes has nothing to do with luck - it's the result of blood sweat and tears. I have tried this jump more than twenty times until I could finally hold it. And the solution was so simple- I was afraid of falling and yes that sounds stupid but subconsciously I was told that this is dangerous, even though it wasn't. Nothing can happen, nothing can happen was all I thought but my body just wouldn't release it's full potential until I realized that even if whatever happens, happens: I would regret it more to know I haven't given it 100% - Succes has nothing to do with luck, it's the result of blood sweat and tears. #jostgoforit #climbing #jump #blackyak @blackyak_global

Posted by Jost Kobusch on Sunday, December 11, 2016
What's your next big goal?
I'd like to head to Alaska and climb Denali in the winter. That mountain's less appealing to me in the summer. I like the cold and – like I said – like to hit the face alone. You're alone there in the winter.
Do you ever feel lonely in that isolation?
I'm naturally familiar with the feeling of fear or loneliness. In the seclusion, I often talk to myself: "So, Jost, now we're going to go another 50 meters, then we'll take a break..."  If I have the strength for it, I'll also sing out loud. I outsmart my head a bit that way.
Jost Kobusch "almost always the youngest" in base camps
What exactly appeals to you about seven- and eight-thousanders?
The encounter with myself in the mountains fascinates me. Even when a situation gets a little out of control, I often surpass myself. The feeling of constantly further expanding your own skills and evolving as a person definitely plays a big role. On the other hand, I still find being far away from civilization on the high mountains to be something like a "true adventure."
All of that would be nothing without the connection to nature. If it gets a bit more extreme, however, I keep focusing on the challenge itself. Then you're already in a kind of tunnel. Sometimes I'm amazed when I review photos, how beautiful it was in some places in the ascent or descent.

How do you turn the switch to the "tunnel"?
It happens automatically. To avoid mistakes, you block out everything that's not important. You lose your sense of time a bit. Everything seems shorter.
Are you actually Germany's youngest eight-thousander mountain climber/mountain pro?
I'm almost always the youngest in the base camps, in any case. Michi Wohlleben is two years older than me, but to my knowledge still hasn't stood atop an eight-thousander. Michi is much more technical about it than I am.
Video: "Gerry Fiegl's Death Changed Me"