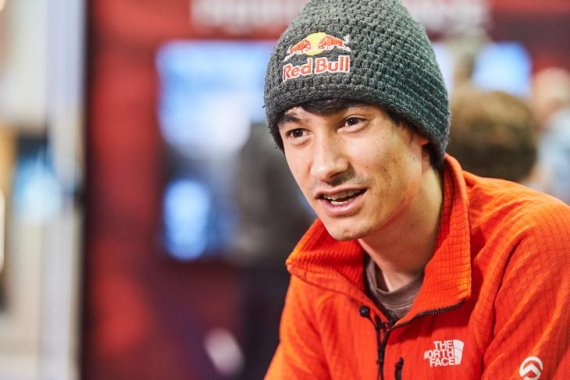 ISPO.com: After 16 years with Mammut, you have a new sponsor. You'll be seen with The North Face for the first time at ISPO Munich.
David Lama: Yes, that's completely new. I had a great time with Mammut. The brand always supported me and my development very well, and I think we parted ways as friends. That's important to me.
Why the switch?
I've always worked closely with my various partners, especially with regard to product development. I think it's important that I, as an athlete, can fully stand behind the product. I went to The North Face with a very good feeling, because the products are already at a very good level. But with TNF I have the opportunity to give input during development even more than before.
How should we picture that?
The contact is very close. I was in the USA just last week for three days to coordinate with the developers and start working on individual projects.
Sounds like a good situation – you practically get to design your own equipment.
Yeah, absolutely. If the products are adapted for me and my projects, of course that's a great help. It's a casual story. But that's just the product side for now. At TNF, it's not about a job as a developer for me. I'm still a mountain climber first and foremost. Every year, TNF makes big expeditions possible for their athletes. Naturally, that's an outstanding opportunity. All in all, we've just put together a very good and harmonious package.
Does the new sponsor also mean new goals?
I still have some unfinished projects in Nepal. For one, Annapurna III, the southeastern edge. That still hasn't been climbed. It's a goal that I've tackled before. I was there for the first time to attempt Annapurna III in the spring of 2017. We reached a new highpoint back then, but still didn't make it to the summit. I'd like to bring that to a close. The Lunag Ri between Nepal and Tibet is also still waiting for me. I was there together with Conrad Anker in 2015 and 2016. The mountain is unscaled to this day, there still has never been a person on the summit. You can't find more spirit of discovery in a project – it's super appealing.
You always seem very clear when dealing with your sponsors.
For me personally, it's not difficult to sometimes say no to ideas or projects. It's definitely a matter of attitude. But I'm also in a privileged position that I've built up for myself over years. For me, honesty is the most important thing. It's crucial to know yourself well and remain true to yourself – this also applies to TNF, they can't jump through hoops just to make me happy.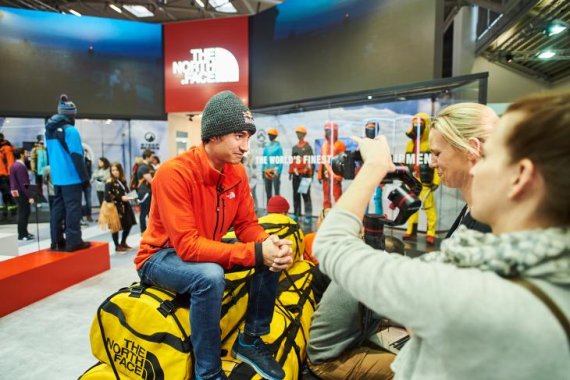 Your expedition and the film on the Cerro Torre made you known to a broad audience. Do you feel some pressure to top that one more time?
It's my personal aspiration to always give my best. But the goals I set for myself are always personally motivated. It's about seeing just what's so exciting. It's not always all about the sheer difficulty. So, an expedition is just a great overall experience. For me, it's not about topping the Cerro Torre on a commercial level. The goals I set for myself all have a special appeal for me.
That can also be seen in the photos and films of your expeditions. How important is this kind of documentation to you?  
That's part of my job that really fascinates me. It's definitely different for lots of athletes, but for me that kind of storytelling is a creative challenge. It's not easy to make it possible for other people to relive the stories that emerge on the mountain. I think it's really nice when I can take people along on my travels and expeditions, show them the challenges.
But I don't see that as my primary goal. It's more of an additional task that I find exciting. I do it because my expeditions and my experiences give back a lot to me. I can express myself and make my ideas a reality, that's the wonderful thing. I achieved that on the Cerro Torre. And I hope I'll succeed again on my next expeditions back in Nepal. For me, it's about showing my attitude towards the mountain.
You make very good use of digital channels for your storytelling, making you approachable.
That's definitely an aspect that's become more and more important in recent years. But you can't twist yourself into a pretzel there, either. Everyone needs to find their own line. Of course, that's a certain part of what I do and how I do it. But above all I see the creative challenge, which I very much like to face up against.
Where do you draw the line?
Live reporting from basecamp or something similar, I'm not interested in that right now. Maybe that will come someday – I can't rule it out. What's important is that it feels right and fits the project. What I won't do are projects just to make a film about it. The storytelling that we've just talked about is an important accessory for me, but it's not the drive.
Editor's note: David Lama was hit by an avalanche on 16.04.2019 together with Hansjörg Auer and Jess Roskelley in the Canadian Rocky Mountains. The bodies were recovered on Easter Sunday (21.04.2019). We grieve for three great people. Our sympathy is with the relatives.