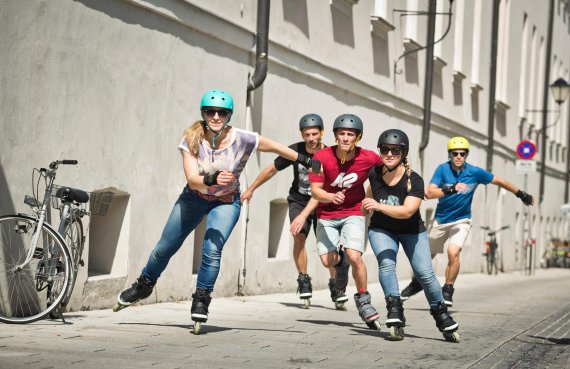 ISPO.com: Mrs. Friesinger-Postma, almost six years ago you ended your career at the age of 33 due to cartilage damage. Since then you got married, had two children – but certainly not completely without sports, right?
Anni Friesinger-Postma: Of course not! My youngest is two years old now, the big one is four and a half – they're really at the best age! A wonderful age, but they both need me too.
How often do you get around to exercising?
Very, very, very sparsely! Sometimes on the weekend at most, where Sunday is our sacred family day. Or in the evenings when the children are in bed. Before I get back to accounting, I roll out my mat and do my exercises.
What kind of exercises are they?
Core stability is the new, lovely name for stability training: sit-ups, push-ups, small lunges, side support, to keep the entire muscular system in shape. And endurance training on the weekend, mostly inline skating or running. Sometimes the children come along – the older one can ride a bike now, and the little one has a walking bike that she regularly opens up the throttle on. And I do my skating lunges.
Skating lunges?
Classic tuck jumps, burpees, side jumps on top of that, the classic depth – all that combined with running. It's called fartlek.
In principle, what you used to do – just not quite so often.
Exactly. The somewhat calmer version. But I still try to manage a good technical execution. Then it's a super fitness booster. A quarter or half an hour is enough then. Or stand-up paddling: I do that on the Mondsee lake near Salzburg. So relaxing and yet so challenging for my fine motor skills: wonderful! The little ones come with me on the board with life jackets and water wings, then we explore the lake.
"Retail has its dark months, too"
But you prefer to go off on your own on inline skates...
It doesn't work with the kids, it's too dangerous. In Holland, where my husband lives most of the time, there's a real inline path, a 300 meter-long oval. You can still grip even in light rain. Going around it there's also a two and a half kilometer-long bicycle path where children can bike too, with sprints and time trial competitions. And at my place in Salzburg I skate along the Salzach river, excellent kilometers-long bikeways with great asphalt. I usually go early in the morning when it still isn't too full. At the moment, I'm back sitting in the office. I've already accepted the first goods and briefed my staff. With my two concept stores, "Small Heroes," one in Salzburg and one in Holland, we just celebrated our one-year anniversary. That also includes an online shop for children's clothes and accessories.
What does your office routine look like in the mornings?
Sorting the items sold the previous day, briefing staff, and webshop work.
How's business?
I'm satisfied. Retail, with its own dark months, is a completely new sector for me. You have to have a lot of staying power – and a good team, just like in sports. I am pretty strict with employees, I have to be.
From ice speed skating to the discounter KiK
How was the change from performance athlete to businesswoman?
I traveled a lot in my active period, and all the while I was very design-savvy. I even studied interior design for a while, but didn't finish. For two years I was able to work for a prefabricated house manufacturer; I co-developed a house that even won a prize. Design just speaks to me, especially Nordic design: clear line, no jarring colors, but rather muted and quiet. When I was still active I already wanted to open a concept store in Salzburg, with select coffee-table books, cool accessories, music, beautiful belts and shoes – but there was no time for that. As a mommy of two children I realized that I still only order cool things on the Internet. I got gorgeous items via my sister and brother, who live in Finland and Norway. Then I asked around, attended an entrepreneur course, made a business plan, and I did already had a bit of experience from my consultancy work for K2, Triumph, Ergee, and HiPP.
How did the alliance with the company KiK come about? You're their brand ambassador. One wouldn't directly connect KiK to sports...
I am a spokesperson for their underwear and sock brand Ergee, which also has its own sports line. KiK also recently embarked in the online business. I can learn a lot there. They're in a rebuilding phase right now; they want out of the cheap discounter niche and needed somebody from sports who also had experience in the underwear sector. Before that I co-developed these muscle-supporting products for Asics, Mizuno, and Triumph that were also in our racing suits. Athletes are very exact when it comes to fit.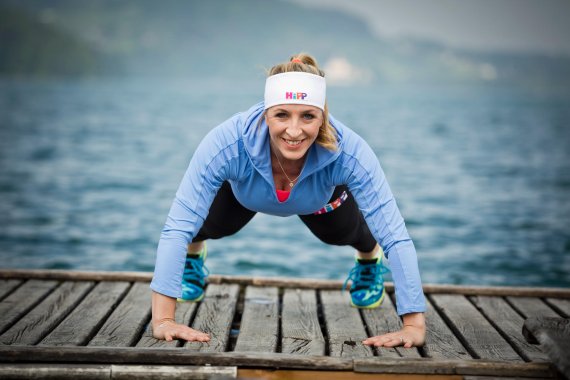 What do your shops sell?
My products are predominantly mid- and high-range, almost everything organic cotton from sustainable, newcomer labels. There I can fully contribute. I think it's totally exciting.
Quite a lot you've undertaken in addition to your family!
It's true, I really need a 36-hour day – and I'd still have my hands full. 
Anni Friesinger-Postma gives more insights into her life after professional sports on her official Facebook page.