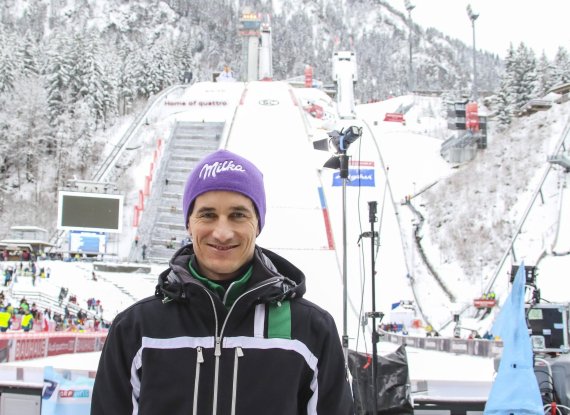 Martin Schmitt is one of the most successful German ski jumpers of all time: Olympic champion, four-time world champion and two-time overall World Cup winner. He has also remained involved with ski jumping even after his active career – as co-owner of the marketing agency ASP Sports and manager of ski jumpers such as Severin Freund. Interview with Martin Schmitt. 
ISPO.com: Martin Schmitt, are we disturbing you in your work for the marketing agency?
Martin Schmitt: I deal with agency matters on a daily basis. However, I am fortunate enough to have the freedom to organize my work to suit myself. My partner Hubert Schiffmann calls me on a daily basis, but he doesn't check whether I'm already sitting at my desk (he laughs). However, I 'm involved in all the agency's presentations and other matters. And I'm also still one of the agency's athletes.
So, you are in essence marketing yourself?
In principle, yes. My contracts with companies run over it. For example, the collaboration with BARMER, where I am responsible for the "Top Athletes get Employees Moving" Project for Baden-Württenberg and Hessen. Kati Wilhelm and Frank Busemann do the same in other regions of Germany. I still give a lecture during events related to this project and do fitness training with the employees. In addition, there are naturally still individual inquiries from companies.
What exactly does the third co-owner, Simon Ammann, do? He can still be found on the ski jump…
Simon is first and foremost still an athlete, so he has nothing to do with the agency's daily business. However, everything of consequence is naturally also discussed with him and, just as we do, he uses his network to gain new athletes in this competitive market for us.
Which sportspeople has the agency newly contracted?
We have contracted three promising ski jumping talents: The German Constantin Schmid, who surprisingly flew into eighth place in Titisee. Along with the Austrians Daniel Huber and Stefan Huber.
Do you earn as much as a co-owner of the agency and through your work as an Eurosport expert as during your sporting career?
I can also make a good living from this now; however, my time as an athlete was definitely more financially lucrative. However, in the past that was already highly dependent on performance. In good years, I earnt significantly more than I do now. In contrast, towards the end of my career I would have at least no longer had to do the whole thing for financial reasons.
Correspondingly, Olympic champion and world champion Severin Freund, who is managed by your agency, is currently also going through financial difficulties after his injury…
Naturally we won't talk about contracts. However, Severin does actually receive some money. However, naturally he has noticed a change because the performance bonuses have disappeared. The planned conclusion of a contract with a new ski sponsor also fell through due to injury. However, everything will be as it should again as Severin has a few successful years behind him and is a very popular figure.
Can you earn as much from ski jumping as during your heyday and that of Sven Hannawald?
You can earn a similar amount to in the past as a ski jumper if you are successful. However, some framework conditions have changed: In the past, prize money was given to the top six in the World Cup; now it is divided among the top 30. And the ski companies providing the equipment also paid money for a contract in the past – now there are only performance bonuses.
This is also due to the fact that there is are fewer competitors in the field than in the past. At that time, Atomic and Rossignol were still active in the ski jumping market. And when you are estimating income, you also need to keep in mind that the world has advanced in the last 15 years.
What could trigger a new ski jumping boom which would then have a positive financial effect for the jumpers? How significant would it be if Richard Freitag or Andreas Wellinger won an overall victory?
Success is naturally always good, especially during a winter with so many highlights. This is a special year with the Olympics and a massive opportunity. For example, it would be extremely significant if a German jumper were right at the front during the Four Hills Tournament. The tournament receives maximum attention in the media. If there was a German winner, it would bring the topic more to the fore, which would be good for the sport as a whole.
And you probably had better rates at Eurosport…
I am standing down below in the out-run and I hope that I can speak with a German tournament winner in Bischofshofen. The tournament is a test run for ski jumpers, just as the Eurosport is for the Olympics, in which the parent company Discovery holds the rights. The winter games should be a milestone for the company; transmissions will be experienced on a whole different level than to date.
"You can earn a similar amount to in the past if you're successful."
Martin Schmitt, Olympic winner, talks about his successors on the ski jump