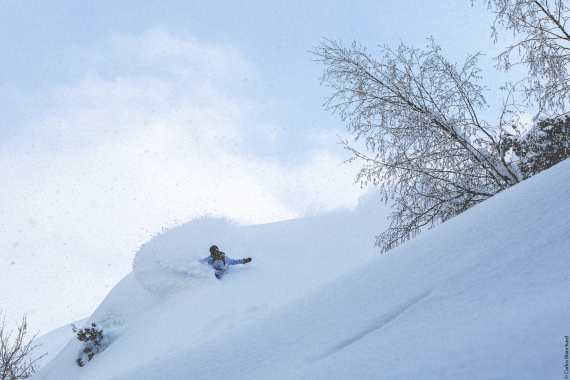 For Elias Elhardt, loyalty plays an important role both privately and professionally: he has been working with his board sponsor Nitro Snowboards for eleven years. The long-standing partnerships with his four other sponsors from the snowboard industry also mean a lot to him. He is aware that he leads a privileged life as a filmmaker and snowboarder, which would not be possible without the financial support of the brand partners.
Elhardt's snowboarding career was initially almost stereotypical. First he made a name for himself as a professional snowboarder with successes in the big slopestyle competitions. This was followed by video parts in successful snowboard movies like "Distorted Reality" (Pirate Movie Production 2013) or "Insight" (Transworld Snowboarding 2006). For this he was even nominated for "Video Part of the Year".
In the recent past, the likeable Allgäuer has devoted himself more and more to film. As a producer and director, he can often be found behind the camera of his own film projects. With his kind of storytelling he tries to take a new and unusual look at the snowboard cosmos. "My own films are a great vehicle for me to tell stories that go beyond just snowboarding. With them I can bring topics into focus that are important to me," he explains.
For his latest snowboard film "Playing Gravity", the 33-year-old collaborated with filmmaker and drone pilot Sebastian Schieren. "The film is once again a pure homage to the beauty of snowboarding without communicating any profound themes," Elhardt explains. The result is a visual highlight.
In the film, the high-speed drone follows the stylish snowboarder down the slope, flies next to him over jumps and rushes behind him through the powder. The result is a short film with spectacular shots that opens up a new visual dimension. The makers of the European Outdoor Film Tour (E.O.F.T.) were also enthusiastic about the work. On the current tour "Playing Gravity" is running exclusively and is the only snowboard film in the festival program.
We met Elias on the premiere night of the E.O.F.T. in Munich and wanted to find out what else drives the 33-year-old apart from the production of extraordinary films.
Elias Elhardt: In order to address the relevance of climate change, I don't think we need to frame snowboarding. The effects that global warming will undoubtedly have on winter sports are, in my opinion, rather secondary. In fact, the climate crisis is the major social issue of our century.
So it is only logical that this topic should also find its way into our narratives. But also in the way we manufacture products. Similarly, we need to question how we give people access to our sport. So it's very multi-layered. And as an overarching theme, tackling climate change needs to become a part of our lives in all areas. Since snowboarding is my platform for communication, I want to use it for that as well.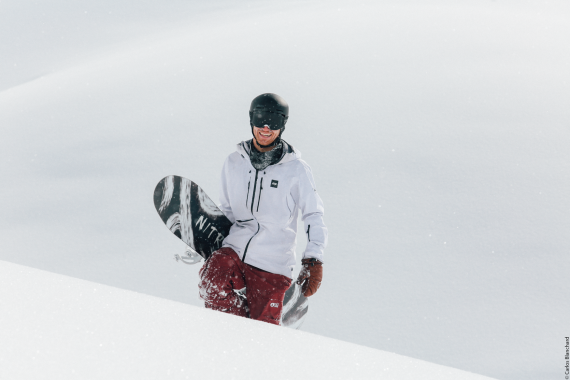 The issue is complex. Before one criticizes such a project across the board, one must first clarify what it is actually about. Is it our romanticized understanding of nature, of the beautiful mountains that we want to protect from being transformed into a cultural landscape? Or our concern about the impact of such construction projects on our climate? The Alps have been a cultural landscape for us humans for a very long time, it's just that the mountains are used differently in modern times. They have become a recreational area for people, even from far away regions. From the point of view of reducing our CO2 footprint, this creates a massive problem. The journey to the winter sports areas has a much greater impact on CO2 emissions than the expansion of a ski area with a new lift. But in the natural landscape, the lift just looks ugly.
I am also a big fan of unspoilt nature and support its preservation. But I deliberately don't say untouched nature, because that's hard to find these days. The production of our winter sports products and the way we consume them also releases much more CO2 than the construction work on new lifts and their operation, which is also electric.
My longest partnership is with Nitro Snowboards, who are based in Oberammergau. Due to the close proximity, the cooperation is uncomplicated. I've been helping with the development and design of my own board for a long time. That's why, in addition to the technical aspects, I also get an insight into the entire company structure and processes. In doing so, I see how the company is dedicated to the topic of sustainability. This year, for the first time, they determined the total CO2 emissions of snowboard production. All aspects of the complete life cycle were included here: the procurement of raw materials, production, transport and disposal. In the first step, these emissions will now be offset by supporting other projects. I think it's important that the companies I work with accept this responsibility.
What surprised me the most was that logistics, i.e. the transport of the snowboards, had the smallest share of CO2 emissions. This was only about three percent of the total emission. Rather, it is the materials such as the wood core, the steel edges or the resin, their procurement, production and processing, which have a significant influence on the CO2 balance.
If we want to effectively save CO2, we have to look for alternative materials and sustainable manufacturing processes. Because it is not enough just to compensate for our CO2 emissions generated in production. A first small step towards more sustainability can be the use of organic resins. I discussed the idea with our product manager, who is now experimenting with these resins.
When I walked through the last OutDoor by ISPO, I noticed that each brand was more sustainable than the other in terms of communication. Basically, I think it's great. Because it's a good starting signal, but at the same time a promise to the future. We all make this big promise to each other, but now everyone has to deliver as well. I like that by working with my sponsors, I'm part of that process and we're thinking together about how we really deliver on our sustainability promise.
Very positive, because this generation is much more political than mine. I think that's great. It's great to see that various movements like "Fridays for Future" or "Black Lives Matter" have emerged from this generation; or, in the case of "Black Lives Matter", are supported by it. It's remarkable that these initiatives have become so big, and that brands also have to show their stance on these issues in order to be taken seriously by consumers.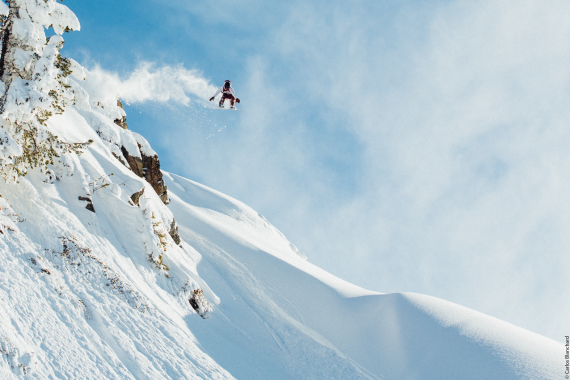 Sport Has the Power to Change the World for the Better
Many people know the Laureus Foundation as the organizer of a gala at which the best athletes are honored each year. But in recent years, the foundation has significantly expanded its social commitment. It now provides financial support for more than 100 social sports projects around the world. I believe Nelson Mandela was involved in the foundation and gave a very formative speech there. In it, he stressed that sport is not just an end in itself, but has the power to change the world for the better. And that is especially true for young people.
Not yet. I'm looking at a lot of different projects right now. But through my work on my films, I've already helped the foundation direct video clips that they use for communication. That's also one way I'm involved there right now. I promote their activities through my social media channels and I can contribute my experience in terms of storytelling of film projects.
Very important. I joined the Picture Organic team a year ago, I've been working with E.O.F.T. for a while now, and now I've recently been joined by the Laureus Foundation. These are, besides my board sponsor Nitro Snowboards, other partners that are important to me and with whom I see a lot of intersections to move more in the future. It's always about filmmaking, storytelling and commitment to issues that are bigger than sport.
Tip: If you want to see Elias Elhardt's short film "Playing Gravity" on the big screen, you can do so at one of the many screenings of the European Outdoor Film Tour 2021. Currently, all events will take place as planned - when purchasing tickets, you will find up-to-date information on the applicable Corona rules. All dates of the E.O.F.T. can be found here.