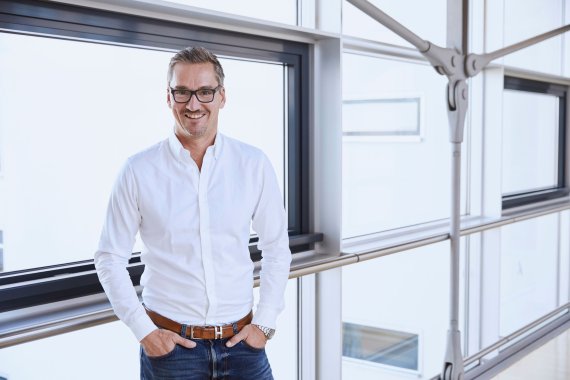 Markus Hefter: I have been with Messe München for over 18 years and have experienced an incredible journey here for which I will always be grateful. My start in 2002 was in the Protocol Department. At the time, personnel was being sought there for the organization of the press center for the 2006 World Cup.
My first job then with the ISPO group was to contact Alberto Tomba and tell him that the ISPO Cup will be awarded to him. I was allowed to invite him to Munich and accompany him for two days. ISPO Winter 2003 was my start at Messe München and very quickly I got a taste of ISPO and said to myself: I'm not leaving here - this is where you want to achieve something.
One and a half years later I was offered the position of Head of Marketing & Sales at the MOC (Munich Order Center). A great opportunity to learn from scratch how the sports business market works. In my two years there I successfully signed new contracts with big brands like PUMA, Adidas, Nike and also Oakley. I was also able to attract and sign some new attractive tenants for the MOC.
Again two years later Tobias Gröber called me to get me into the ISPO team. At that time, I was responsible for the tender for "OutDoor", developed new exhibition concepts and began to intensively support the industry. It was an amazing time.
Shortly thereafter, I became project manager for ISPO Winter, as it was still called back then, and we also launched Bike Expo. The big goal, however, was to bring OutDoor to Munich. In 2018, the time had finally come and I was allowed to be responsible for the premiere in Munich as project manager.
Why am I leaving now? At 51, I want to rearrange my life and have thought very carefully about what I want to do more of in the future and what I want to do less of. Now is the right time. So I'm leaving - with both a smile and a heavy heart.
Markus Hefter: It was clear to me that I wanted to stay in this wonderful industry. I want to build on the relationships I have and continue to work with my clients. I quickly knew that I wanted to go to an ingredient brand or a technology provider that offers products for all brands. The company's perspective and plans were also important to me and last but not least, the team I would be working with in the future was of great importance to me. When I heard about the open position at Polygiene, I knew immediately that I had found what I was looking for. I find it very impressive how the company has positioned itself in the market and credibly around sustainability. And: as a Swedish company, this added the "extra factor" to my decision. Scandinavian brands have always been particularly close to my heart.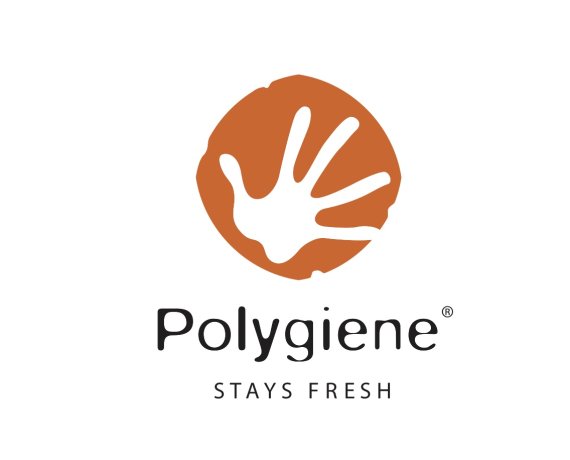 Jeanette Friedrich: We are currently redistributing a large number of tasks in the ISPO team. Some of the tasks will therefore certainly be bundled with me, others will be mapped in the team. However, since we are currently in the middle of the transformation phase, we will only finalize this in the coming weeks. Of course, we have our customers and partners in mind so that we can continue to provide them with close and trusting support.
Markus Hefter: No, there is not one best moment. There were a lot of great moments that I look back on with great pleasure. One particularly defining experience was our team party after we didn't win the bid for OutDoor in 2007. For two or three hours we were completely devastated, and then we called the team together and celebrated the traditional ISPO closing party. And this party had it all, all the pressure of months of preparation fell off us and nobody wanted to go home. So when we met in the office the next day, very tired, we said, "Now more than ever, we'll just try again." I still think back fondly to that moment, we were a team that never quit or gave up.
Other than that, I had an insane amount of great moments, of course traveling all over the world. In 2006 we flew to the ice hotel in Jukkasjärvi and spent three days on a fact-finding trip with 50 journalists. Sleeping in an igloo for the first time at minus 20 degrees on a block of ice and seeing the northern lights overhead is an unforgettable experience. In the three days we flew with helicopters, were out with reindeer, had a sled dog tour, simply an unforgettable trip.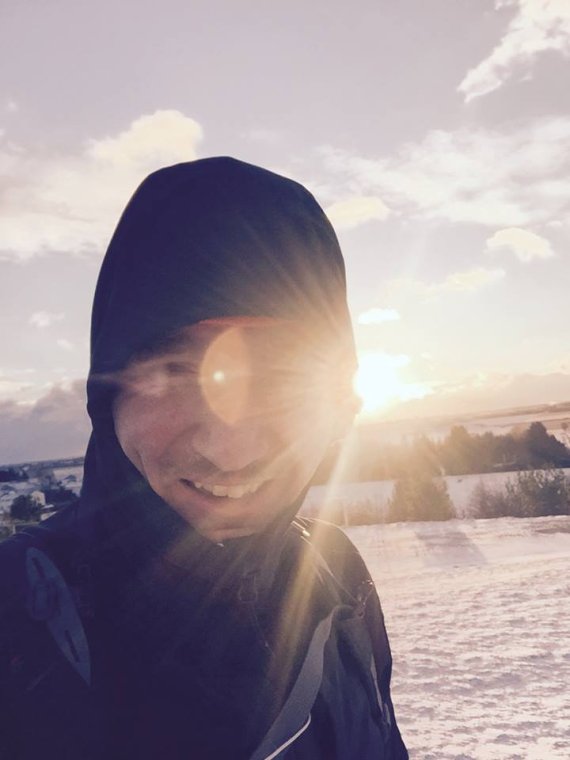 Markus Hefter: ...Alberto Tomba was the first star I was allowed to look after back then. I took him on a long tour of the trade fair. While we were looking at new products, we chatted quite casually. A completely relaxed guy and super nice guy. Years later we met again in Italy and he could still remember the ISPO tour. That was nice.
As a long-distance runner, I was very pleased to meet Florian Neuschwander at ISPO Munich. A person who is very likeable and, as an ultra runner, sometimes completes runs of over 100 kilometers. Someone with completely crazy ideas, but at the same time a warm and very nice guy.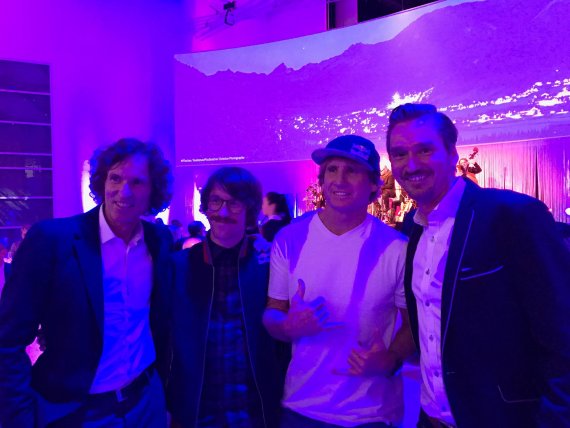 Otherwise, the list of celebrities at ISPO Munich is extremely long. ISPO has always had a huge charisma. At the very beginning tennis was an important topic and Boris Becker & Co were there, later came soccer and trainer stars like Philipp Lahm or Pep Guardiola. Ski stars like Thomas Dreßen and many more. In the action sports times the best snowboarders like Terje Haakonsen or skaters like Tony Hawk came to us. Or world class surfers like Robby Naish, who won the first ISPO Brandnew Award with Naish Kites in 2000. with Naish Kites. Then of course all the outdoor stars like Stefan Glowacz, Reinhold Messner, the Huber brothers, they were all there.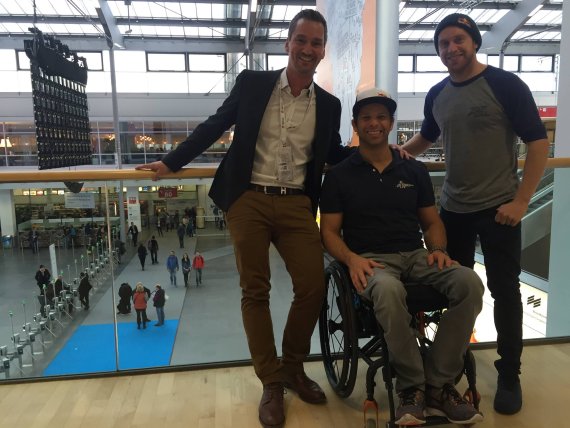 Markus Hefter: We had countless crazy promotions. Once you could take part in a competition as a visitor and win a helicopter flight to a glacier for the next day, which started directly at the exhibition grounds. Quasi: From the stand to snowboarding on the glacier, fully equipped by the brand.
Markus Hefter: I already had to pass the acid test as project manager at my first ISPO Winter 2009. On Saturday, the day before the opening, we had the fire safety inspection and there were numerous deficiencies among our exhibitors. Then in the evening at 7 p.m., the fire safety inspector handed us a multi-page document and said, "You now have 12 hours to work through the open cases and we'll meet again tomorrow morning at 7 a.m." There was still so much to do. More than 90 separate cases where exhibitors didn't have emergency exits or didn't have sprinkler systems and so the fire department wouldn't release the event to us. We worked together and through the night with the internal technical team and exhibitors. Then the next morning at a quarter to 9 - just before opening - came the relief: the morning inspection was successful and we were able to open normally.
We learned a lot from this and coordinated with fire protection much earlier in the coming years. Such a scare never happened again.
Markus Hefter: First of all, I think the ISPO team is very well positioned to handle the future tasks. I don't know if any advice is needed. I think the most important thing is that the industry recognizes and appreciates us. We are a part of it - and that is the greatest appreciation you can get.
We owe that to the team, to the fact that we took a lot of time and listened a lot and spent a lot of time with the individual decision makers. I think this is a Peoples business and I'm keeping my fingers crossed that this continues - with success.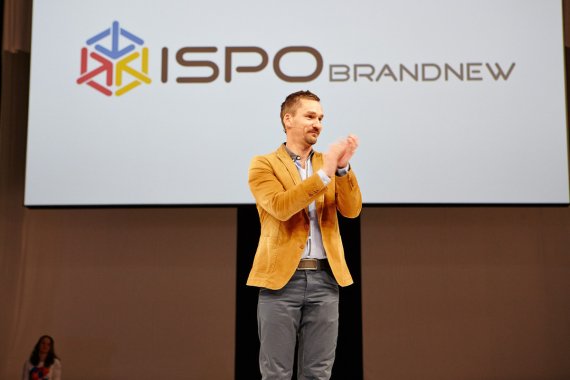 Jeanette Friedrich: We are sticking to the course we have set for 2019, the ISPO 5.0 strategy. In doing so, we are placing a clear focus on opening up our offerings to the entire sports market and also creating formats for the consumer. At the same time, it is clear that we will continue to work with hybrid trade show concepts in the future to offer a digital complement to our physical platforms. In this regard, we are firmly convinced - also because our customers repeatedly mirror this to us - that we will be able to hold trade fairs again next year and facilitate personal contact and exchange. We will also continue to expand and strengthen our 365-day offering with ISPO.com and the Open Innovation Community. In summary: ISPO will continue to be the leading platform for the sports business - physically and digitally, 365 days a year.
Jeanette Friedrich: Due to the unclear pandemic situation, we decided in April to move OutDoor by ISPO to the fall for one time, to October 5 to 7. With this date, we would like to meet the desire for a personal get-together and are very much looking forward to seeing the outdoor community and its partners again in person in Munich. At this point, of course, the order season is over. However, we are more convinced than ever that we should come together as an industry to exchange experiences, to work out solutions for the upcoming challenges together - and to learn from each other. OutDoor by ISPO 2021 will therefore be held on-site in Munich and online as a "Global Summit Edition". The concept continues the transformation process of OutDoor by ISPO that began in 2019. It will include new progressive elements so that in 2022, with your feedback, we can implement the full concept as planned. One component of the program will be the EOG's European Outdoor Summit, which will be integrated into OutDoor by ISPO. We are thus bundling the entire expertise of the outdoor industry - and organizing a trend-setting industry meeting with the highest added value under the current circumstances.
Markus Hefter: Yes, of course. I'm really looking forward to finally visiting the event as a customer. Polygiene is an exhibitor and needs platforms like the OutDoor to address customers and maintain contacts. Nowhere else can you meet the entire industry in one place at one time, so you can definitely count on us.
Thank you Markus, then we are happy and can only say to the others 'Follow Polygiene'.