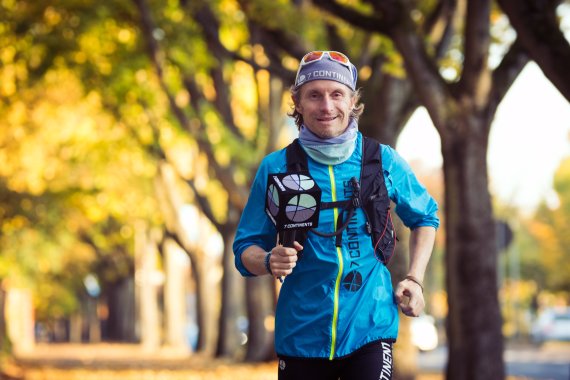 Ever since Greta Thunberg created a furore with "Fridays for Future", everyone has known that today's young people are by no means only concerned with themselves. On the contrary, they show strong interest and commitment when it comes to society, nature, environmental protection and shaping the future in general.
That's where Norman Bücher comes in. The 41-year-old is a passionate adventurer and extreme runner. At the age of 22 he ran his first marathon, one year later for the first time the 100 kilometres of Biel. As a 29-year-old he mastered one of the most demanding and longest extreme mountain runs in Europe, the Ultra-Trail du Mont-Blanc (168 kilometres long and over 9,600 metres in altitude). In 2008, Bücher gave up his secure existence as a management consultant to devote himself entirely to his great passion, extreme endurance sports.
The Karlsruhe-born adventurer faces extreme sporting challenges and conducts his own expeditions all over the world. Whether on foot through the Atacama Desert in Chile, 265 kilometers non-stop through the Kingdom of Bhutan, across the Australian Outback or 600 kilometers through the Gobi Desert in China - no trail is too difficult for Norman Bücher.
No wonder, then, that the globetrotter has become a lecturer, motivation expert, and book author and that he has acquired an excellent reputation in the running scene and corporate world. Numerous publications and reports have appeared about him and his extreme adventures.
As a speaker and coach, Bücher deals with the topics of success, motivation and personality, combining his many years of experience in extreme sports with his knowledge of business management contexts. He is also the founder of "7 Continents".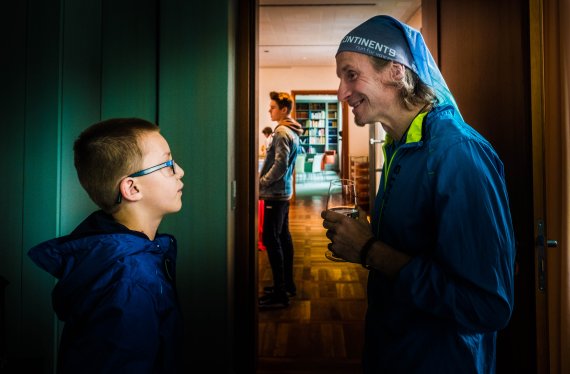 "7 Continents" is a project Norman Bücher is particularly fond of. It's about the opinions and views of young people around the world. "I want to give a voice to the youth of this world. I want to ask those who are our future. I am of the firm conviction: If we want to change the world, we must begin to listen to the children and young people and take their opinions and points of view seriously," says the globetrotter.
His great passion, running, helps him to do this. Because he has the chance to meet people and question them. The "7 Continents" project is therefore more like a worldwide marathon.
Bücher has big goals: In seven years, he plans to travel through 70 countries on seven continents, covering approximately 20,000 kilometres. Running is not in the foreground, however, and contact with the kids on site is much more important to him. That's why he always has a microphone with him in addition to his running shoes. He will ask the young people seven questions on seven topics.
dream

: What is your greatest dream?

anxiety: 

What scares you?

future

: What do you expect from the future?

fortunateness

: What makes you happy?

nature: 

What does nature mean to you?

change: 

If you were mayor of your city, what would you change first?

embassy

: What would you like to tell the Heads of State and Government?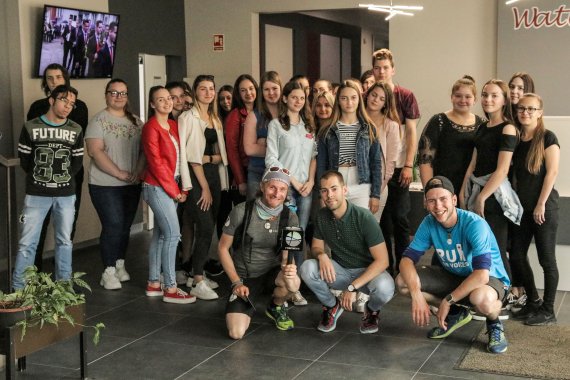 For the first stage, Bücher started on 11 May 2019 in front of the Brandenburg Gate in Berlin. He then crossed eight countries, including the Czech Republic, Austria, Hungary, Serbia, Bulgaria and Turkey. But the extreme runner is not alone on his World Tour. A team of employees accompanies the 41-year-old on his project. In addition to helpers who take care of the catering, there are also two photographers. They document progress, record experiences and sometimes even stream live from on the road.
On July 3rd Norman Bücher and his team arrived in Istanbul. Looking back, he says: "I am very satisfied with the European stage, both from a sporting and organisational point of view as well as in terms of content. The response of the young people and the media interest at home and abroad are overwhelming. Above all, the openness of the children and young people and their curiosity for the project have impressed me immensely."
Throughout the stages, he gave numerous lectures in schools and consulates. In addition, there were many exciting encounters with the people of the respective regions and many unplanned visits to schools. There Bücher collected voices from children and young people for his project "7 Continents". During the first stage alone, he discussed with many hundreds of children and young people.
The second stage will take the extreme runner to Asia. At the end of the nine stages, in September 2024, Norman wants to hand over his collected votes to the 79th UN General Assembly in New York.
Perhaps he will also meet the climate activist Greta Thunberg there, who has contributed more than almost anyone else to young people perhaps thinking more responsibly today than ever before.