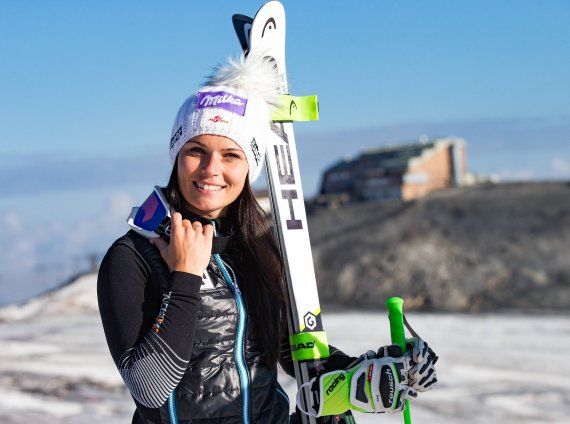 Anna Veith is a star in Austria and of course in the winter sports scene: over 630,000 fans on Facebook, 375,000 followers on Instagram, and 185,000 on Twitter. The 30-year-old now also used these channels to announce the end of her career - in addition to an official press conference with former ski racer colleague Alexandra Meissnitzer. Veith invited to her home - to her ski shop at the Hotel Arx in Schladming.
A visibly emotional Veith looks back and into the future: "I lived my childhood dream", she said, looking back at her many career highlights from her first World Cup victory to her participation in the Olympic Games. For example, the most emotional day of her career was winning the silver medal at the 2018 Winter Games in Pyeongchang - the gold medal winner, Czech Ester Ledecká, was only a hundredth of a second faster. When Ledecká crossed the finish line, Veith was already giving winner interviews.
But what is the reason for Veith's withdrawal now? She has the feeling of having no more goals: "It has become more and more difficult physically to get to the top". Therefore she is now ending her skiing career. Veith, who had become known under her maiden name Fenninger, does not know yet how she will continue but is looking forward to her time with her family.
"It feels one hundred percent right," said Veith. Already last season she realized that it is no longer "what I am striving for".
Most of all she will miss the concrete goals and the time with her previous companions, Veith suspects.
Again and again Anna Veith had been criticizing the tight schedule in the Ski World Cup and attracted attention with her opinion. The power woman from the province of Salzburg was known for kicking up dust at the Austrian Ski Association (ÖSV).
To the ISPO.com editorial staff at ISPO Munich 2019 she said: "I think it is very important that athletes are integrated because they are the ones who know exactly how to get to the top", Veith said: "I could imagine to contribute the knowledge I have accumulated over the years."
I'm ready for the next chapter. My heart and head are telling me it's time to do something new. And so, I have decided...

Posted by Anna Veith on Saturday, May 23, 2020
Veith crowned herself twice as overall World Cup winner (2013/14 and 2014/15), Olympic champion 2014 in Sochi in Super-G, and won three gold medals at World Championships (Super Combined 2011, Super-G and Giant Slalom 2015).
In 2015, however, her series of injuries began, which would continue until the end of her career: Directly before the 2015 World Cup opener in Sölden, she had a severe crash and tore her cruciate ligament and inner ligament as well as her patella tendon in her right knee. The 2015/16 season was over for Veith before it had started. The comeback followed in December 2016, but she had to stop the season again due to an inflammation of the patella tendon and had to undergo surgery again.
At the 2018 Olympic Games in Pyeongchang, Veith took the silver medal behind Ledecká –  a brilliant comeback. In January 2019 she ruptured her cruciate ligament again. She had to cancel the season and missed the World Championship in Aare.
After Marcel Hirscher, Austrian skiing is losing another great star.