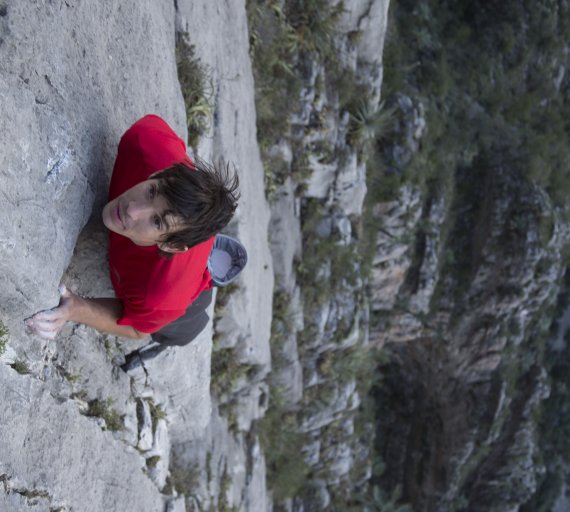 There he stands, Alex Honnold, in threadbare climbing pants with traces of white magnesium with a creased plastic water bottle in hand. This is supposed to be the most fascinating climber in the world? This friendly but shy-looking man with the big ears and the slightly forward-bent posture?
On second glance, his well-trained arms and especially his gigantic, unusually strong hands give him away. Hands that he worms into fine cracks and that help him hold firm on the smallest of irregularities, where even experience climbers only see smooth, blank rockfaces. These are the rock faces that inspire Alex Honnold, that virtually challenge him to climb them. At least, that's how he describes it.
Actually, climbing is the only thing that Alex Honnold really wants to do. Lost in thought, step by step on the wall, and all of it often unsecured. That is his world.
1,000 meters in 3 hours, 56 minutes
What's not Honnold's world are dozens of people who photograph, film, and interrogate him. This is why this meeting at the International Mountain Summit high up above Brixen on the Plose is more an obligation and not a fulfillment. Close to 50 journalists wanted to accompany Honnold, the 31-year-old free solo phenomenon, from a mountain station to a ski alp and photograph, film, and interview him. But it wouldn't be in his nature to rebuff the whole thing in such an unfriendly way.
No, he's very aware that interviews and media appointments are part of the game and make the "privileged life" of a climber, as he himself puts it, possible for him. All the more after he climbed, free and with no ropes, the 1,000 meter-high wall of the El Capitan (5.12d and UIAA 9/9+) in just 3 hours and 56 minutes:
a performance so unbelievable that his climbing buddy Tommy Caldwell describes it as the "moon landing of free solo climbing." A performance where any mistake could have been deadly. Honnold first climbed the route in 2006, and time after time he returned. He's climbed the freerider route on the El Capitan at least 15 times in recent years (always secured).
The freerider route on the mind
A route that's the dream of many seasoned mountain guides and climbers. Most of them need several days to climb through it. At night they bivouac, secured by countless ropes and carabiners, on the wall. Honnold doesn't need any of that.
He spent six weeks in the summer of 2017 on the El Capitan before he climbed the "Freerider route" free solo. He already knew every little feature by heart; the 31-year-old was able to visualize every step.
"I had also created lists and notes with climbing hoists in my training book and my phone," he said, "Because climbing a 1,000-meter wall from the ground to the summit is pretty complicated." For hours, he sat alone in preparation in his camping bus, going through the climbing passages in his head.
Free Solo Wins Oscar for Best Documentary 
A film on Alex Honnold's free solo on El Capitan will be releasde in the summer of 2018. The documentary will be shown at various festivals in winter 2017/18, and then come to theaters in the summer.
Only a few confidants were privy to the successful attempt on June 3, 2017, among them the film crew under Jimmy Chin. Honnold was afraid of disappointing people if he didn't complete the "Freerider."
With "Free Solo" the exceptional athlete even won an Oscar for the best documentary. 
Mental challenge and training
For years it had been his dream to climb the El Cap free solo. "But I never believed that I would be able to," says Honnold. But the fascination ultimately overcame his disbelief. The biggest mental challenge was "believing that I can do it." Only then did he begin with preparation and training. "I would never have climbed the El Capitan free solo if I wasn't ready and everything wasn't perfect."
Still, if Honnold had slipped at any point, even the perfect preparation wouldn't have helped: it would have meant certain death. Even experienced climbers can't conceive of how Alex Honnold managed to dismiss this fact.
But Honnold can at least do a good job of explaining the key to his mental strength. He always names three points:
Focus for free solo on the El Cap

Alex Honnold sees fear as a friend

Climbing goals need inspiration
1. Focus for free solo on the El Cap
"A few years ago, I would never have been able to climb the El Cap free solo in four and a half hours," Alex Honnold free solo El Capitan time says. But that has less to do with the degree of difficulty than it does with the ability to focus that he acquired over years of countless free solo climbs.
How many times did Alex Honnold climb El Capitan? This includes, for example
"Moonlight Buttress" (5.12+) Zion National Park, Utah

"The Phoenix" (5.13) Yosemite National Park, California

"Regular Northwest Face" on the Half Dome (5.12a, 23 pitches) Yosemite National Park, California

"El Sendero Luminoso" (7c+, 15 pitches) Mexico
Some passages are easier, where he's concentrated but not 100 percent focused. "Then in the more difficult passages, I don't notice anything else – just the rock face."
2. Alex Honnold sees fear as a friend
A second key is Honnold's relationship to the concept of fear: "Fear is like a good friend," the American athlete says, "If it's there, it's still too soon to go on a free solo route." The same was true on the El Capitan, Honnold's "life-long dream."
During the six weeks in Yosemite Valley, after some time he had built up the necessary level of trust: "I wasn't afraid at all on the 'Freerider.'"
And as for whether he even once felt mortal fear? "Yes, once when snowshoeing," Honnold answers. "A just a few times when climbing – but just when touring and securing," he adds with a smile.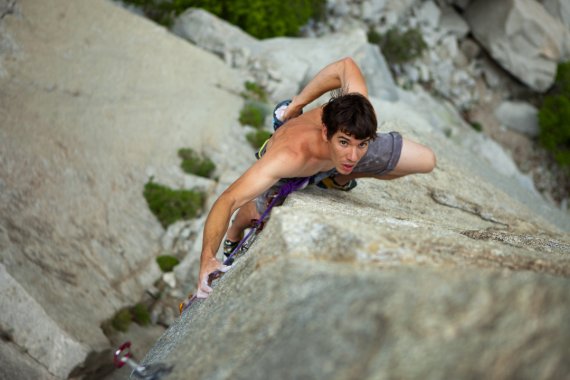 3. Climbing goals need inspiration
Honnold seeks out goals that are personally moving, motivating, and inspiring. But what will come next after the "Freerider"? He's still not sure, there's still no big next goal: "It's not about whether I can find an even longer or harder route." He's not interested in that; he needs to find something that "inspires" him. Something like his life-long dream, El Capitan.
Whenever he talks about El Capitan, Alex Honnold's eyes light up. "It's the perfect rock face, the most beautiful monolith on earth," he say. "I think El Capitan makes these mountains behind us look like garbage." Incredulous stares from countless journalists' eyes at this point. After all, it is the perfect autumn Dolomite panorama from the Schlern, the Geisler range, all the way to the Peitlerkofel, that Alex Honnold is pointing to in the background.
These are Alex Honnold's sponsors
Honnold won't play-act, even for sponsors. Who sponsors Alex Honnold? His partners are:
North Face

La Sportiva

Black Diamond

Goal Zero

Stride

Maxim Climbing Ropes
"These are my favorite companies, I still have yet to change any sponsors," says Honnold. Nevertheless, energy bar manufacturer Clif Bar cancelled his sponsorship agreement in 2014. Honnold's free solo adventures were just too dangerous for those responsible at Clif Bar.
With his current sponsors, however, there are no standards or obligations: "I think they would give me the boot if I committed some crazy crime – but otherwise there are no standards."
Honnold is thankful that these sponsors make the life his lives possible, with travel to the most important climbing regions. But money apparently has no real value for Honnold. He lives a nomadic life, living in a van just like he did at the beginning of his climbing career, and reportedly spends one third of his income. Back in 2012 he founded the Honnold Foundation, which supports sustainable social and environmental projects.
Alex Honnold has Married
In September 2020, Alex Honnold married his long-time partner Sanni McCandless in California. McCandless is of course also an outdoor freak, when did Alex Honnold get married: as a coach she offers outdoor and climbing coaching.