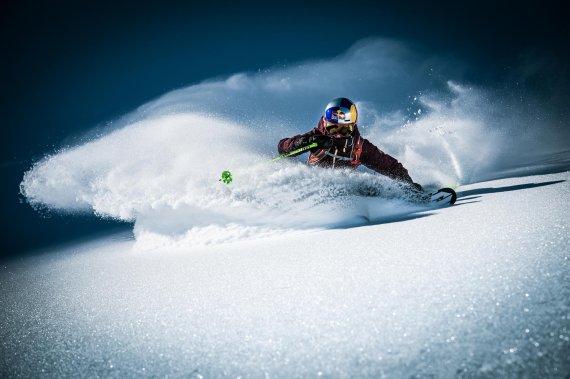 The following year, she successfully defended her title. And yet, her career was never planned to go that way. Today, the Austrian is a member of Mammut's Pro Team Freeride and lives in Innsbruck.
Life and milestones of Nadine Wallner
In 1989, Nadine Wallner was born in Bludenz, a town in the Austrian state of Vorarlberg. She initially grew up in Lech, later moving to Klostertal with her family. Thanks to the influence of her father, an experienced mountain and ski guide, Nadine Wallner developed a keen interest in mountain sports at an early age. 
She had started skiing at the age of three. By the age of six, she had already skied on the Valluga, a 2,809 meter high mountain in the westerly Lechtal Alps. From this day on, it was very clear to her that she belonged in the mountains. At the age of 13, she conquered her first four thousander in the Western Alps.
To begin with, Nadine Wallner strove for a career as an alpine ski racer, but after sustaining several injuries early on, she had to bury her dream. Instead, she began training to become a certified ski instructor and guide. A friend suggested soon after that Nadine should make a career out of her freeriding hobby and take part in professional contests.
Impressive rise
Before she was able to compete against the world's elite, Wallner had to prove her skills in the 2011/12 season's Freeride World Qualifiers.

She celebrated spectacular successes, winning on the Kitzsteinhorn (X OVER RIDE qualifiers) and in Nendaz. She ended the season in overall third place of the Qualifier Tour, and as a result was given a starting position in the 2012/13 World Tour.
In her first professional year she went from rookie to world champion. Her position climbed with each race that she competed in: from fifth place in Kirkwood, up to third place in Verbier and two second place positions in Chamonix and Revelstoke, finally being crowned the World Champion upon her home race victory in Fieberbrunn. In the 2013/14 season, she was able to repeat her success of the previous year in Kappl.
Serious accident in Alaska
Due to a severe injury, she has since been unsuccessful in defending her title. In April, she was touring in Alaska with a camera crew and two former world champions, Aline Bock and Mitch Tölderer. They wanted to make a ski film in the wilderness of the American state.

While there, she plummeted 250m, sustaining an open fracture of her tibia and fibula. "I think the whole of Alaska heard me screaming," she once said about the accident. Later, when Wallner was back on her feet, filming was completed and the film was shown as part of the Freeride Filmfestival tour.
When Wallner isn't speeding down the slopes, she can be found studying Sports Management in Innsbruck.
Profile of Nadine Wallner
Born on May 15, 1989
Place of birth: Bludenz, Vorarlberg (Austria)
Height: 1.63 m
Weight: 56kg
Wins and notable accomplishments:
2014
Freeride World Tour Champion
Vorarlberger Sportler des Jahres (Vorarlberg Sports Personality of the Year)
2013

Freeride World Tour Champion
1st place: Freeride World Tour 

Fieberbrunn, Austria
2nd place: Freeride World Tour 

Chamonix, France
2nd place: Freeride World Tour

Revelstoke, Canada
2012
2nd place: Freeride Festival Montafon by Eric Themel 

Montafon, Austria
2011
1st place: Freeride Festival Montafon by Eric Themel 

Montafon, Austria