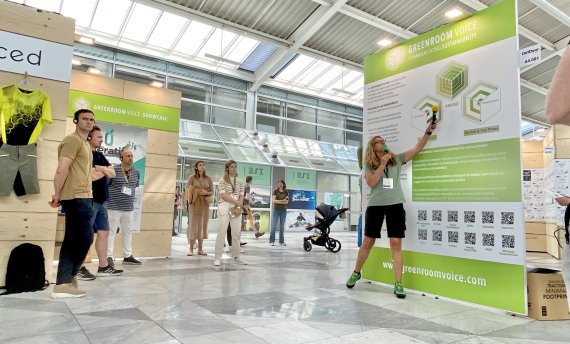 What is the Sustainability Hub?
Curated exhibition space with educational approach to sustainability (daily).

Guided tours by GreenroomVoice (daily, 11:00 a.m. to 12:00 p.m.)

EOG program with presentations and workshops (Mondays, 7:30 a.m. to 4:00 p.m.)

Networking and catering area (daily, all day)

Lectures and presentations (daily, from 9:30 a.m.)

Location: Atrium 3, including Speakers Corner
When and why was the Sustainability Hub launched?
Cira Riedel: The Sustainability Hub was launched back in 2010 at ISPO Munich. It was intended to serve as a central forum for sustainability topics in the outdoor industry. Then it quickly evolved into the central meeting place where all experts and interested parties exchange ideas on the topic of sustainability in all aspects.
Last year's OutDoor by ISPO and ISPO Munich also featured the Sustainability Hub. How did the industry accept this area and what does that mean for 2023?
Alexandra Denker: The area was very well received, we have exhibitors from the most diverse parts of the value chain. That means material suppliers, brands and organizations that are focused on enabling more sustainability.
This includes circular materials and business models, climate protection, commitment to fair and safe working conditions, and transparency into the deeper supply chain. This also means beyond the supplying factories to the raw materials, to name just a few examples. Brands as well as media and NGOs are exhibiting. The visitors get a very good overview of the current developments in the industry.
The topic of transparency and traceability is of great importance, because you can only improve what you know and/or measure. The Sustainability Hub is once again a good meeting place to exchange ideas, learn, network and find new partners.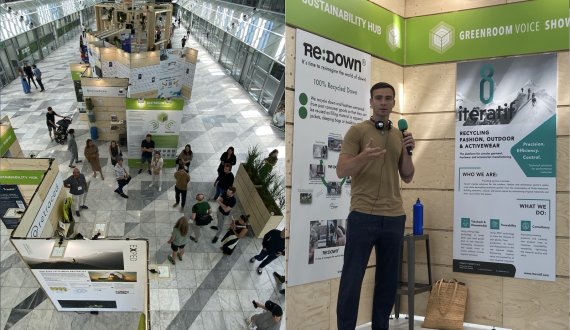 What is the vision of the Sustainability Hub at OutDoor by ISPO 2023 and what are the main topics and why?
Cira Riedel: The Sustainability Hub should once again become the place-to-be for a sustainable future. This year, the focus for us is particularly on the topic of circularity. This includes the approaches to a longer shelf life, good reparability and basically the prevention of waste in order to turn our old linear business model into a cycle. It goes without saying that climate protection is also a top priority. Without circularity, the ambitious goals of the EU will not be achieved.
The issue affects the entire industry, from raw materials to design, retailers, users and ultimately recyclers, i.e. all stakeholders in the cycle. We want to raise awareness and present projects that deal with these issues.
How is the Sustainability Hub structured?
Alexandra Denker: The Sustainability Hub is located in Atrium 3 and is therefore even more centrally located than in 2022. There are guided tours every morning at 11 a.m., many opportunities to get information and exchange ideas with other industry experts. Around the atrium there are some showrooms where important players like EOG present their programs and act as info points. In the catering area, there are workstations, food options, Wi-Fi, power outlets and networking opportunities on a collaborative workspace. The Speakers Corner is also set up in the atrium, a curated stage where speakers present sustainability topics.
We are even working on sustainable solutions in our stand construction. Together with our stand construction partner Meplan, we have found an almost completely circular system. This means that most of the material for the hub has already been used several times and will continue to be used. It is produced and stored locally, so transport distances are also short.
More info: https://www.meplan.com/nachhaltigkeit/woodi/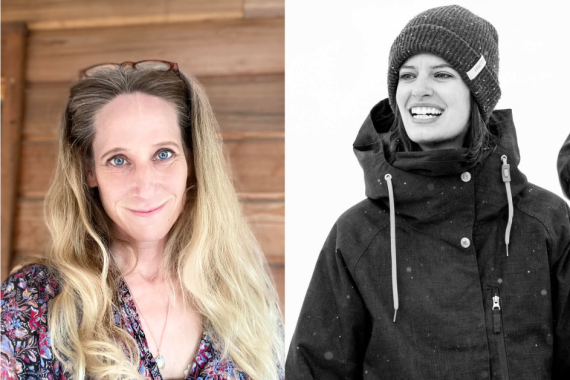 Which exhibitors who are already living sustainability and leading the way as pioneers are exhibiting in the Sustainability Hub?
Cira Riedel: There are a few that will be participating at OutDoor by ISPO 2023. Among the supplying companies, Re:Down, which offers down recycling for outdoor clothing, is particularly worth mentioning. Also present is Teijin, a supplier specializing in chemical recycling of textiles. Also present is Blueloop, a company focused on recycling post-consumer textiles. If you are interested in innovative and sustainable companies, you should definitely visit these exhibitors!
You'll also find these brands in the Sustainability Hub:
Lavalan I Billerud I ClimatePartner I Outdoor Industry Compass I European Outdoor Group I Rab & Lowe Alpine (Equip) I Exped I Globetrotter Ausrüstung I GreenroomVoice I Heimplanet I Hohenstein I Icebug I INSITE Insoles I Iteratif I Jonsac I IFAT I It's great out there I Suston I Mountain Equipment I Picture Organic Clothing I Social & Labor Convergence Program I myclimate I Südwolle Group I Sympatex I Grüner Knopf I VAUDE
What should visitors to the Sustainability Hub definitely not miss?
Alexandra Denker: In any case, the daily tour of the Sustainability Hub from 11:00 - 12:00 is very interesting, where you get a compact overview of the Sustainability Hub in one hour and also have the opportunity to meet the exhibitors in person. The stage program of course, from morning to evening, is a single highlight. But especially the program of the EOG on Monday morning, where you have the opportunity to listen to selected contents of the well-known European Outdoor Summit.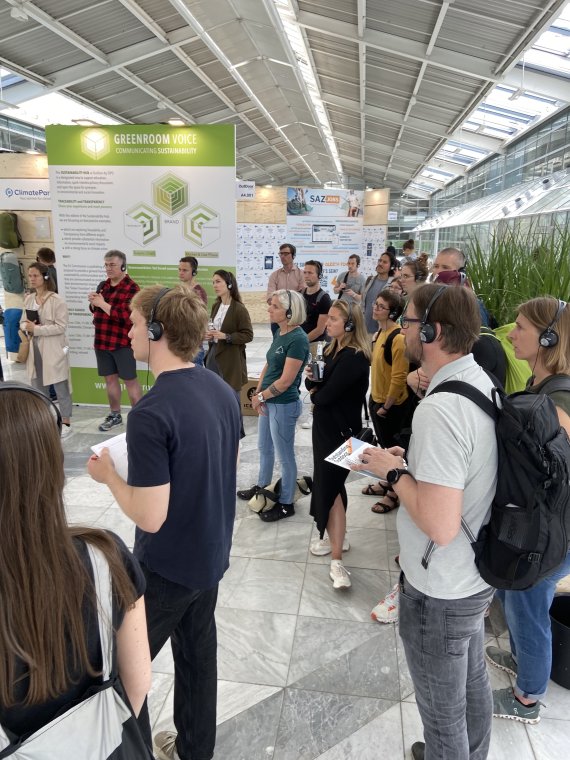 This year, the Speaker Corner is located in the Sustainability Hub. What does the program have in store for OutDoor by ISPO participants this year?
Alexandra Denker: Every day at OutDoor by ISPO has its own highlights. Sunday directly offers a promising program with the Trend Report on Sustainability and Circularity, presented by Louisa Smith. IFAT will also hold a Cross Industry Panel on "Chemical Recycling." GreenroomVoice will give an overview of relevant EU initiatives, followed by an introduction to the "Ecodesign Regulation from the EU" presented by Outdoor Industry Compass. The Textrends Awards ceremony will also take place.
On Monday we start with the Industry Breakfast and an extensive program of the EOG. In addition, the Outdoor Retailer Climate Commitment will take the stage, presented by Bergzeit and Yonderland. They have made a joint commitment to actively work towards achieving the Paris climate goals. And the contributions from Sympatex and Equip on the subject of sustainability reporting and Material Facts are also not to be missed.
Then on Tuesday, the ISPO Award will be presented in the outdoor area. In addition to further education in the field of sustainability or the daily guided tour through the Sustainability Hub, the Climate Pitch by "CHANGESthatMATTER" will also take place. This is an interactive and playful conference that provides insights into the complex interplay of the most important aspects in climate change.
At the Cross Industry Panel, you bring IFAT onto the stage as a sister trade show. What significance does this have for OutDoor by ISPO and the outdoor industry?
Alexandra Denker: IFAT, as a trade show for environmental technologies, will organize a panel that deals with chemical recycling. This fits in well with OutDoor by ISPO, because our exhibitors are confronted with precisely these questions when they strive for circularity. The answers are provided by the exhibitors at IFAT, because they have the technologies that make chemical recycling and other recycling processes possible in the first place.
And of course we would like to see the industries cooperate more and find solutions together. And this is just the start of the cooperation between the two trade shows!