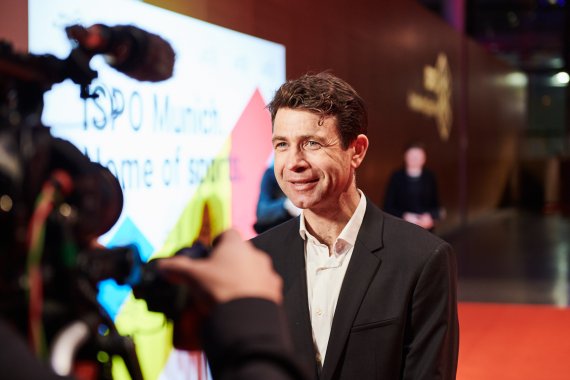 The eternal Ole: Last March, biathlete Ole Einar Björndalen officially ended his career - at the biblical sportsmen age of 44. After eight Olympic victories, 20 World Championship titles and 135 World Cup victories - these are records for eternity. It's hard to imagine that the perfectionist and balance artist - as a child, he would balance himself on the rope in a TV show, undressing down to his underpants and putting them on again - won't plough his way through the cross-country ski run in a competitive manner any longer.
Now he is a member of the IOC Athletes' Commission, lives in East Tyrol, has a two and a half year old daughter together with the former world class athlete Darja Domratschawa - and will receive the renowned ISPO Cup 2019.
In an interview with ISPO.com, the Norwegian talks about his plans after his professional career, the great appeal of ISPO Munich and things that sports can learn from eSports.
ISPO.com: As an athlete you have won everything there is to win, what does an award like the ISPO Cup mean to you?
Ole Einar Björndalen: The ISPO Cup means a lot to me. When I see what other great and famous people in the sports industry have already received it - that says it all. I am very proud to receive such an award as a sportsman from small Norway.
Vitali Klitschko and Hermann Maier are among the holders of the ISPO trophy. Just like these two, you are a personality and a figure of identification. Are these guys missing in today's sports world?
No, I don't think there's a lack of people with personality in sports. Some generations of athletes have more of these types and some have less. And now another generation is coming along that is producing very interesting sports personalities, even if they are different types than in my time. Vitali Klitschko and Hermann Maier were very special characters. I honestly don't know if I'm the same. But I have always tried my best - whether in the cross-country or off the track.
At the moment you enjoy a lot of time with your family. When and where will we see you again in the business or sports environment? What are your plans for the future?
Right now I'm trying to spend as much time with my family as I can. This is not always easy because I still have a lot of appointments and meetings. I also work as an expert on Norwegian television. And then there are a few more projects, but I can't say anything about them because they're not official yet.
As a tinkerer you have perfected and adapted your own equipment time and time again. Don't you feel like working in the sporting goods sector in the future?
(laughs) I have always been an enthusiastic inventor and like working with different materials. Maybe in the future I will get even deeper into the sporting goods industry. Right now I'm still working with Madshus and I'm part of the development team.
What role does ISPO Munich actually play for active athletes?
The ISPO Munich is very important for us athletes. The latest developments and trends are presented here and I always find it very exciting to see what the competition brings to the market. But for me it was always difficult to visit the ISPO Munich, because the fair was in the middle of the season and important races were scheduled.
Your wife Darja Domratschewa has also ended her biathlon career. Did the joint exit as a couple make it easier to say goodbye to professional sports?
When I ended my career, my wife Darja had not yet finally decided whether she would stop or move on. But of course it's easier to quit when you have a family and a child together.
On and off the track you were notorious for your perfectionism. Have you become more indulgent with yourself since the end of your career?
I don't think so. When I do something, I always give one hundred percent, even today. This can be exhausting, but it keeps me motivated and gives me more fun in life.
Since the beginning of your active career, the world of sport has changed massively. A central discussion is devoted to the question of whether eSports is actually sports. eSports is also on the ISPO Munich represented. What do you think of this development?
eSports is the future and you should talk to the industry and develop the "normal" sports together. Both industries can learn a lot from each other. eSports at ISPO Munich? Hmm, why not? Normal sports should not be afraid of eSports!
Can traditional sports learn anything from eSports?
Yes, certainly. eSports is very fast in development and in my opinion there are very smart people working in this industry. What eSportsmen achieve is fantastic, their ability to concentrate is first class. You can learn a lot from how they market their sport in the media and how modern they present it with all the graphics and video streams.
eSports is part of an increasingly digitalized world - for our children this is a matter of course. You also have a young daughter, how do you want to bring her closer to the joy and advantages of sports among all the digital offers?
Forbidding her to be on the computer or to do eSports is the wrong way. It is important to me that my daughter understands the difference between these two types of sports. One doesn't rule out the other. I have a lot of experience in "normal" sports and my daughter can learn a lot from me here. Maybe one day my daughter will teach me eSports.