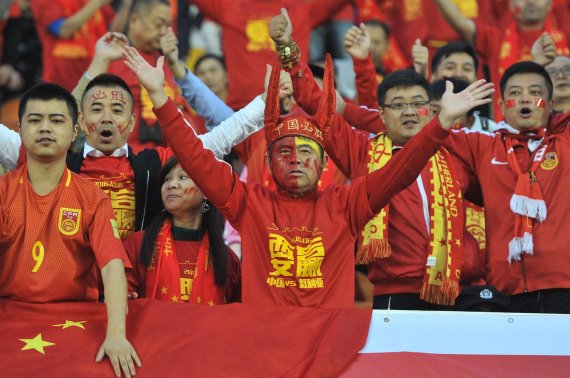 Sports are popular in China, and becoming more and more so. The middle class in particular has time for running, fitness, table tennis, and basketball, but also for winter sports and soccer.
In addition to the massive state promotion of elite sports, there are many sports trends that recreational athletes in China are discovering for themselves. We present the most popular sports in China here. 
Running: 44% of sports-playing Chinese count running among their main activities

Badminton and Table Tennis: 20% of Chinese play badminton and table tennis

Basketball: Over 18% of Chinese play basketball

Soccer: 12% play soccer
Additionally winter sports and eSports are on the rise and becoming more and more popular in sports in china.
Top sports in China
The most popular Chinese sports are table tennis, basketball, football, badminton, running, volleyball, baseball. In winter, the most favorite Chinese sports include figure skating, skiing, snowboarding, cricket. What is the most famous sport in China? Table tennis, also known as ping pong, according to various sources, is preferable for more than three hundred million people. Basketball is the second among main sports in China, which has conquered both yard amateurs and professional athletes. Among other famous sports in China are yoga, swimming, and cycling.
Running has now become the most important sport for Chinese recreational athletes. 44 percent of sports-playing Chinese count running among their main activities.
"In 2016, there were over one million marathon runners in China," says China expert Martin Kössler. He accompanies sports and outdoor firms in their market entrance in China, among other things.
There is a high number of official competitive races held within the country that rivals the numbers in countires like the United States or Japan. Many cities in China are now hosting regular and annual races or marathons.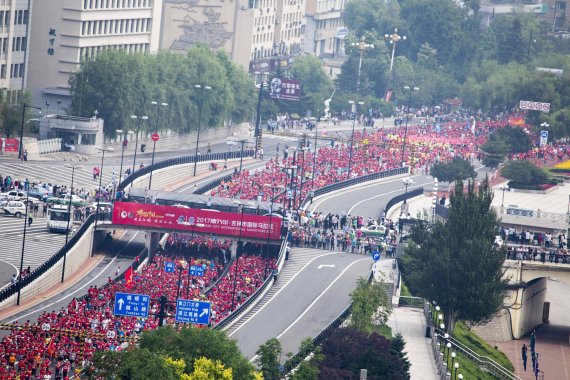 Moreover, there have been more than 100 marathon runs in China in the past year. From the perspective of sports companies, runners in China are an especially interesting target group, Kössler says. The runners are substantially younger than those in Europe, and they spend more money on their hobby. The main group of running Chinese are between 36 and 45 years old, followed by the 25 and 35 year olds. 
Another interesting aspect: Running is making fitness studios popular again. Studios are appearing in major cities that are specialized in the needs of runners. Chinese recreational athletes are also just as happy to spend their money on running shoes, clothing, and accessories.
Both comeback sports have been among the most popular sports in China for years. Internationally, professional table tennis and badminton are dominated by the Chinese.
The best badminton player of all time, the two-time Olympic champion and five-time world champion Lin Dan, is one of the greatest sports idols in all of China and famous all throughout Asia. ESPN counts him among the 100 most famous athletes in the world.
Badminton and tennis are also well-liked in China's free-time sector, as well. Over a third of Chinese citizens play sports, but over a fifth also like to play badminton and are happy to pick up a table tennis paddle.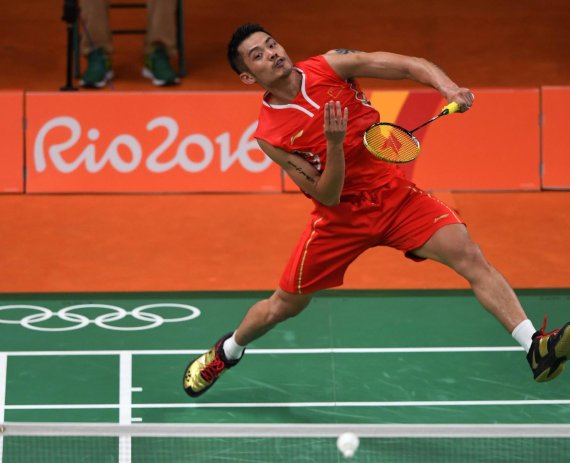 Why is table tennis so popular in China?
The secret of its popularity is simple: a minimum of devices is enough to play, namely, a ball, rackets and a relatively small table that can be placed almost anywhere. And to master it, neither supernatural strength nor great height is needed – only sleight of hand, mobility and experience.
Facts about table tennis in China
It came from Britain only in the first half of the XX century, but in less than a century, the Chinese managed to make great strides in this field: since the 60s, men from China have won more than half of all world championships, and women since the 70s - almost all. When table tennis was included in the list of Olympic disciplines at the 1988 Olympic Games, it became truly popular - people of all genders, ages and incomes played it. All political figures, even Mao Zedong, were fond of this sport.
Even though everything Western was banned, basketball was a popular sport during the Cultural Revolution (1966 to 1976), and this popularity continues through to today. China is the largest international market for the NBA. Over 18 percent of Chinese athletes play basketball.
But soccer might outstrip basketball. The percentage of Chinese athletes who also play soccer is already at 12 percent. The Chinese leadership has proclaimed the ambitious goal of winning the 2050 World Cup title.
"There are set to be 50,000 soccer academies in China in 2025," says Martin Kössler. "Naturally, these dimensions offer enormous potential for Western firms."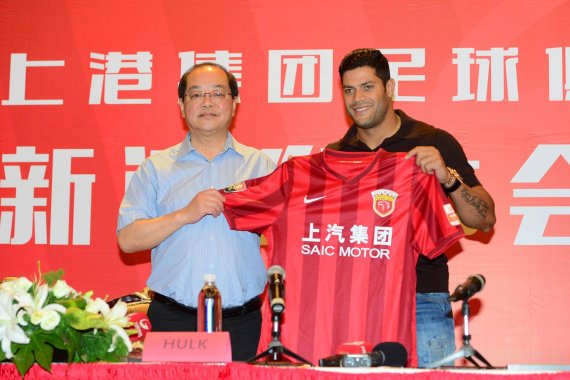 Leagues are planned to be created for amateurs, and countless soccer fields will be built across China. China is currently still a shrimp when it comes to soccer, sitting at 82nd place in the FIFA world rankings, between Benin and Belarus. 
This is also why the country is obtaining a lot of expertise from abroad. The Chinese Super League is making some serious investments: According to reports by FIFA, the transfer assignments by the Chinese professional league totaled 450 million euros in the year 2016.
Foreign professionals can sweeten the twilight years of their careers here. Among the most renowned soccer players to have agreed to a transfer to China, for example, are the Argentinian Carlos Tevez, the Brazilian Hulk, and Jackson Martinez. The Columbian switched from Atletico Madrid to the Guangzhou Evergrande in 2016 for 42 million euros.
Basketball popularity in China is extremely high. According to the data, almost every fifth athlete is engaged in basketball. It came to China from the USA at the turn of the XIX and XX centuries, and then China became the third country (after the USA and Canada), where a new game with throwing the ball into the basket gained popularity.
The popularity of soccer in China is also not losing ground. There are almost 700 million people in China who are not indifferent to football – and this is the largest audience of fans on the planet. Also, government agencies are investing quite large sums in the development of the game: they plan to open at least fifty thousand football schools by 2025, and by 2050 – to bring the team to the first place in the world.
The 2022 Olympic Winter Games will be hosted in Beijing. Of course, this is a commitment for the country. "Many investors are getting in on the winter sports business," says the China expert Kössler.
The largest beginners' market in the world is evolving here, and because the supply chain in the skiing and winter sports business is quite long, Kössler says, several companies will benefit from the growing winter sports market in China. Skiing regions will also have a need for skilled employees from all kinds of sectors.
Nearly 650 ski resorts existed in China in 2016. "Naturally it has to be said that these aren't comparable with the regions in Europe," says Kössler. Three quarters of the ski regions have an altitude difference of no more than 100 meters.
But many Chinese are giving skiing a try, and visitor numbers to these regions have been climbing substantially for years. The number of visitors to the ski regions nearly tripled from 2009 to 2016, from 5.5. to 15.1 million.
At nearly 1.4 billion Chinese, this potential still has yet to be exhausted.
Obviously eSports is also very popular in China. Although it's still discussed very intensely whether eSports is an actual sport, the eSports market is growing and growing. Globally as well as in China. In 2020 the eSports market in China exceeded 20 billion USD. Games like League of Legends as well as DOTA are very popular among the population.
What are the national sports in  China?
Traditional sports include wushu, Taijiquan, qigong, Chinese chess, round-up checkers (go) and others. Taijiquan is one of the types of Chinese traditional sport. It includes elements of strengthening physical health, training willpower and regulating  internal energy "qi".