The record-winning German soccer team is thereby continuing the trend that's become apparent recently with many major brands in the sports business: engagement in China, a highly trending global market these days, is decisive for the future of European brands.
FC Bayern München moved into the new office in Shanghai half a year ago. Now, Chairman Karl-Heinz Rummenigge, executive member Jörg Wacker, and brand ambassadors Giovane Elber and Bixente Lizarazu have officially opened the office and taken part in the festivities with roughly 120 invited guests. Managing Director Rouven Kasper will be leading the office. 
FC Bayern already opened an office in New York back in 2014.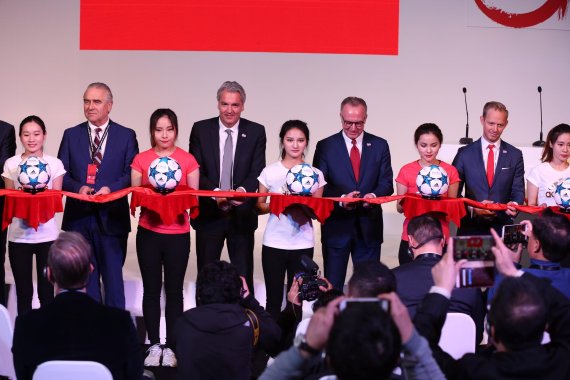 "We're glad that, after the USA, we're now also represented with an office in Shanghai. That way, we can further intensify our exchange with the fans, with clubs, with organizations and other institutions," explains Chairman Karl-Heinz Rummenigge.
Jörg Wacker, Executive for Internationalization and Strategy, says, "We have a broad fanbase in China, currently more than 136 million followers, with whom we want start an even stronger dialog right away."  
FC Bayern also aims to further expand partnerships in youth soccer and marketing activities, like the "Legend Trophy Tour" or the "Audi Summer Tour."
FC Bayern also digitally successful in China
At this year's "Audi Summer Tour 2017" in July, FC Bayern will be a guest in China and Singapore, and will play against FC Arsenal, A.C. Milan, Chelsea F.C., and Inter Milan in test games.
Above all, FC Bayern has thus far been digitally successful in China. In the latest Red Card studies – which compile which soccer clubs have the best digital presence in China – FC Bayern won twice and was second place twice. "That shows that we are very good in China, in industry comparison. We've since left Manchester United, Real Madrid, and even Barcelona behind," said Stefan Mennerich, Media Director and Digital Head of FC Bayern, in an interview with ISPO.com.