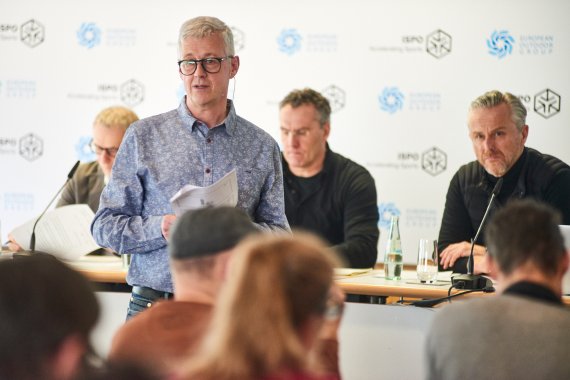 Mark Held, General Secretary of the EOG, sums it up: "As an organization, we've been fairly busy!" The year 2017 generally was a successful one for the outdoor industry: "Things are going pretty well, the industry is in a healthy situation. Hardware is doing especially well, apparel and footwear as well. Winter Season is doing way better than the previous year, industry expects 2018 to perform much better than 2017."
The It's great out there coalition membership grew to 34 brands, the coalition will 2018 again be partner of the European Week of Sport. It helps the EOG spreading its message to a wider audience, symbolized by its newest partner and the curation of #itsgreatoutthere on the photo community Unsplash.
The focal point of the EOG and its members is, of course, the project Vision 2020 and and the future of the OutDoor trade show. "The outcome on what we have started will have a profound impact on shows", says Held. "Over the years, the sector is changing: Market, supply chains, everything – so we started Vision 2020 to look at the future of the Outdoor trade fair."
The EOG ientified the most likely partners: Stuttgart, Milano, Hamburg, Munich and Friedrichshafen, then went through the process of evaluation. They decided to appoint an independent team to assess the proposals. And from that, they reduced the field to three: Friedrichshafen, Hamburg and Munich.
From February 1st to February 7th, the EOG members will vote for the new OutDoor location. When it's chosen, there will be disappointment with the locations that didn't win and their supporters – and John Jansen, EOG President knows that. "This is not an easy, but quite an emotional task, for a lot of brands and retailers.
Jansen addresses the whole industry to stick together, independently of where the OutDoor Show will head to. "Whatever the decision is, the outdoor industry is a team, more than any other industry. We need the unity of the industry, we can only grow if we continue to work together."
So far, all three candidates have impressed the EOG. Rainer Angstl, CEO of Sporthaus Schuster: "All three showed a very professional concept. It is important for us to bring back the retailers – and this is not a matter of location." Matthias Zaggl, Business Leader Footwear at W.L. Gore & Associates says: "All three made it very clear: The new OutDoor will be including all stakeholders, deliver much more stimulation, and will be addressing all the future needs of a changing market." Mark Held adds: "The good news is: We need platforms like ISPO and OutDoor – they boost the whole Industry."