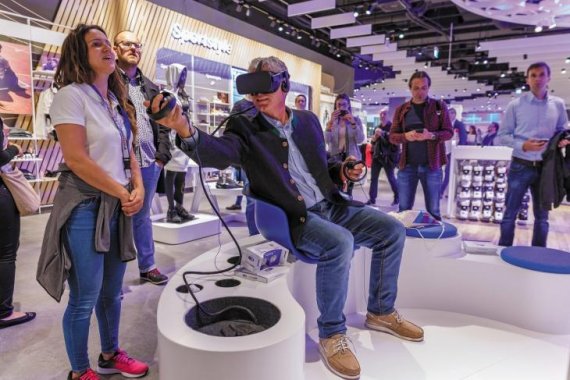 For centuries, stationary retail has operated by the same principle: The retailer puts together a product range and offers this goods for purchase. Customers come to them to examine their wares, and if they see something they like, they pay the retailer the agreed upon purchase price and take the items with them.
In the late 19th century came the mail-order trade. Now the goods came to the customer. And in the mid-1990s, the Internet was opened to commerce – the birth of online retail. In July 1994, computer scientist Jeff Bezos founded Amazon, the first online department store.
Since then, the Internet and especially the smartphone have fundamentally changed people's behavior. More than 45 million people in Germany use mobile Internet for 160 minutes every day. Our working and living environments have become mobile, networked, and dynamic. No matter if new songs or the shortest car route from A to B, we get almost everything in real time and immediately.
Nevertheless: We humans are social creatures; we want to be in contact with other people. Social media shows this very clearly. Experiences and stories, mainly from the analog world, are shared there. The lines between the analog and digital worlds are beginning to blur.
When needs are met immediately and in real time, time and attention are scarce resources. As part of leisure activity, retail is no longer in competition with just other retailers, but also with people's other activities.
People can do their shopping quickly online in order to then get to the things they want to experience. So, stationary retail needs to become just as much of an experience space that people like to frequent.
Experience space? That sounds good at first, but what does it mean in concrete terms?
Shopping and buying need to be fun. What's fun can be different, of course, and not every product range is suitable for the great customer fun. What is elementary, however, is that retailers can be found and approached in the digital space. Because customers prepare for their purchase decisions online.

Stationary retailers need to become conscious of their strengths. Getting better as a purely online player – a stationary retailer can hardly win this fight. Human contact, personal advice, trying out products, a network of like-minded people: these are the advantages of stationary retailers, and naturally they can also offer some of these services online.

Retailers need to work together: Along with the city, dining, property owners, etc., retailers need to make the city (centers) into a space of experiences and leisure. This is because people will also like to spend their time there and remain loyal to the retailers.
About Heike Scholz
Heike Scholz advises mid-sized and large companies of issues of digitization. She is a sought-after lecturer on the topic of the digital transformation and stationary retail. She will also be present as a speaker at the ISPO Digitize Summit (June 28/29, 2018). She is cofounder of ZUKUNFT DES EINKAUFENS (Future of Shopping) and a recognized speaker in fields including digitization and technologies at the point of sale. After more than ten years working as a strategic consultant for international companies, in 2006 the educated businesswoman founded mobile zeitgeist, making it one of the leading online magazines for mobile business in the German-speaking world.