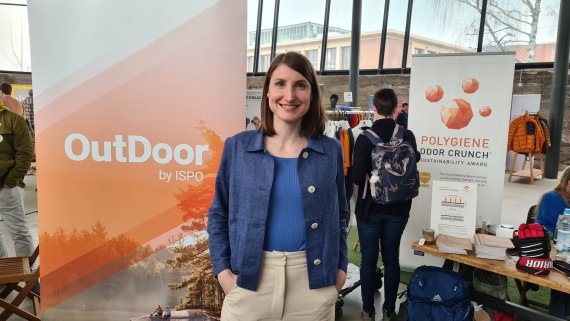 A better foretaste of the OutDoor by ISPO could hardly have existed. Top-class outdoor brands, product innovations - and above all: finally, real people again! At the Sport & Outdoor Media Day in Munich, outdoor industry representatives, influencers and the press got a taste of what to expect at OutDoor by ISPO from June 12 to 14.
Lena Haushofer, Exhibition Director of OutDoor by ISPO and ISPO Munich, and her team met exhibitors, brands and media representatives at the media day in the Kohlebunker location next to the MOC. The media day was a worthy appetizer for OutDoor by ISPO, not only because the outdoor highlight of the year will also take place at the same location.
"I'm most looking forward to the industry reunion," says Lena Haushofer. "After two years, OutDoor by ISPO is finally the coming together of retailers and brands again, where product innovations, trends and new products from the industry are shown, the industry networks - and of course also celebrates together again."
Already now numerous exhibitors have announced attend OutDoor by ISPO. Why the OutDoor by ISPO is a must-attend event for them? "There is so much enthusiasm in this industry. It drives technologies forward. And you can find this passion of the outdoor industry right here at OutDoor by ISPO," says Nick Brosnan, Global Marketing Manager of Polygiene.
The Swedish outdoor brand will probably also bring their innovative Odor Crunch technology, with which textiles remain odor-neutral after sweaty outdoor action even after days. This not only protects the nose, but also saves resources due to the reduced need for a change of underwear. Thus Polygiene meets the nerve of the time.
Sustainability will also play a central role at OutDoor by ISPO 2022: "It is a must for brands these days that they pay attention to sustainable production and that the goods are durable," says Haushofer. This also includes the possibility of having used products recycled or repaired: "Regenerative value creation is one of the focus topics at OutDoor by ISPO and will also be addressed accordingly in the conference program in panels and workshops."
Exhibitor Icebug, for example, is looking forward to finally making its own sustainability innovations tangible. "So much has happened in the last two years, but what does all this mean in practice? What can the products really do physically? What happens when I scan the QR code? What does a material change really feel like? It's very nice to get together in person and sit at the product in the end," says Icebugs Country Manager DE/AT Mathias Dean-Basedow.
Also the OutDoor by ISPO itself exemplifies sustainability: Stands provided by the trade fair consist exclusively of material already used from ISPO Munich or OutDoor by ISPO 2019. "Nothing is produced from scratch, but rather existing material is used," says Haushofer. In addition, Messe München does without carpets in the halls and plastic tableware in catering to conserve resources.
For exhibitors, in turn, the OutDoor by ISPO offers numerous opportunities to present themselves and their own products in the best possible way. Whether with their own showroom, various modular stand offers of the fair or completely summery under the open sky. "We have a large outdoor area, where we bring a tent exhibition to life and plan great hangout areas," says Haushofer.
With the MOC and the adjacent Kohlebunker, the north of Munich also offers the best infrastructural conditions: "It's perfect for the restart of OutDoor by ISPO: it's familiar, compact, very convenient and very efficient for the dealers. After all, numerous sports, outdoor and footwear brands have permanent order offices right on site." In addition, the date in June offers the perfect time for an all-encompassing market overview due to the order cycles.
In addition to showrooms, the industry can also shine in the extensive conference program or - such as van life specialist Dometic - with product launches at OutDoor by ISPO. "That's the exciting thing. We have so many different ways to activate."
What exactly is Dometic planning for OutDoor by ISPO? Carine Maubon, EMEA Channel Manager Outdoor Lifestyle, did not want to reveal that yet at the media day. Only so much: "We come with a very big innovation for the car industry."
Deuter also will be there as an exhibitor. Johannes Braun, Product Manager Outdoor Backpacks, explains what trade visitors can look forward to at the backpack brand at OutDoor by ISPO: "To our cool new products for the summer of 2023. Whether under the buzzword mountain sports, mountaineering or in the area of waterproof products. There are definitely a lot of different things to look forward to." Deuter's promise: "The product range will not become smaller."
Mathias Dean-Basedow of Icebug looks ahead confidently, "The past few years have made us realize that we are not made to sit in front of screens all day. Accordingly, we as an outdoor industry will continue to do well in the future. We just have to make the best of it."
And the best way to do that is in a face-to-face meeting. "The whole industry craves a trade show as a platform. The industry simply needs that after years of Teams and Skype meetings. We are very much looking forward to OutDoor by ISPO," exhibitor La Sportiva also said in a statement.
Lena Haushofer puts it in a nutshell: "You can't do it without a platform." OutDoor by ISPO offers just that from June 12 to 14: "So come and join us, celebrate with us, let's revive the outdoor feeling!"