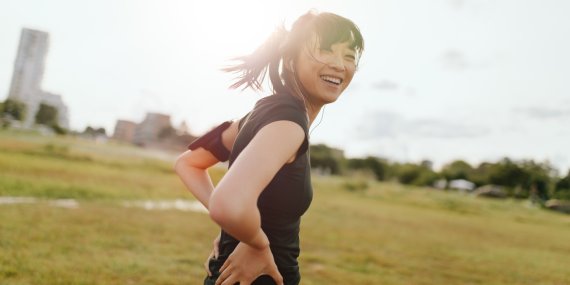 The Japanese sports market is in an upbeat mood. The 2019 Rugby World Cup is causing a lot of excitement throughout the country. In Kamaishi, where the tsunami of 2011 destroyed almost everything, a new rugby stadium was even built.
After her triumphs at the US Open and Australian Open, tennis pro Naomi Osaka has become the new sports heroine with a subsequent promotion to No. 1 in the world rankings. And then there are the Olympic Games in Tokyo on the horizon.
Even though Japanese society is ageing dramatically - sport is suddenly back in. This will also make the prospects for the weakening sports industry rosier again. Prime Minister Shinzo Abe already included the sports industry in his national growth strategy in 2016 - alongside future technologies such as Artificial Intelligence and robotics.
The goals seem more than ambitious: Sales are expected to double from 5.5 trillion yen (46.8 billion euros) in 2012 to 10.9 trillion yen (92.7 billion euros) in 2020. In 2025, even 15 trillion yen (127.6 billion euros) are to be turned over in the Japanese sports industry.
"It's true that the topic of sport is more on the agenda again. This also has to do with a slow rethinking in society," says Takahiro Yasutake on the fringes of ISPO Shanghai in an interview with ISPO.com. According to the sales manager of a sports business company, the younger generation in particular is changing its priorities. Instead of focusing on work and fulfilling duties as is traditionally the case, more and more people would recognise the value of leisure and nature.
"The outdoor market in Japan is getting stronger and stronger - more and more people want to get out of the big city and camp, for example. Snowboarding is experiencing a boom and more and more kids are starting out with sports like skateboarding. Climbing has also arrived in the mainstream," says Yasutake. It is therefore a perfect fit that the latter two sports will celebrate their Olympic premiere in Tokyo in 2021. Running and golf are also very trendy.
It seems as if the traditional Japanese society is actually getting a little younger and looser. The same applies to clothing. In the past, suits and costumes were more or less compulsory on the job, but now the boundaries are breaking down more and more.
Trendy outdoor clothing for the whole day is particularly in demand: "More and more people want to make a fashion statement and wear clothes that can be used both at work and on a weekend excursion.
According to Yasutake, it is important that the international brands develop a special concept for the Japanese market: "This starts with the fact that most Japanese are smaller and weaker than, for example, Europeans. So you should adjust the cut of the clothing accordingly. In addition, the average customer in Japan is somewhat older and very picky. The North Face, for example, does it very well - they have completely localized their offer."
In general, the opportunities for international brands to compete with local top dogs such as Asics or Mizuno are very good because they are highly regarded by Japanese customers.
The example of the football club Vissel Kobe in the Japanese J-League shows that the big business is also relying on the opportunities in the sports industry that are improving again. Hiroshi Mikitani, head of e-commerce giant Rakuten, has lured world football stars like Lukas Podolski or Andrés Iniesta to Kobe with lots of money.
The investment should pay off: Since 2017 fan articles and merchandising of the professional league have been sold via its online mall. According to plans by the Japanese government, total sales of sporting goods are expected to rise from 1.7 trillion yen (14.2 billion euros) in 2012 to 3.7 trillion yen (30.9 billion euros) in 2025. This actually sounds like a mood of optimism in the Japanese sports industry.