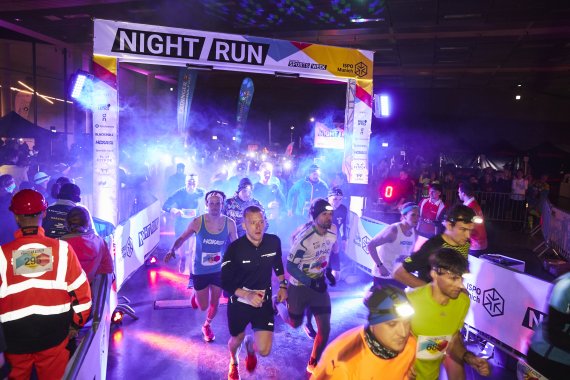 ISPO Munich 2020 had already closed its doors. But the Night Run 2020 on Saturday afternoon and evening was the crowning finale of Sports Week - a week full of sporting events in and around Munich.
With a total of 1232 participants, the third edition of the trail running event pulverized the previous record of 650 participants from the previous year despite the rain. Over five kilometres and ten kilometres the participants could compete in Munich's largest running event at night in the Olympic Park. The Kids Run had already invited children onto the course in the early afternoon. During the Night Run, everyone could also try out the latest running and sports trends for themselves in workshops, product tests and sports sessions.
The start took place indoors in the Small Olympic Hall, before the runners went on the paths and trails of the Munich Olympic Park.
Most of the participants started over 10 km. The course led up the Olympic mountain twice and featured several trail sections. 693 runners registered as participants. Johannes Hillebrand from the Allgäu Outlet Race Team secured the victory with a time of 36:33 minutes. The fastest woman was Juliane Wiedeburg (43:49 minutes).
Over the 5 km the victory went to Rifat Cetin from MRRC with a time of 18:23 minutes among 462 participants. Maja Hänle was fastest among the women with 22:10 minutes.
A complete overview of all participants and running times can be found here.
10 km Men

| Position | Runners | Time in minutes |
| --- | --- | --- |
| 1 | Johannes Hillebrand | 36:33 |
| 2 | Rene Manthee | 39:01 |
| 3 | Sebastian Kraus | 39:12 |
| 4 | Patrick Dendorfer | 39:27 |
| 5 | Marian Mielke | 40:32 |
10 km Women

| Position | Runner | Time in minutes |
| --- | --- | --- |
| 1 | Juliane Wiedeburg | 43:49 |
| 2 | Manuela Dietzinger | 47:42 |
| 3 | Tina Moritz | 47:53 |
| 4 | Melanie Stern | 49:05 |
| 5 | Claire Guyon | 49:20 |
5 km Men

| Position | Runners | Time in minutes |
| --- | --- | --- |
| 1 | Rifat Cetin | 18:23 |
| 2 | Sebastian Ambrosch | 18:33 |
| 3 | Juan Moreno Burgos | 18:37 |
| 4 | Christoph Zehetleitner | 18:44 |
| 5 | Jonas Bilinski | 19:38 |
5 km Women

| Position | Runner | Time in minutes |
| --- | --- | --- |
| 1 | Maja Hänle | 22:10 |
| 2 | Elena Rauer | 22:20 |
| 3 | Nicole Biolik | 22:44 |
| 4 | Nathalie Krause | 22:51 |
| 5 | Anja Blersch | 23:33 |
Kids Run

| Position | Runner | Time in minutes |
| --- | --- | --- |
| 1 | Mert Cetin | 6:48 |
| 2 | Anita Blersch | 6:53 |
| 3 | Tamino Demharter | 7:00 |
| 4 | Norwin Kressin | 7:07 |
| 5 | Andre Parthum | 7:07 |