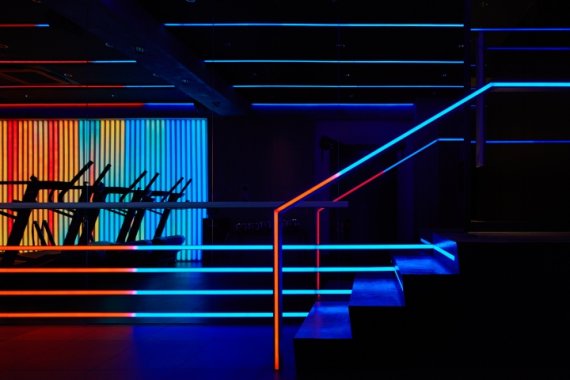 It seems as if interior design has now made its way into fitness studios, as well. According to reports by the German Sports Studio Association (Deutscher Sportstudio Verband, DSSV), for the first time, more than 10 million people worked out in a fitness studio in Germany in spring 2017.
That number is set to climb to 12 million by 2020. Fitness chains above all registered the biggest clientele. Unaffected by this, however, the number of so-called boutique gyms, which address a more discerning target group with neatly designed rooms and an integrated concept, is also growing.
It seemed inconceivable just a few years ago, but these small, boutique gyms are conquering the fitness scene and will make long-lasting changes to the image of chains, as well.
If people like it, it's allowed, it just can't be boring or haphazard: The spectrum ranges from clean, accented design with premium materials to a bootcamp atmosphere, all the way the rocking nightclub look. Entirely new worlds of fitness are being created, including virtual realities.
Sure, if sports are a part of someone's personal lifestyle, then this individuality needs to be reflected somewhere in the fitness studio. ISPO.com shows spectacular gyms from all over the world. We're talking about:
BeCycle Berlin

Barry's Bootcamp in San Francisco

#Getover in Tokyo

Metabolik in Aix-en-Provence

InSports Beijing
BeCycle Berlin: Golden days
Small studio, big design: The head-turner from the studio opened in 2016 is the golden, brass-fitted wall that runs through the entire room. It offers a dignified background for the fitness collections also sold there.
You can't get better presentation for fitness fashion than that! The cycling room is the real fitness centerpiece. Without any windows, it's plunged into a cool, club-like atmosphere where calories are burned to loud beats.
Yoga and other courses take place in another, light-flooded "Refine room." The concept also includes an integrated bar offering smoothies and a co-working area.
Barry's Bootcamp in San Francisco: Fitness im Military Style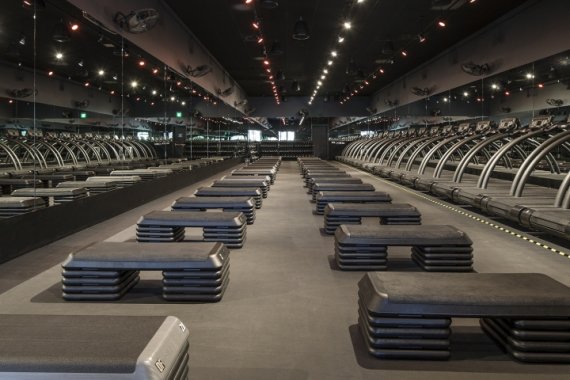 Barry's Bootcamp demonstrates the fact that even fitness chains value a special atmosphere. Founded in Los Angeles in 1998, the studio also opened branches in other American cities and in London and Norway.
The studio in San Francisco in late 2016, with camouflage patterns on the wall and fitness rooms evoking a military drill.
#Getover
in Tokyo: In the flow of the light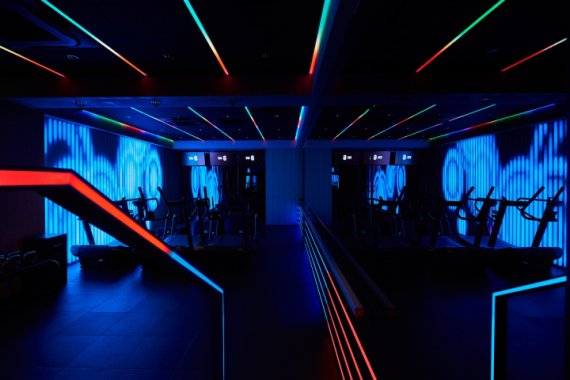 #Getover in Tokyo belongs to a group of very differently outfitted studios. The Getover was opened in 2017 and gets by without any sunlight, located in the second basement level of a house, and is designed for group courses.
When the trainer pushes a button, the light goes out and colorful LEDs flash to the beat of the bass sounds. Together with the music, the dark light forms a choreography meant to enhance athletes' motivation to go to their individual limits.
Metabolik in Aix-en-Provence: For hard muscles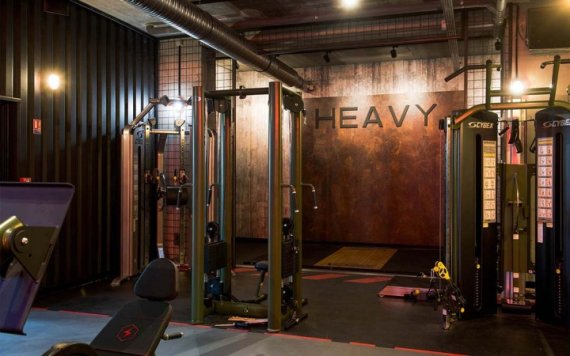 Metabolik was opened just recently, and belongs to a group of studios offering "hard training," and their look matches the part. The atmosphere in the "Force" room is dark, the materials evoke old industrial buildings, and the lighting concentrates on the machines.
People train with reduced oxygen supply in the "Altitude" room. In the "Mobility" room, wood and anatomical patterns mellow out the atmosphere.
InSports Beijing: Projection area for virtual worlds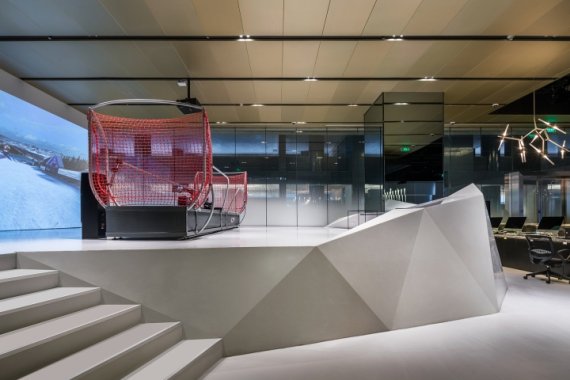 InSports is a high-end, multifunctional studio for virtual and endurance sports.  Projections on the floors and walls create a broad palette of simulated environments – including mountainous worlds for skiing and snowboarding! At night, the studio becomes a dance club. InSports is following a new trend in Chinese retail where live action and participation are becoming an integral component of the shopping experience.