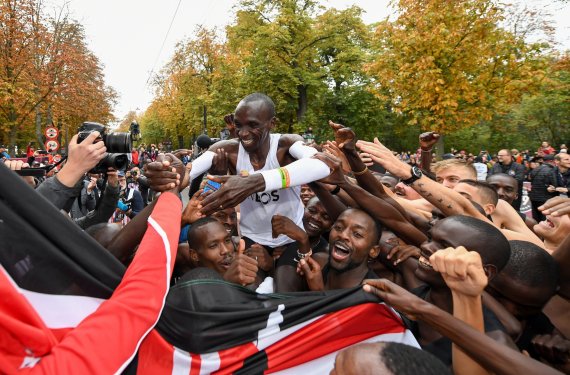 The Corona crisis has also had far-reaching consequences for the marathon scene. The London Marathon, for example, had to be postponed from 26 April until 4 October.
However, it is still unclear whether the event will also be open to amateur runners or if only professionals like world record holder Eliud Kipchoge are allowed to compete. According to "Athletics International", the organizers have asked all athletes originally invited for April to come back for the fall date. This includes the Kenyan Kipchoge.
He holds the official marathon world record of 2:01:39 hours (Berlin Marathon 2018) as well as the unofficial world record of 1:59:40 hours at the INEOS 1:59 Challenge in Vienna 2019 under laboratory conditions with constantly changing pacemakers and drinks and food available at all times.
Kenenisa Bekele, who missed the official world record at the 2019 Berlin Marathon by only two seconds, is also expected to compete in London. A direct duel between the two top runners could come to happen in October. For Bekele, an improvement of the official world record could be possible. "With good weather conditions and if we both worked together on the pace, a time in the range of the world record might have been possible", Athletics International quotes hin speaking about the cancelled event in April.
In the women's field, too, the London Marathon is aiming for a top-class duel: World record holder Brigid Kosgei has been invited, as has reigning world champion Ruth Chepngetich.
The Berlin Marathon, notorious for world records because of its course, cannot take place on 27 September as planned. Due to the corona pandemic, the Berlin authorities have banned major events with more than 5,000 people present until October 24, 2020. Organizer SSC Events wants to inform about the further procedure by the end of June.