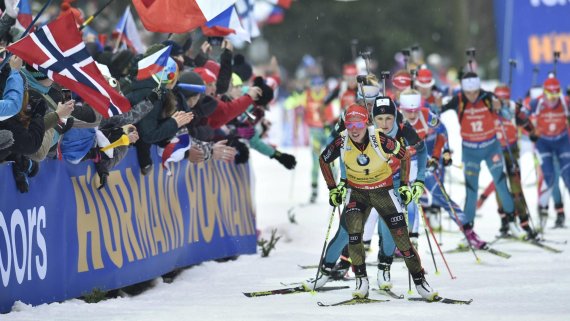 For Rossignol's Biathlon and Nordic guru Franz von Wedel, the matter is clear: "In the same way as Mercedes advertises the quality of its series-produced cars through its world championship titles in Formula 1, Rossignol and other Ski companies use Winter sports as the perfect advertising platform for their products," he says. 

No-one can afford to ignore the most important winter sport in Germany. "Among winter sports, here, Biathlon has the largest average interest, with quotes of over four million spectators in Germany alone; it is thereby the second most popular sport, behind football. Rossignol's sales figures in the cross-country skiing field have developed in a very positive way – although the cross-country skiing market has tended to get smaller. This has a considerable amount to do with our sporting success", von Wedel explains.
Rossignol: Title and successes in the Biathlon world cup
The French company won eight gold medals in the ski and boot field at the last Biathlon world championship in 2016 in Oslo. The Frenchman Martin Fourcade won four of these; he is presently the most outstanding biathlete in the world and is currently the overall frontrunner in the world cup.

After successful weekends with podium places, many customers make active enquiries at dealers such as Rossignol, reports Franz von Wedel, who has already been part of the industry for four decades. 
Read here: Interview with Magdalena Neuner: "Sport is a luxury" >>>
Then a saying that could apply is "Win on Sunday, Sell on Monday." Particularly as the customers in the cross-country field buy the original skis from Fourcade and can use these themselves on the cross-country skiing track. In the Alpine field, this is different, because the stars' boards can hardly be mastered, even by good skiers.
Biathlon budget: 500,000 Euro
Still, the stars of the Alpine scene continue to earn multiple times what the top biathletes do. In his time at Rossignol, Bode Miller earned one million Euro per year, including support from co-sponsors - from his ski company alone. And then he went over to the competitor Head, where there was even more money to be earned.

As opposed to this, according to von Wedel, Rossignol's budget for its entire Nordic and Biathlon branch is now 500,000 Euro per year. Top biathletes such as Laura Dahlmeier can earn no more than amounts in the low hundred thousands - including success fees - from their ski company. Although, for example, the sales in the Alpine and Nordic fields at the Nordic market leader Fischer are similar.

Neuner, Dahlmeier: "Wonderful brand ambassadors"
Even more important - also with the Austrian traditional company - are the famous Biathlon faces such as Laura Dahlmeier or Magdalena Neuner. The mother of two is still a project-based brand ambassador for Fischer, a long time after her retirement.

"Both women are wonderful brand ambassadors. Laura, also, is very authentic; she has charisma and rough edges and is unique. That is also well received by the customers", says Tanja Winterhalder, who is responsible for the PR and Marketing in the Nordic field at Fischer. 
Fisher won the most medals overall in cross-country skiing and boots at the last World Championship in Oslo (see the table below). Alongside the star Laura Dahlmeier, Fischer relies on serval national brand ambassadors in Biathlon sport in important markets such as Russia (Anton Schipulin) or Norway (the Böe brothers).
The snow factor: New ideas are in demand
Still, brand success does not automatically mean more ski sales. "The snow is also a really important factor. If the end consumer does not see any of this, he does not even have the idea of purchasing skis", Winterhalder explains.

Therefore, the Nordic industry has experienced difficult times in recent years and needs new ideas for the future. "The problem is that artificial snow has not been a viable option for consumers in cross-country skiing for nearly as long as it has been in Alpine skiing. A cross-country ski trail with artificial snow, for example in the Munich Olympic Park, would of course be a dream solution," says Simone Adelwart, Marketing Coordinator Europe at Madshus.
The brand, which belongs to K2, is number 3 in the Biathlon scene and is also convinced of the success of its involvement in the televised sport.
Die Ski sind getestet und heute um 18 Uhr kann's los gehen. @madshus1906 #madshus #WirLebenWinter #biathlon #onewaysports #skideutschland #dsvbiathlon #adidas #zonyk #polar

Posted by Benedikt Doll on Thursday, December 1, 2016
Top biathletes drive ski evolution
"On the one hand, our stars such as Ole Einar Björndalen are absolute global brand ambassadors with the Biathlon fans; with their material, they are absolute examples for our customers, also on social networks. On the other hand, we continually further develop our material, together with our top athletes. They are the driving force behind many new developments in the field", says Simone Adelwart.

In the Biathlon, running only takes place through the modern skating technique; therefore the sport is especially appealing to young, attractive and wealthy customers.

Read here: This is how the deal stands between Magdalena Neuner and Erdinger Weißbier >>>
Boom in fun runs
"With its modern competition formats such as the mass start, the Biathlon radiates a huge amount of dynamism," says Rossignol's man Franz von Wedel. This entices many lateral entrants such as marathon runners, mountain runners or trail runners, who are looking for some balance in winter, onto the cross-country ski tracks."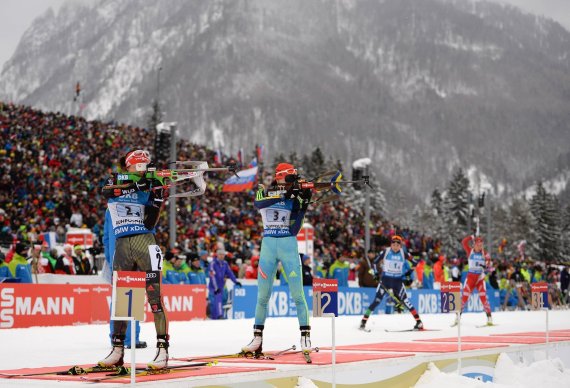 The trend has been revived for several years: "This is shown by the incredible growth in fun runs such as the Marcialonga or the König Ludwig Lauf," says von Wedel. Were it not for the latent lack of snow, even more people would be out taking part in cross-country skiing, because the sustainable sport, which does not involve any lift systems or environmental destruction, is a trend of the times. With the Biathlon as the most important advertising engine.
Ski manufacturers: Brands such as Pampers
Von Wedel: "We pursue our dedication in the Biathlon not out of vanity but from points of view of marketing. Due to their continued success, brands such as Rossignol or Fischer imprint themselves on people's brains. And it is exactly the same as this with young families – they go to the supermarket and ask not for nappies, but for Pampers."

From the 2017/2018 season, the two market leaders will even cooperate: Fischer and Rossignol have announced a joint system of soles and attachments, named Turnamic.  
Brand statistics from the Biathlon Word Championship 2016 in Oslo
| | | | | |
| --- | --- | --- | --- | --- |
| Ski brand | Gold  | Silver | Bronze | Total |
| Rossignol | 8 | 7 | 3 | 18 |
| Fischer | 7 | 5 | 12 | 24 |
| Madshus | 4 | 5 | 3 | 12 |
| Atomic | 1 | 0 | 0 | 1 |
| Salomon | 0 | 3 | 2 | 5 |
| | | | | |
| --- | --- | --- | --- | --- |
| Schuhe | Gold | Silver | Bronze | Total |
| Rossignol | 8 | 7 | 3 | 18 |
| Fischer | 7 | 2 | 11 | 20 |
| Madshus | 4 | 4 | 3 | 11 |
| Atomic | 1 | 0 | 0 | 1 |
| Salomon | 0 | 6 | 2 | 8 |
| Alpina | 0 | 1 | 1 | 2 |