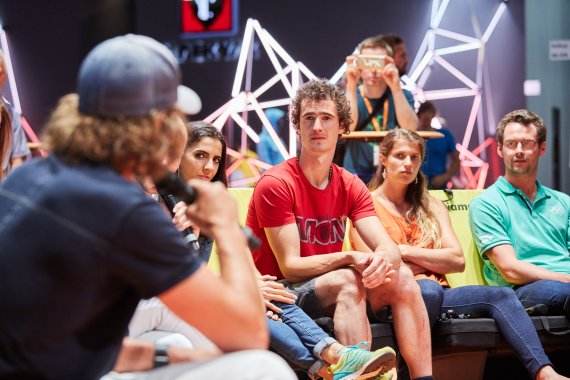 Climbing is by no means the first and only sport that has been shaken by enormous discussions since it was included in the Olympic Games canon. Ask the snowboarders...
At OutDoor by ISPO, the largest outdoor trade fair in Europe, you can't get around this topic either, of course, especially as climbing is popular now as never before.
Main point of discussion: at the Olympic Games in Tokyo, the three rather incompatible disciplines of lead, bouldering and speed will be brought together to form a combination competition - for classic climbers, this is a mediocre nightmare, especially because of the highly popular discipline of speed in Japan.
Does the International Olympic Committee bring something together that doesn't belong together? And all this just because of the Olympics and the associated commerce?
A lot of discussion material for the prominent panel talk in the indoor climbing hub in Hall A6: ex-extreme climber Stefan Glowacz, who won the first professional climbing competition ever in 1985, three times Vice World Champion Fanny Gibert from France, the Czech Adam Ondra, one of the world's best rock and indoor climbers, Jérôme Meyer from the IFSC as well as Rachel Spry and Bram Schellekens from the International Olympic Committee (IOC).
An illustrious round, which then also entered the topic in a controversial way. Veteran Glowacz, who won the Olympic demonstration competition in Albertville in 1992, complained that competition climbing has "not evolved" since his active days in the 80s and 90s: "There are no new formats."
His suggestion: deep-water soloing. Two climbers on one wall, above water - spectacular and easy to understand: Whoever gets wet first doesn't win. He finds the Olympic competition format of Tokyo "simply ridiculous, downright stupid". For him, the discipline of speed "has nothing to do with climbing", this is a pure show event, the 54-year-old raved.
See the whole discussion in video:
Words that made the person sitting next to Glowacz a tiny bit uncomfortable. Jérôme Meyer tried his hand at diplomacy, said he understood the frustration about the competition format, but argued that it was normal for every sports association to want more: more medals, more competitions, more attention.
As expected, he received support from the two IOC representatives. Rachel Spry said the Olympics would help to professionalize climbing, and colleague Bram Schellekens added that the Olympics were not there to change climbing, but just a one-off event every four years.
In addition, the IOC had to respond to the wishes of the respective organizers, and since speed climbing was very popular in Japan and not all three climbing disciplines could be taken up with one individual competition each, the IOC had just agreed on the aforementioned competition format.
Four years later, in 2024 in Paris, things could look very different again: there are supposed to be medals in the disciplines speed and combination, whereby the combination would be from the more closely together lying disciplines lead and bouldering.
Superstar Adam Ondra even went one step further: he hopes that the 2028 games will see medals in all three disciplines. "Our sport deserves that," said the Czech. He doesn't believe that the Olympics will change climbing, but like his colleague Fanny Gibert, he sees the danger that the sport could grow too fast. This had to be absorbed above all by a stronger enlightenment of the climbing novices above all at the rock.
Ondra also finds the Olympic competition format far too complicated and also too long for the spectators: "That takes up to three and a half hours. Perhaps it would have been better to concentrate on one discipline, for example lead. That would be much easier to understand."
In general, he recommended "not to change too much for a mass audience. We should stick to our roots." Stefan Glowacz promptly signaled his approval: "Climbing doesn't need the Olympics, but it has to present itself as a traditional sport at the Olympics. That's a big responsibility."