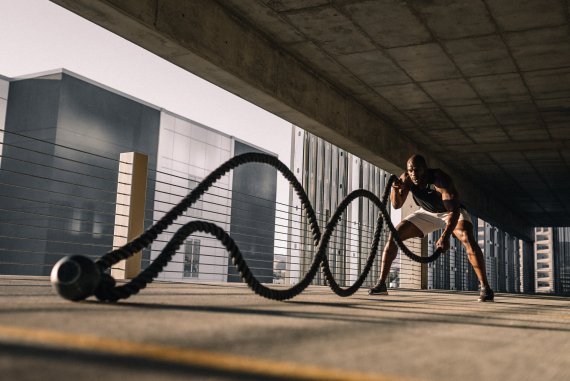 Classic weight training is too boring for you? Monotonous endurance units bore you? Try CrossFit®! Already a few years ago, the US fitness trend spilled over into Europe and is now also enjoying growing popularity in Germany.
No wonder, because the challenging full-body workout not only has a high fun factor, it is also ideal for building muscle and endurance - the perfect combination for fitness training. Excess pounds can be shed at the same time. Attention: absolute addiction potential!
But how did the trend sport actually develop? CrossFit®, also known as the "hardest workout" on the fitness scene, was created in 1980 by former gymnast Greg Glassman.
Fifteen years later, the first CrossFit® studio opened in tranquil Santa Cruz on the US West Coast. Originally, the method was primarily geared towards training competitive athletes and preparing them for competitions. Gradually, however, the police and the military also recognized the potential of functional whole-body training and integrated CrossFit® into their training concepts.
After the turn of the millennium, the popularity of the training system increased significantly. More and more recreational athletes and fitness athletes discovered CrossFit®, so that in 2007 the "CrossFit® Games" were founded. They are the seasonal highlight of the scene and are also held in California. The current "Fittest Man of Earth" is the US American Ben Smith, after his compatriot Rich Froning won four times in a row in previous years.
CrossFit® is a professional fitness system that consists of a variety of different exercises that are repeated during the workout. The focus is primarily on functional and natural movement sequences - training on machines such as chest press, biceps machine or ergometer with a rigid movement pattern rarely if ever occurs. This is also due to the fact that CrossFit® does not train the muscles in isolation, as in bodybuilding. Rather, the focus is on basic exercises that activate the body holistically through strength training.
A classic CrossFit® workout usually consists of a strength training and an endurance part. Since the program draws its exercises from numerous other sports such as weightlifting, gymnastics or classic strength training and combines them with each other, the variety is enormous.
The strength part can consist of classic squats, deadlifts and bench presses, as well as snatches and thrusts from Olympic weightlifting. Acrobatic talent is especially required for exercises on the rings and high bar. The endurance part usually continues with bodyweight exercises. Burpees, push-ups or sit-ups are often seen here - but sprints, box jumps, i.e. jumping onto a gymnastics box, or rope skipping are also on the programme.
The better the technique and the more advanced the athlete, the more often exercises from the strength training are included in the endurance part. Often, the goal is to complete a certain number of repetitions within a certain period of time. This workout is very similar to high-intensity interval training and has an enormous effect on fat burning and general fitness.
However, caution is advised here: For example, if you do deadlifts for time, you will pay less and less attention to technique as your fatigue level increases. To avoid injuries, it is therefore extremely important for newcomers to learn the correct execution of the sometimes highly complex exercises so that the training has its desired effect.
But don't worry: even beginners get their money's worth in terms of fun and effective training. All workouts are scalable, i.e. can be adapted to the individual training condition in terms of intensity and additional weight. In addition, there are numerous exercises that are less complex and therefore quicker to learn - so even the very first workout is a sweaty pleasure.
Snatch, push, overhead squat - which exercise is the most demanding?
CrossFit® is a registered trademark of CrossFit, Inc. More information is available at www.crossfit.com.