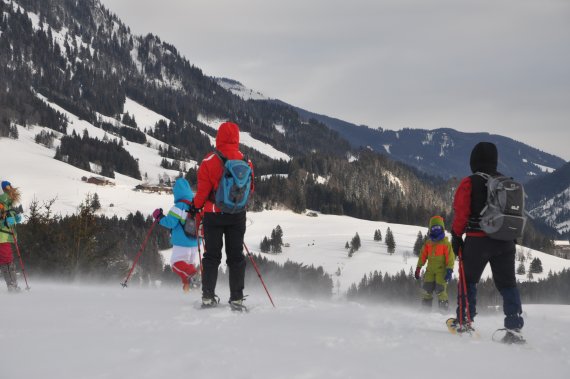 Safety is the top priority when snowshoeing with children. This means: no risk, at any time. If you are not in a position to adequately assess risks and dangers in the snow, guided tours are a good option.
JDAV trainer Lena Behrendes has been regularly leading children's snowshoe tours since 2012. As a mother, she is also out and about in the snow with her two children. Here she gives tips about finding the right snowshoeing tour for each child.
Where should you go snowshoeing with children?
Snowshoeing can be done almost anywhere where there is snow. So at best without long journeys more or less at home on the doorstep. You certainly don't have to go to the high mountains for it, and you don't have to go where everyone is.
 
When I'm out with groups of children, I want to exclude the avalanche danger - so I only go to less steep terrain or, depending on the avalanche warning level, stay completely on the flat. Reading avalanche reports, understanding them and being able to act accordingly is a must.
From what age are snowshoe tours recommended?
Smaller, varied rounds on the flat with slight inclines flanked by snow games and sufficient breaks can already be undertaken with children of pre-school age.
In principle, real tours with children are only sensible from primary school age. Of course there are always exceptions. This also depends individually on the condition of the child, their hiking experience and enjoyment.
How do you plan the right tour for children?
"We plan the tours so that we are on the move with the children and not the children with us!" - is is a guiding principle in family mountaineering. It is always important to leave enough space for (play) breaks and to set the pace so that there is time for looking, discovering and talking.
Especially in the beginning, you should plan the tours in such a way that it is possible to shorten them if necessary. Do not overwhelm the children under any circumstances. 
 
The tour should be timed so that you are back before dawn. For safety reasons - and to protect the wildlife.
What should I bear in mind when planning the length and nature of the route?
The focus for tours with children is not on kilometres or metres in altitude, but to give you an orientation I recommend 1.5 to 3 km and up to 150 metres in altitude as an easy introductory tour - with a maximum gradient of 20°. Scenically varied terrain and varying steepness are ideal.
The length of the route also depends on the terrain and snow. Running in fresh powder snow, for example, is considerably more strenuous. Especially for the first person. So you should take turns with the tracking, even if this is a very special experience especially for children.
Children love it when you don't have to rely on paths or existing tracks. This is part of the charm of snowshoeing. But please be careful: when walking without tracks, you need extra good tour planning, experience and orientation on the spot - beware of rock falls!
Important when walking without trails, is also the topic of environmental protection. Since in winter this always means a possible endangerment of wild animals. Therefore avoid pathless walking in forests, make little noise, avoid wild animals. Because: If wild animals are startled, they may use up so much energy fleeing through the deep snow that they will not survive the winter. Good information on this is available via the DAV campaign "Naturally on Tour".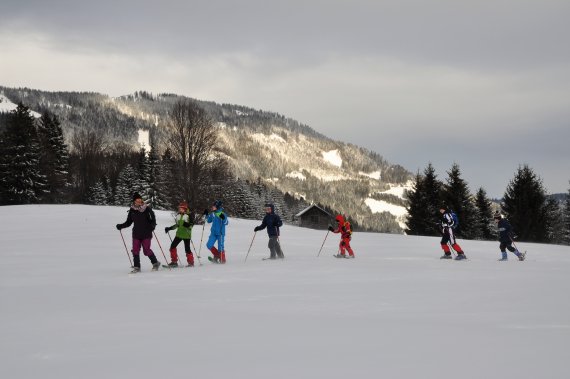 What are some other motivators and ideas for kids?
Walking to interesting destinations in the terrain, such as a stream or a special tree.

Incorporated movement and nature experience games

Building snow sculptures and 

art

Jumping into the snow from elevated points

Building a snow table for a communal snack

Deciphering animal tracks in the terrain and observe animals with binoculars

Walking together with peers (if the Corona regulations allow it)

Using the compass with the kids in a playful way. This is fun for them and they learn to use it at the same time.

If the terrain permits: bringing downhill equipment such as a bob, snowboard, plate slide.
Where can I find good tour suggestions?
Numerous family-friendly snowshoe routes are available on alpenvereinaktiv 8in German) the tour portal of the Alpine clubs of Germany, Austria and South Tyrol. If you want to be sure that only well-founded and researched routes are displayed, check the box "only show tours from alpenvereinaktiv.com" when using the app.The Alpine Club maps of the Bavarian Alps (BY1-BY22) at a scale of 1:25,000 are also helpful for planning tours in alpine terrain - with marked game reserves and winter touring routes.
Finally, a book tip from the experienced snowshoe hiker: Erlebnis Winter! by Ludwig Bertle and Melanie Kappl. It contains countless tips, tour suggestions and snow games.