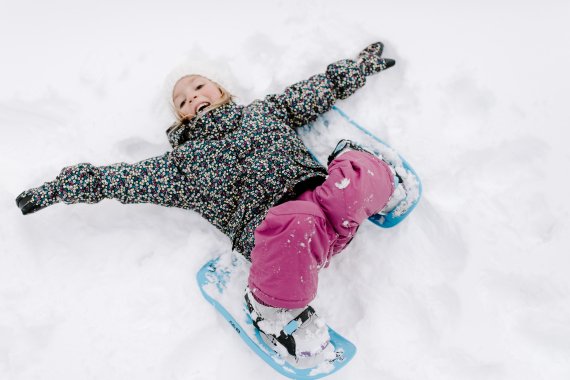 Sebastian Schmitz from the snowshoe manufacturer Tubbs answers when snowshoes fit, what function they have and which shoes to wear underneath.
Lena Behrendes is an alpine club trainer and member of the teaching team of the JDAV in various functions. She has been regularly leading children's snowshoe tours since 2012 and is also privately out and about in the snow with her two children. She takes a look with us at the right clothing and provides tips on the packing list.
Almost all snowshoe manufacturers offer snowshoes especially for children, for example Alpidex, Atlas, GV Snowshoes, Innok, Morpho, MSR, TSL or Tubbs.
With all manufacturers, the kids slip into the snowshoe via a flexibly adjustable and thus "growing" binding system. The systems themselves vary. You should pay attention to simple, child-friendly operability (such as easy-to-grip and easy-to-lock loops/straps). A firm hold in the snowshoe, for safe walking, goes without saying. The most common children's snowshoes are made of sturdy, winterproof and lightweight plastic.
For children from about eight years, there are also variants made of aluminum and plastic from the brand Atlas.
Tubbs recommends its smallest children's model "Snowflake" from the age of three. Because: "It doesn't have to be a snowshoe tour right away. Playing in the garden with a fresh load of fresh snow can be twice as much fun with snowshoes, brings variety and stimulates coordination," says Sebastian Schmitz, Marketing Coordinator from snowshoe manufacturer Tubbs.
Snowshoes are primarily designed to prevent sinking into the snow and provide grip on the snow surface. "The right children's snowshoe is easy to find based on shoe size, age and, above all, the weight of the child - including clothing and possibly a small backpack. It's important to find the optimal balance between body weight and the snowshoe's buoyancy surface," Schmitz explains. Snowshoes that are too clunky have great potential for frustration. "Kids shouldn't have bulky blocks on their feet, but rather the necessary contact surface on the snow and thus the necessary buoyancy to trudge pleasantly over the snow."
To achieve this, manufacturers specify body weight and boot sizes in a "from/to" range. If parents can therefore choose between two snowshoe sizes, the smaller version is recommended.
The shoes offer sure-footedness thanks to serrated climbing strips on the sides or spikes. If the child is also going into medium-steep or slippery terrain, snowshoes with additional front teeth for good grip should be considered.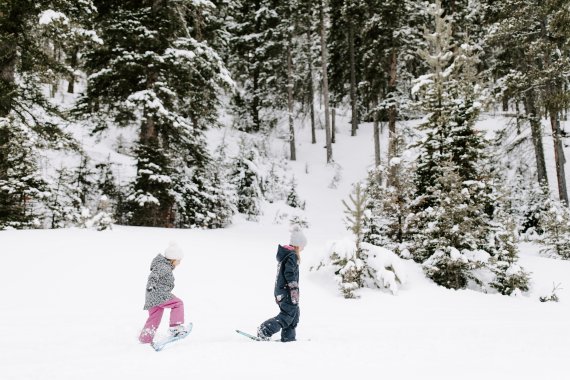 As footwear underneath, Schmitz recommends waterproof, comfortable winter (hiking) boots with a firm sole, which reach over the ankles and are above all warm from the inside. Snowboard boots are also an option.
"Snowshoeing is exhausting and the children get warm," knows JDAV trainer Behrendes.
That's why it's best for the children to wear several layers in the onion principle - preferably made of breathable materials (for example, a baselayer made of wool).

Waterproof (snow) pants and/or gaiters. They prevent snow from trickling into the shoes.

Don't forget a hat and gloves and a spare pair of each.
In addition, older children can take ski or hiking poles with large plates. They provide support and balance and make it easier for the children to walk. The large (winter) plates prevent the poles from sinking into the snow. Younger children often find it difficult to use poles. Then simply leave them out.
Plenty of snacks and a thermos flask with warm drinks

Sunglasses, sunscreen

Cable ties and gaffer tape (in case something gets broken)

Map

Mobile phone

First aid kit, with rescue blanket and

Bivouac bag

. Even with minor injuries, such as a sprain, it quickly becomes uncomfortable in the snow - even on the flat. A warming rescue blanket makes the (waiting) situation much more comfortable and protects you from getting chilled. If it starts to snow, the bivy sack will protect you.

Avalanche shovel (also for building a snow table, igloo, etc.) A probe and an avalanche transceiver are also essential in alpine terrain. Important: Only if every member of the group is able to use these devices, they will serve their purpose in case of emergency!

Compass (also for children's games)

Altimeter (also as a motivator for small

tours)

Binoculars

(to observe animals

animals)

possibly thermo seat pad - or put it on the backpack