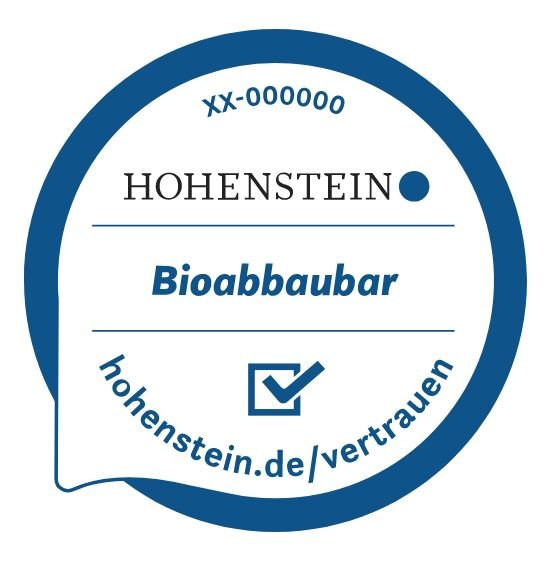 The label for biodegradation has been in existence since 2015 and is becoming increasingly important in the assessment of sustainable textiles. This is because companies not only have to act responsibly in the manufacture of their products, but in the future they will also have to do so increasingly in their disposal. Biodegradable textile products should dissolve completely in the soil and residues from dyeing or finishing processes should not have a negative impact on the environment. But this does not apply to every product made of natural fibres. Many textiles are finished with so many chemicals that they do not decompose biologically without pollutants - even if they are actually only made of cotton. To provide textile manufacturers with clarity in this respect, the Hohenstein Institute has issued a seal that tests and evaluates the biodegradability of textile products in soil.
Hohenstein takes a very close look at what happens when various fibre-based materials rot in the ground - how quickly or slowly they dissolve, what remains of them. The test usually takes between four weeks and twelve months, depending on the material and the problem at hand, and can be carried out either under defined laboratory conditions or under field conditions that are relevant to practice. The test is carried out in standardised test soil under aerobic conditions, whereby the biological activity is monitored using various parameters such as temperature, soil moisture, chemical oxygen demand, soil respiration, etc.
At the end of the tests, the degradation rate of the product is determined on the basis of what material is left over and the environmental compatibility or pollution. This is determined by ecotoxicological studies or chemical analyses.
To obtain a label or certificate, a degradation of at least 90 percent after twelve months must be verifiable. In addition, the residues must be ecologically harmless.