People who switch from a bicycle without electric drive to an e-bike usually have different reasons than those who swap their car for a pedelec, as bicycles with pedal assistance from a motor are also called. The fact is that the trend toward e-bikes is not abating. We show the ten most important reasons why this is the case.
You don't arrive at the office sweaty
An e-bike is the perfect alternative to a car
You can effortlessly conquer any hill, no matter how steep it is
The perfect level for every fitness level
An e-bike increases your range
Battery charging as a cheap alternative to full refueling
Also suitable for people with physical limitations
You can incorporate the e-bike into your fitness training
Your motivation for sports is increased by the e-bike
You can protect the environment with your e-bike
Environmental protection, cost savings and fitness are also motivating many young couples to opt for an e-bike. In the city in particular, this also eliminates the familiar parking worries. Children in a bicycle trailer or shopping in a basket are hardly a noticeable burden on an e-bike.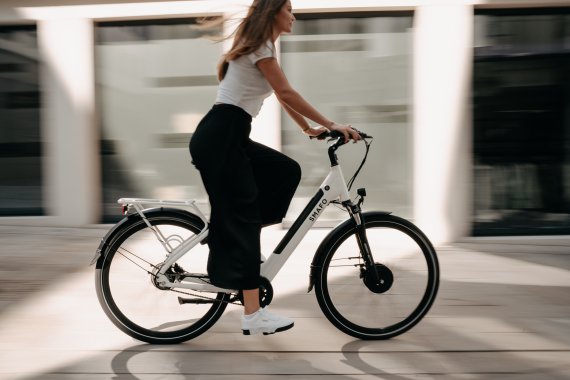 Effort on bike tours is not only an issue for seniors or physically impaired people. For many amateur cyclists, the electric drive enables them to master steep climbs without having to push. This may open up the possibility of completely new tours, for example to higher regions. Once the motor has overcome inclines, headwinds and other resistance, the sporty cyclist can pedal again with their own muscle power.
The e-bike evens out differences in groups and families and thus enables joint cycling excursions. Even the slowest can now keep up and everyone enjoys the tour more. Most e-bikes even go 25 km/h without the rider having to make an incredible effort. An e-bike can also compensate for different fitness levels when cycling with the family- so everyone has fun!
The e-bike makes it possible to cover distances that would be impossible to cover in the same time on a normal bicycle. This is an important argument for working people and commuters who have to cover longer distances every day. With an e-bike, commutes of up to 20 kilometers are no problem, even in mountainous regions. Conventional batteries last for an average of 50 kilometers and can then be recharged overnight at home using a power outlet.
Compared to a car, riding an e-bike is significantly cheaper, regardless of whether the car is purchased, leased or rented. Gasoline and parking fees are eliminated with the e-bike. Apart from the electricity costs for recharging the battery, there are no maintenance costs. Insurance is only required for the moped-like models up to 45 km/h, which also require a helmet and a driver's license.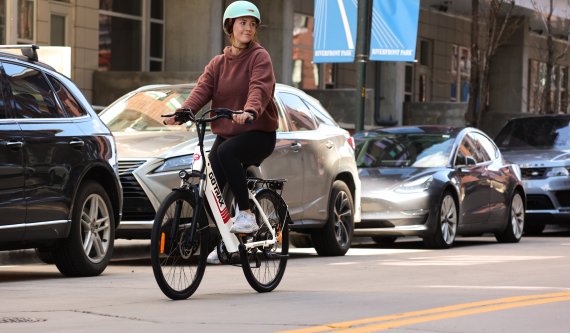 For those who can't, aren't allowed to or don't want to drive a car, the e-bike is an alternative to the conventional bicycle - not only for long or strenuous journeys, but also for more protracted or permanent physical limitations resulting from pregnancy, injury or illness. Even into old age, you can do more for your fitness on an electric bike than in a car or on public transportation. You are moving in the fresh air and cycling actively.
If you pedal properly yourself, you will also have a considerable training effect with the e-bike. Depending on the physical exertion, the challenging tour with the electric bike very well strengthens the fitness. The sporty use of the e-bike can even replace a trip to the gym and thus save costs and time.
People who use an e-bike usually even do more sport than with a conventional bike because they ride more often - keyword working people and longer distances. The additional tailwind makes it possible.
In terms of noise, waste and air pollution, the e-bike is significantly less harmful to the environment than a car. The good conscience can be further enhanced by using green electricity to charge the economical battery. Because it's not just e-bikes that are in vogue, but also sustainability and mindfulness.
The popularity of e-bikes continues. Just a few years ago, most people thought of e-bikes as a type of sports equipment for the older generation - but appearances are deceptive. The bikes are practical, environmentally friendly and allow people with handicaps to enjoy sports.
Below we answer the most frequently asked questions about e-bikes.
The batteries can withstand 500 to 1,000 charging cycles, which corresponds to an approximate driving performance of 20,000 - 100,000 kilometers. Depending on the driving time and use, the battery life is therefore several years, tending towards five.
E-bikes cost between €1,500 and €3,000. Among other things, the quality and performance of the battery are what count in terms of price.
Most e-bikes weigh between 20 and 25 kilograms.
Laws stipulate that e-bikes in Europe may not have more than 250 watts of power, which supports a maximum speed of 25 km/h.
The top-selling brands in recent years include Cube, Kalkhoff, Prophete and Haibike. Exact figures are not available, but these brands have been among the top 5 for years.