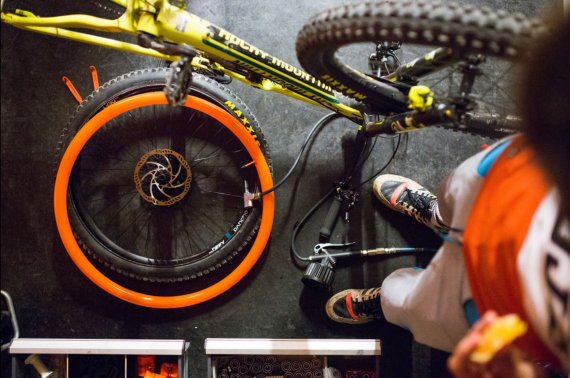 The Tubolito promise sounds too good  to be true: A completely new bicycle tube that is lighter than standard butyl tubes, but twice as robust.
The Austrian startup does not manufacture its tubes from rubber, but uses a thermoplastic elastomer, which is otherwise mainly used in medicine and the automotive industry. The advantages: Up to 100 grams less weight per wheel, a tube that fits into any pocket when rolled up - yet is twice as robust as a rubber tube.
Tubolito's innovation also convinced the jury of ISPO Brandnew, which awarded the Austrians as winner in the Accessories category at ISPO Munich 2018.
In an interview with ISPO.com, founder Christian Lembacher explains how he came up with the idea for the tube revolution and how difficult the laboratory tests were.
ISPO.com: How and when did you get the idea for the bicycle tube without rubber? Was there an experience of enlightenment?
Christian Lembacher: While changing the inner tube on my own mountain bike, I wondered why inner tubes are made of rubber and not of a high-tech material, as is usual with loudspeaker membranes. The advantages were obvious: great robustness and very low weight. The idea for Tubolito was born.
What were the main steps and major obstacles to development?
We had difficulties in finding and defining laboratory tests in order to get as close as possible to practice and everyday reality and to apply them to an objective test. The product could only be continuously developed and improved through permanent tests. The focus on a product and simultaneous further development was also a certain challenge.
What are your three most important advices for other founders?
1) Everything takes longer and costs more than expected.
2) Provide product samples to customers in order to obtain a good and meaningful practical check. As conscientiously as testing is carried out, certain potential strengths and weaknesses of the product only become apparent in practice.
3) Customer acquisition
In retrospect, what would you do differently today?
A very big learning effect was to see that laboratory tests are very important and unavoidable, but at the same time can only partially illustrate the practical application. Practical tests and an efficient and effective response to their results are extremely important.
How difficult is it for young companies to establish themselves in their market segment?
This is very product-dependent. In any case, it is important to find an appropriate niche and grow within it.
What are the next steps with Tubolito?
We have already expanded our product portfolio. Besides different mountain bike tubes we also have products for road bikes, cyclocross bikes and BMX. We also see ourselves as tube engineers with the vision of developing the perfect bicycle tube for every occasion.
How did you benefit from ISPO Brandnew? What feedback did you get directly at the fair?
In many exciting discussions and conversations we have received extremely valuable input. The media response was also great and certainly helped to make our brand better known.