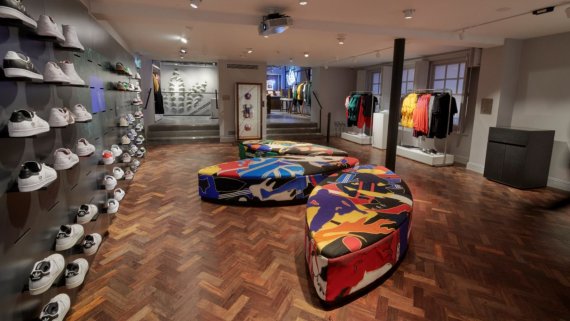 "We have never had a year like 2020." With this sentence from Kasper Rorsted, CEO of Adidas, the official press release for the annual report 2020 begins. The crisis year is of course also reflected in the sales figures: In euros, this decreased by 16% to €19.844 billion (2019: €23.640 billion). But despite - or perhaps even because of - the crisis year 2020, Adidas recorded a strong annual financial statement.
The first temporary store closures occurred in the first half of 2020. First in the Asia-Pacific region, later around the world. For the full year, sales decreased by 17% in the Asia-Pacific market and by 15% in China.
North America and Europe were hardest hit by the pandemic in the second half of the year. Here, too, the temporary store closures led to a drop in sales: in North America, sales fell by 9%, in Europe by 12%.
For this, Adidas recorded strong growth in all markets in the e-commerce business in 2020, despite or even because of the crisis. Numerous marketing campaigns focusing on e-commerce and online sales promotions, such as Cyber Week, also show that Adidas' focus is increasingly on online retail. In e-commerce, Adidas saw a 43% increase in the fourth quarter alone. Overall, e-commerce sales increased by 53% to well over €4 billion, accounting for more than 20% of total sales.
After Adidas had held on to its subsidiary Reebok for the last few years(ISPO.com reported), the group is now changing course. In 2020, new strategic alternatives for Reebok were examined. The result of the review: Reebok is to be sold and will probably no longer be part of the company in the future. However, this process will not be cheap for the sporting goods giant. The sale will cost Adidas around 250 million euros.
In the second half of the year, the rate of open stores worldwide rose again to over 90%. Except in Europe, where people were struggling with a second wave of the coronavirus, Adidas stores remained open globally and almost continuously at the end of the year. Accordingly, it stands to reason that sales rebounded in the fourth quarter of 2020. Compared to the previous year, the company recorded a 2% increase. The Adidas brand was the sales driver here, with a 4% increase.
This year-end result gives Adidas a positive outlook for 2021. "Our business continued to recover at the end of the year and we were able to return to growth in the fourth quarter. We are very confident for fiscal 2021. We will get out of the starting blocks quickly in the first year of our new strategy cycle and expect global sales growth in the mid to high tens of percent," Rorsted said.